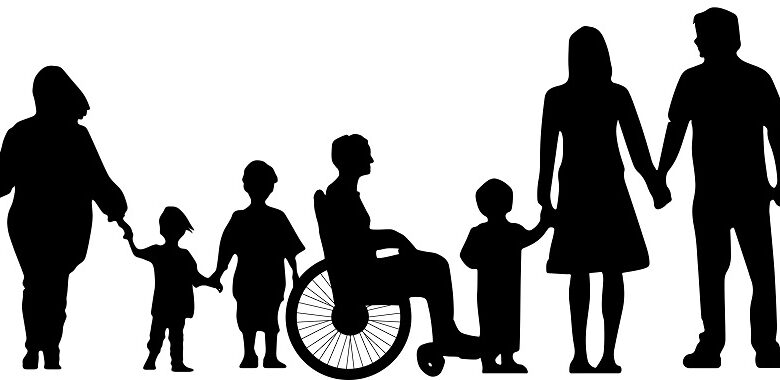 Work & Education
Overcoming social barriers for disABLED people and promoting inclusion
At Disability Horizons, we've always championed inclusion. We want to see a fully inclusive society where disabled people are equal to everyone else. But we can only do this if we continue to grow, make new connections and reach new people.
Our new Partnerships and Advertising Manager, Joanna Baker-Rogers, who is a diversity champion and business owner herself, aims to help us achieve this. Here, she tells us about her work in the disability sector, and why working with more organisations and businesses will help us to reach that goal of true inclusivity.
Just over two years ago now I started Busy Life. It is the home of valuing diversity with a focus on disability, and, in particular, parasport. My mission is to empower and inspire everyone, regardless of any impairment, to take part in sport.
I believe that everyone has 'ability' and that's why I write disABILITY the way I do! Back in August 2019, I wrote an article for Disability Horizons about Busy Life and the inspiration for it.
Clothing to celebrate diversity
At the time, I was about to launch the Diversity Designs Run, Girl, Run! collection, and my journey in inclusive retail had just begun. Diversity Designs is a range of clothing and accessories that bridges the gap between running and disABILITY.
The Run, Girl, Run! collection includes images of wheelchair athletes, amputees, blade runners, and vision-impaired runners and girls who wear the Hijab. It also includes images of slim and curvy girls doing the sport they love.
Since then, we've come a long way. I'm incredibly proud that Hannah Cockroft MBE (yes, that's Hannah Cockroft, multi-world record holder, Paralympic Champion and more!) and Kym Crosby, multi-Paralympic bronze medalist and Parapan American Games T13 champion, both wear my T-shirts.
In 2019, I added a technical running T-shirt to the range. Not only are the T-shirts breathable and comfortable to run in, but they're also a great way to spread the word about inclusive sport.
In 2020, I launched two new collections – Basketball Player and Tennis Player. They are an integral part of the Diversity Designs® range and have the same inclusive ethos as the running collection.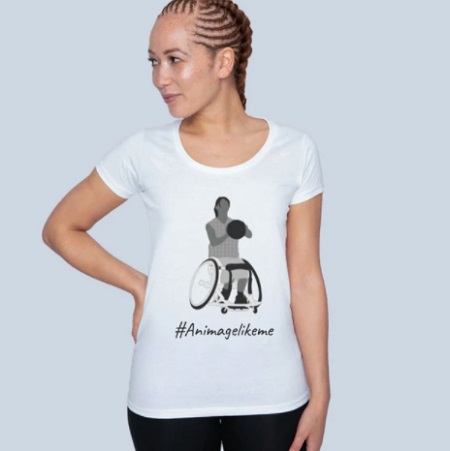 I have also now turned many of these designs into other items, such as mugs, phone cases and laptop covers.
Inclusive toys and games
At the beginning of 2020, Busy Life was getting busier and busier! Then Covid-19 hit. As for all small businesses, it's had an impact on growth and sales.
But I am always thinking about new inclusive products to add to the business, so I decided to use lockdown as an opportunity to do so.
For me, a positive message about disABILITY needs to start as early as possible, with our children. They then grow up to become adults who are natural advocates of disABILITY. With this ethos, I launched a range of inclusive toys and games.
I kicked it off with my Peg Dolls and Peg Doll printable clothes. The Peg Doll Collection consists of eight peg dolls: Down's Syndrome, vision-impaired, hearing-impaired, a tube feeder, autism, wheelchair user, upper arm amputee and a non-disABLED person.
The printable clothes for Peg Dolls come in a number of collections; sensory, rare diseases, genetics, wheelchair users, and neurodiversity.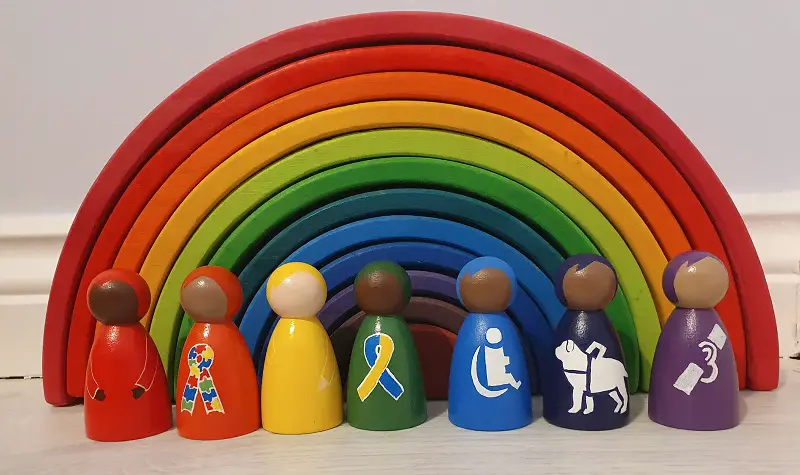 With the support of my family, I also created the board game UTOPIA! The aim of the game is to live in an inclusive society, a utopia town. Alas, it only has room for one more!
To be that person, you need to win the game and demonstrate that you are committed to the concept of inclusion. We had many games of UTOPIA! during lockdown. As a family, we amended the design of the board, the questions, and the winning move!
We also love to play Happy Families, especially when we go on holiday. So, I decided to invent my own version, Inclusive Happy Families. The four members of each family all share an impairment, such as needing to use a wheelchair, neurodiversity, or having a rare disease. Of course, there's a non-disABLED family too so that everyone is included.
This year, I added Inclusive Snap! and Inclusive Matching Pairs. Whilst all these card games are fun to play, they are also very much an educational resource. Each pack contains a card with information about each disABILITY or illness and ideas for inclusive activities.
Partnerships with inclusive organisations
To help further my bid for inclusion, I also work with other organisations with the same goal and regularly run initiatives to spread the word.
This includes my free Inclusion Hour on Twitter, where I tweet about a different inclusive topic every week. There's just been a series of hours on the Paralympics, and I've also run hours discussing Down's Syndrome, autism, travel, and housing, to name but a few.
The Inclusion Hour is 60 minutes of positivity about disABILITY every Monday at 6.30pm. Anyone can join in, making it a truly inclusive hour. just follow @busylifeandme.
At the end of last year, I published the Inclusion Hour 2020 as a book. It contains 21, 20-minute reads about what living with a disABILITY is like and how to champion inclusion.
I also partner with a different inclusive worthy cause every month for free. This involves featuring them on the Busy Life website and creating a daily post across our social media platforms. At the end of the month, Busy Life makes a small donation too.
Over the last two years, I have also developed links with other businesses. A key partnership is with MyNotch a business that makes bracelets and engraved notches (charms.)
Each Notch has a different phrase that's positive about disABILITY. Busy Life has collections that champion autism, ADHD, wheelchair users, Down's Syndrome, dyslexia and many more!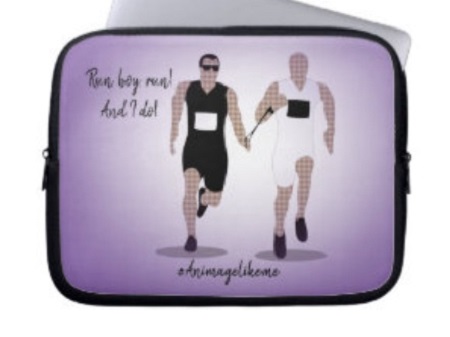 In the future, I plan to expand my Diversity Designs range to include more disabilities and sports. The Inclusion Hour 2021 book will be published before Christmas and more NOTCH collections will be added.
No other business is doing what we are doing! Our products are innovative, creative and are pushing the boundaries of what retail is all about.
Just by using or wearing them, you are facilitating a more inclusive society. We use the strapline, "Busy Life; championing inclusion and smiling for the good of us all!" I think that says it all!
Joining Disability Horizons
In August this year, I joined Disability Horizons as its Partnership and Advertising Manager. I've always loved the Disability Horizons website and, in particular, its aim – to enable disabled people to live the life they choose. Just like me, Disability Horizons exists to help make this world more inclusive.
At the heart of what it does is its community of diverse disabled people. With more than 45,000 across social media, nearly 7,000 newsletter subscribers and 50,000 to 60,000 hits on its website each month, it is making an impact. But it wants to do more, to grow to reach more disabled people.
So, when I was invited to join them to help further its mission, I was delighted. I'm so looking forward to developing my new role. I want to show companies and organisations why connecting with disabled people is good for us all.
Inclusion makes for a kinder society that allows everyone, regardless of any impairment they may have, to live the life they want to live.
DisABLED people also have spending power, called the Purple Pound, just like able-bodied and/or neurotypical people do. For businesses not to market to 15% of the population makes no business sense at all. They're missing out on an untapped market.
By Joanna Baker-Rogers
You can follow Joanna and Busy Life on Twitter, Facebook, Instagram, Pinterest and LinkedIn.
More on Disability Horizons…