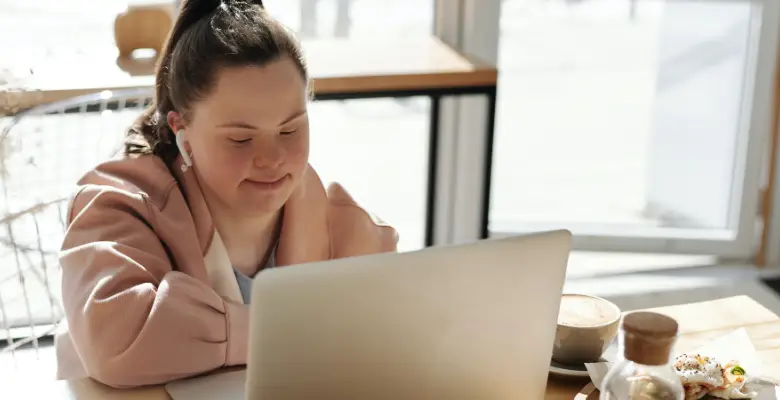 Finding a job and gaining employment can be challenging for most disabled people, but it can be even harder if you have a learning disability due to employers' misconceptions about your levels of skills or intelligence to work.
Disability consultant, Emma Shepherd, who has supported disabled people to get into work or self-employment, dispels some of the myths and gives you some practical tips on how to gain your dream job if you have a learning difference. Many of the tips can also benefit you if you have a physical disability, sensory impairment and/or chronic health condition too. 
How would you feel if you wanted to work and you were told no, just because you have a learning disability, (leave legal matters aside for one minute – just imagine it and bear with me!).  Then try and imagine if you were stuck in the same job for the rest of your life.
I am very lucky. I have had a successful career in HR, supported employment, and also have my own business called Let's Talk Disability, all while living with Ehlers-Danlos Syndrome. 
When I was young, I was never asked, "Do you want to work?" as there was an assumption that I would.  I was asked what type of job would I like to do and no one thought any differently of me when I had wanted to be a beautician, a police officer or a forensic pathologist (yes, they were my actual aspirations).  
Somehow it seems to be different for someone born with a learning disability.
Only 5.9% of people with moderate learning disabilities work (slightly higher for those with autism at 16%).  What a shocking statistic and sadly one that has barely moved in years. 
In this article, I want to help more people with a learning difference to get into work.
I also want to advise employers on alternative ways they can recruit and retain staff with additional needs,  and highlight the benefits they can bring to their companies.
1. Do work experience to gain specific skills
To get started, it is important to do some work experience to gain new skills.  This is very different from voluntary work as it has a finite ending with the intention of gaining specific skills.
The number one gripe that employers have about employing graduates is that they have no work experience and have not learnt any soft skills, such as being on time to work, not sitting on your mobile phone at work and communication skills instead of the skills needed to do the actual job. 
I offer work experience to people with a learning disability at the mental health and learning disability café – M's Café – which I started at the beginning of 2022.
I have a young lady, who has a learning disability and ADHD, doing work experience at the café. She has learnt to approach people to take their tea and coffee orders and to write down whether they want their choice of drink black, white or with or without sugar. This has really helped with her confidence.  You can only learn these skills at work and not from a book.
2. Write a personal and creative CV
It is also good to have something up to date on your CV, especially if you have not worked in a long while or have never worked. 
I can only talk about my personal preferences for writing CVs. I have seen hundreds of CVs and they can start to all look the same, which I do not like.  Confusingly, the version that I prefer may be the version that someone else does not like.  
Some organisations do not accept a CV at all and only want you to apply via their application form. If this is not accessible to you, then it is suggested you ask the employer if you can apply in an alternative format. I will go into this in more detail when I discuss reasonable adjustments.
I like very personal CVs, which describe who you are, what you are looking for and are written in the first person.  The bland "competent team player, capable of working individually with 10 years experience in…" can sound like anyone. This is the first line of my CV:
"For over 23 years I have worked in the industry of supporting disabled people or those facing additional barriers into employment and within the Human Resources field (as a generalist or Equality, Diversity and Inclusion specialist)."  – whether you personally like it or not, you get a much clearer picture of who I am.  
It can be harder to write a CV when you only have limited experience, but you do have transferable skills from your day-to-day life, such as good organisational skills, working to deadline and conflict resolutions.  
Think about the descriptive words that align with the job advert, such as "innovative", "conscientious", "accurate", "dependable", "tactful", "logical", "loyal" and "resourceful".  
You can say in your introduction (sometimes called a personal profile) what you have achieved personally as well as what you are looking for in a job.  We don't just gain our skills in a work setting.
Another tip is generally not to make your CV longer than two A4 pages long or cram everything on it by using an 8-point font!  Likewise, please do not put your photograph on it, use a fancy font or have a silly email address such as hugsandkisses@hotmail.com – keep it professional.  
There is another type of CV, developed by the Education People at Kent County Council, which they call a Grid of 9.  It contains nine pictures that describe who they are and what they are like.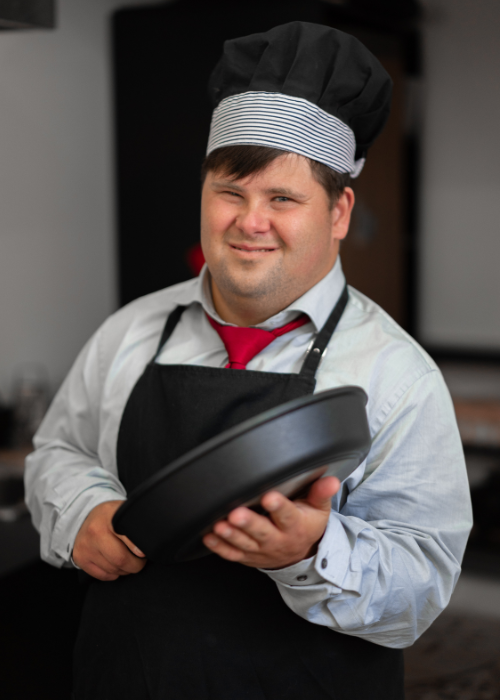 3. Think about benefits vs wages
Some disabled people are worried that they will lose their benefits if they take on work – and that could leave them without enough to cover their costs.
In a nutshell, there are likely to be changes to your benefits, but overall, financially you should be better off, particularly when you work over either 16, 24 or 30 hours a week.  
Doing some sums to work this out will ensure you're financially better off by working than you are on benefits.
Depending on where you live, you may now be on Universal Credit, which is an in and out-of-work benefit, so it will go up and down depending on how many hours worked.  
You can test this out yourself on the Entitled To website and play around with different hours, based on the national minimum wage, which is currently £9.50 per hour (or £11.95 for the London Living Wage).  
This can help with your decision as to how many hours to work.  A small warning if you are living in supported living, unfortunately, you'll not be better off by working, as the rent is too high to ever be able to pay it through a salary.
On Thursday 12th January 2023, the Government announced proposed plans to allow some people on disability benefits to keep receiving payments even if they find work. The proposals are aimed at getting more people back into employment.
It is reported that the paper would recommend scrapping the "work capability assessment" system used to consider eligibility for benefits.
It could be replaced with a process that instead asks claimants to demonstrate what work they might be able to take.
A health and disability white paper detailing the new plans – which are yet to be finalised – is expected in the spring.
4. Consider alternative interviews and work trials
Another really important step is to talk to employers to try and change the traditional interview to another type.
It is difficult at the best of times to sit in front of an employer or maybe even several people and say why you're the best person for the job and that you are the best thing since sliced bread. Couple that with a learning difference and it'll feel even more stressful.
I have accompanied previous job seekers to interviews before and I have watched the chattiest of people go quiet and inside I am shouting, "come on, you know how to do this.  I have seen you do it hundreds of times, just tell them", but I cannot. It is not my interview.  
Working interviews and work trials
A working interview is where you actually do the job for a short time. A work trial is simialr but slightly longer.
In working interviews, I have seen candidates have far more success in getting the job.  In fact, I think that most recruiters would benefit from this approach.  
Recruitment is costly and I have seen many mistakes made over the years because someone has the gift of the gab in an interview and they have ended up being a total disaster.
Theory-based interview
Another option is a theory-based interview, which is a popular choice. In these interviews, you'll be asked what you might do if you were faced with a particular situation and look to see how you would behave.  
For example, you might be asked: "What would you do if you discovered a fire in the stock room?". You would, in theory, say that you would raise the alarm, let people know to evacuate the building and call the fire brigade. That would bring smiles to the interviewer's face, as they scribble down everything that you say.  
Competency-based interview
A competency-based interview, on the other hand, would demonstrate what you have actually done in the past.  The idea is that if you acted one way in the past, you will do it again in the future.  
So, this time the question would sound like, "Tell me the last time you discovered a fire in the stock room, what happened and what was the outcome?". The actual experience may have been very different and you went into a huge panic and accidentally forgot to say something about it.  
It is important to remember that they are looking to mark you on the situation or task (one point), the action (one point) and the result (one point). Lots of people, in my experience, forget the result part. 
You can roughly work out what types of areas they will cover by looking at the job description and person specifications.
Nevertheless, you should bare in mind that employers may like to throw in a very random question that you cannot prepare for. These types of questions may be like, "If you were a fruit/drink/animal, what would you be?".
No matter the type of interview you attend, it's important you prepare for it.
5. Get reasonable adjustments
Legally an employer must offer you reasonable adjustments and you are entitled to ask for them.  Most reasonable adjustments cost under £75 and many more cost nothing. 
This could be asking for a paper application form, offering to submit a video application, asking for the interview questions beforehand or a working interview (to practically demonstrate that you can do a job rather than talking about it).  
Once employed, these could include starting later and finishing later to miss the stress of rush hour or after medication has worn off, sitting closer to the toilet or sitting near a window.
There is financial support to help you start and stay in employment and can be found via Access to Work if the reasonable adjustment costs extra money.
This might be to pay for equipment and services such as communication support at job interviews, BSL interpreters, lip speakers, note-takers, support workers, taxi fares and assistive technology.
They will carry out an assessment and give their recommendations as to how much you're entitled to. 
6. Use employment resources for people with learning disabilities
A final tip is to keep motivated and be organised.  It can be disheartening being turned down for a job and hard not to take it personally but keep going and it will happen.  
There are many employment support services, supported internships and disabled-friendly employers, organisations, job boards and recruiters – all of which I'll go through in my next article coming soon!
There is also a seven-book series that Books Beyond Words commissioned on work and employment and life skills.  These books only contain pictures and are written by people with learning disabilities for people with learning disabilities.  I was involved in helping create the book Glory Wants a Job.
The book collection includes: 
A Family at Work
A Good Day's Work
Choosing My First Job
Feeling Cross and Sorting It Out
George Gets Smart
Glory Wants a Job
Speaking Up for Myself
If you would like more advice and support securing employment with a learning disability or any other impairment, or you are an employer keen to be more disability confident, visit Emma's website Let's Talk Disability. 
By Emma Shepherd
More on Disability Horizons…