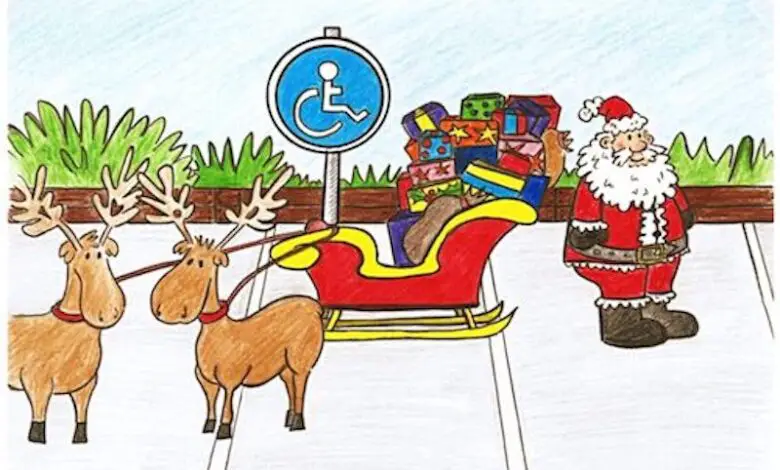 So, this is Christmas, and what will you buy? A luxury sock aid or a T-shirt we made? What about stickers that show love and pride, or even some clothing that is sure to fit fine.
Well, you can find all these and more creative and unique gifts for disabled people this Christmas on the Disability Horizons Shop.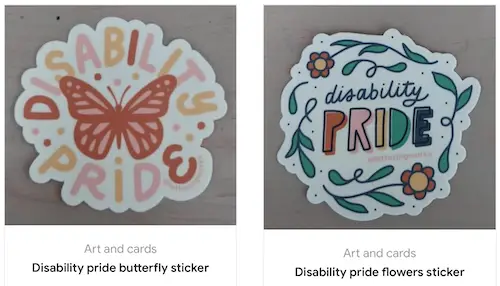 These stickers are an ideal stocking filler for anyone looking to comfort themselves or catch the eyes of others with these bright, colourful and abstract designs.
The Lettering Works collection of stickers has been crafted to help those facing the day-to-day challenges of disability, chronic illness or mental health problems by promoting equality, inclusion, awareness, positivity and reminding us all that it's OK to ask for help.
You can stick them wherever it will brighten up you or someone else's day, for instance on notebooks and journals, bags and suitcases, mugs and drinking bottles and even wheelchairs and mobility aids.
There are 13 sticker designs available with a variety of slogans including 'Disability pride', 'Work your quirk', 'You are enough' and 'Access is love'.
Visit the Disability Horizons Shop to view the full range of Lettering Works disability stickers.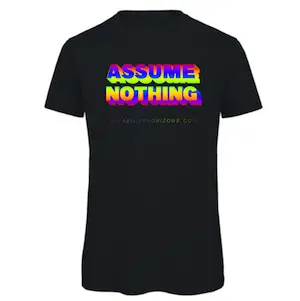 Following the original launch of our Disability Horizons T-shirts in 2020, we're pleased to say they are now also available on the Disability Horizons Shop website and include seven new designs.
These creative and quirky T-shirts are 100% organic cotton, come in a range of colours and slogans and are made to order.
A perfect Christmas gift for a friend or loved one who wants to fight for and celebrate disability equality and inclusion, or simply raise a wry smile.
There are 14 designs to choose from in a variety of colours with different slogans, which includes 'Inclusion not injustice', 'Yes, 2 sugars please', 'End Ableism' and our new release 'Assume Nothing'.
Check out our full range of Disability Horizons T-shirts on the Disability Horizons Shop.
Find out more about how our range of stickers and T-shirts can help you celebrate disability equality and inclusion in our latest lifestyle article.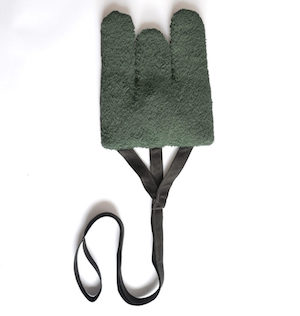 This award-winning sock aid is made from soft, Turkish hand-woven materials and each one is hand-stitched.
Using McAnallen's patent-pending technology, it creates a smooth, fuss-free application, helping you to put your socks on in a seated position without needing to bend down.
Whether you're using it on a daily basis or just the odd morning, it's really easy and simple to use, taking all stress out of your morning.
Along the straps, you can slip your arm or hand into multiple sections. This allows you to adjust the sock aid to your own mobility needs.
The sock aid is thin, flexible and can fit in seamlessly to your busy life. Perfect for getaways, simply throw it into a suitcase or bag.
This is the only sock aid in the world to come in a variety of colours, which can be tailored to you and reflect your personality and home, making it a great gift for Christmas.
Buy the McAnallen luxury sock aid on the Disability Horizons Shop.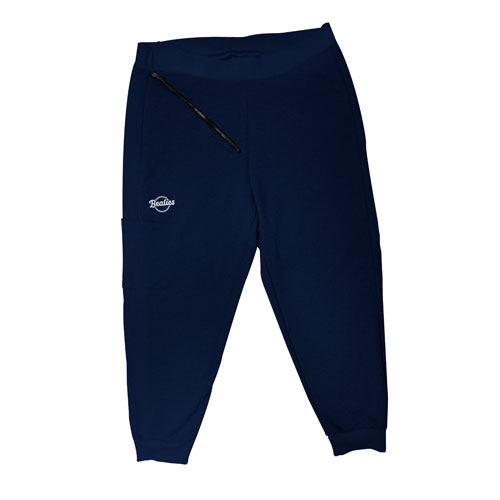 Finding comfortable and practical trousers for disabled people can be challenging, especially if you're a wheelchair user or rely on self-catheterisation.
The Bealies wheelchair joggers are specially designed for wheelchair users with easy dress Velcro fastenings.
The unique Bealies design ensures full coverage when sitting and transferring and features a functional front-opening zip, which enables easy, clean self-catheterising.
If you're buying this as a Christmas gift for a disabled person, you can tick the "VAT Exemption" box and buy these for £55.
Find out more about the Bealies wheelchair joggers and browse the colours and sizes by visiting the Disability Horizons Shop.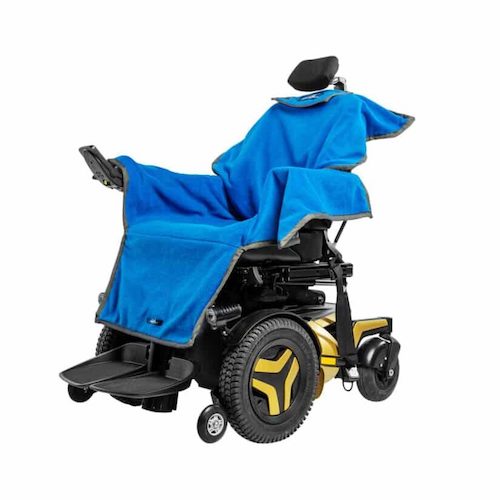 If you know a wheelchair user who loves water-based activities, then this is the perfect gift for them.
There is nothing more annoying than a damp wheelchair cushion or slippery armrest. The AbleDry, a waterproof wheelchair cover, solves this problem.
It will keep your wheelchair seating area completely dry when transferring from an outdoor water-based activity, a swimming pool or even a bath or shower. No more sitting in damp clothes for extended periods of time.
The AbleDry has been designed with both powered and manual wheelchair users in mind coming in high and low back versions.
The flaps can also be used to cover your legs once in your wheelchair for added privacy and comfort. A fantastic addition to your locker and a must if you're going away to somewhere with a pool.
It also works fantastically well in conjunction with the AbleSling Lite or the AbleSling for transfers in and out of the bath or pool.
The AbleDry will help you dry and warm, and help prevent you from getting sores or rashes on your skin from sitting in a damp wheelchair after your bath.
If you purchase this for a disabled person, UK VAT exemption is also available with this product for those with qualifying conditions.
Go to the Disability Horizons Shop to browse the different sizes and colours of the AbleDry waterproof wheelchair cover. Plus, check out the other AbleMove products invented by disabled entrepreneur Josh Wintersgill.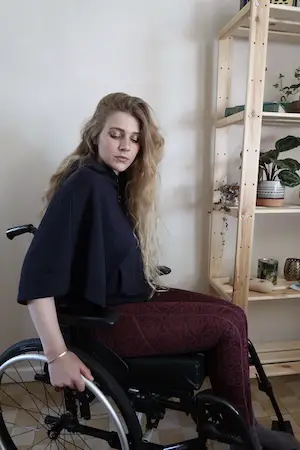 Designed and developed by fashion graduate Holly Yendell, the L.able unisex jersey cape aims to bring style and comfort to wheelchair users.
The L.able jersey cape is waist-height making it perfect for the seated position as it does not hang low or restrict your upper legs. It is a unisex jersey and looks stylish on both men and women.
It can be worn sleeveless for extra movement or like a fitted hoodie, thanks to its easy-press snap fastenings that close the sleeves. The jersey cape also features an adjustable drawstring hood to keep you warm and snug.
The L.able unisex jersey cape is available in a wide range of colour choices and sizes from small to extra large. It is also machine washable.
This is an ideal present for a disabled person looking for stylish adaptable clothing that is both practical and fashionable. VAT exemption available for eligible customers.
Head to the Disability Horizons Shop to browse the sizes and colours of the L.able unisex jersey cape.
Also, check out our recent interview with L.able founder and fashion designer, Holly Yendell.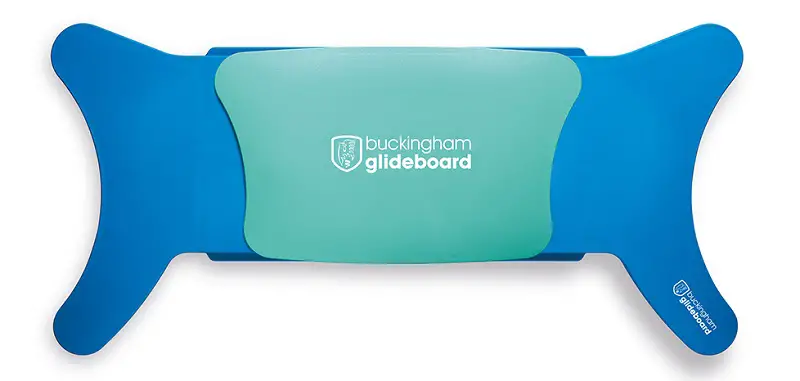 Exclusive to the Disability Horizons Shop, this new ultra-lightweight transfer board (1.2kg) with a unique design to increase stability, makes transferring from anything easier and safer, reducing effort by more than 30% and minimising friction.
The seat itself glides along the board, making sliding it under and removing it once transferred much smoother and more flexible. It also makes transferring upwards and downwards easier to different positioning levels (e.g from a wheelchair to a car seat).
The contoured edges and asymmetric design means fewer marks from friction, and the 'handles' are shaped to fit around armrests.
The Glideboard is available in a range of colour combinations to ensure it is stylish and non-medical – the seat comes in mint, green and white, and the board in white and blue – and is easy to clean.
If you know someone who may struggle with transfers and could benefit from this innovative device, treat them this Christmas to this modern, smart and slick transfer aid.
The Glideboard is only £149.95 with a qualifying VAT exemption for eligible conditions and can only be purchased on the Disability Horizons Shop.
Buy the Buckingham Glideboard transfer board exclusively on Disability Horizons Shop.
Read the story behind the Glideboard in our interview with Buckingham Healthcare CEO Chris Buckingham.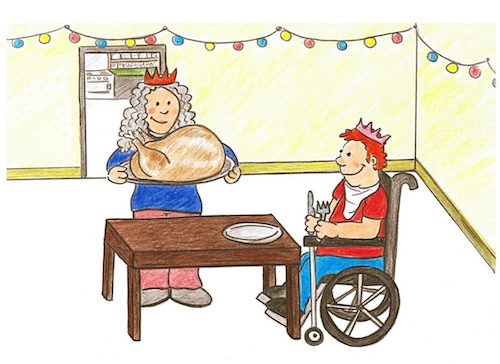 We've launched a new range of disability Christmas cards that are part of the Disabled People's Voice (DPV) collection of greetings cards designed by Hampshire artist Harry Wolfe.
Each card in the collection features a hand-drawn design revolving around disability, which is sure to put a smile on a loved one's face this Christmas.
There are seven designs to choose from and come in a pack of seven with envelopes:
We also sell a few other homemade Christmas cards that have been created by people who are disabled themselves, have a long-term health condition or have a connection to disability.
Visit our shop to view the full collection of Disability Christmas cards.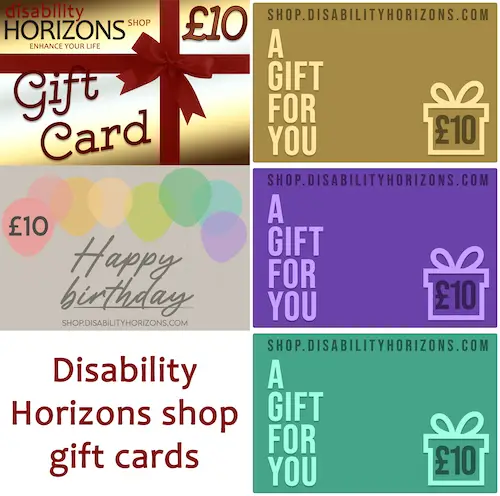 If you're not sure what to buy your friends or loved ones this Christmas but they'd benefit from our range of stylish, practical and accessible gifts and products, then you can treat them to a Disability Horizons Shop e-gift card.
You can purchase a £5, £10 or £20 gift card or multiples of them. You can also choose from a range of designs.
The recipient will be sent a code to use at the checkout and it doesn't have to be used all at once – the gift cards can be spent on more than 340 different products and are valid for a year.
To purchase an e-gift card, go to the Disability Horizons Shop.
To get more gift ideas, check out our other Christmas gift guides, which include even more stylish, luxurious, fun, practical and accessible gifts for all abilities.
By Disability Horizons 
More on Disability Horizons…