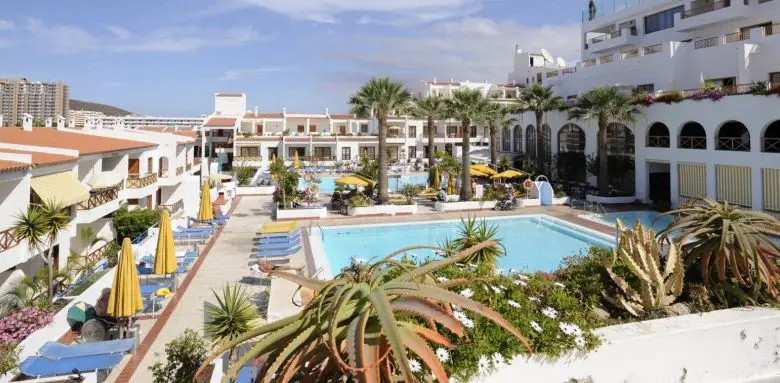 The Mar y Sol hotel in Tenerife, caters for disabled and non-disabled holiday makers with accessible accommodation and leisure facilities, mobility items and a therapy centre. Disability Horizons reader, Maggie Layton, recently stayed at the hotel with her family and here tells us all…
Earlier this year we had a lovely family holiday in Tenerife, the first time we had been abroad by plane as a family of five; myself and my husband, our 11-year-old disabled son, 8-year-old son and 2-year-old daughter. There were in fact many 'firsts' to try out this holiday, and it all went surprisingly well.
We hadn't flown on a plane for seven years with our 11-year-old son, who has severe learning difficulties and some physical problems, so we had a number of concerns. Would his wheelchair get damaged on the plane? Would there be sufficient equipment for his gastrostomy feeds and continence needs? How would he cope on the flight?
But we were pleasantly surprised. Monarch Airlines gave us extra legroom (a letter from the family helped) so that we could help him stand up out of his seat. The airport and airline were very helpful and organised getting us on and off and we were given enough extra luggage allowance for all his medical needs.
It was the also first time we had to manage without our wheelchair adapted vehicle, which was a little daunting, but the drop off went without a hitch. We booked a transfer from the airport to the hotel through the travel agency, but this can also be done easily directly with Lero, which is next door to the hotel.
Another first was the type of holiday; it was the first in a hotel rather than rented house, static caravan, or camping. For the first time… no shopping, meal planning, cooking or washing up; I'd had enough of self catering holidays! There was a lot of flexibility in length of stay too. As we went slightly off season (May) we could choose any length of stay. We went for thirteen days as this suited our preferred flight times.
We chose Tenerife for the climate and the Mar Y Sol hotel for the accessibility and variety of things to do. Our son cannot cope with extreme summer heat, and Tenerife has a very pleasant climate. The two unheated pools helped us stay cool as well.
The hydrotherapy pool was a real hit with all of us. Our children were fine with having to be a little restrained to respect other users' needs and vulnerabilities, and could be a little more exuberant in the other pools which are much less used. They loved the water features, jets and bubbles in the hydro pool.
But an even bigger hit was the sports hall with activities from Boccia to wheelchair rugby. This is very new with lots of sports equipment and very roomy accessible toilets. The highly qualified and welcoming sports and physiotherapy staff were great at involving the whole family in activities, keeping all the children active and amused.
The Mar Y Sol hotel sits in Los Cristianos resort, which is well adapted for mobility scooters, prams and wheelchairs. The hotel is in a quiet area of the town, but within reach of shops, market and beach. Helpful lifeguards at the wheelchair accessible beach will transfer you to a three-wheeled buggy with big wheels to help you get across the sand and into the sea.
We found many good accessible toilets on the island, at swimming pools and beaches especially. There are boardwalks onto many of the beaches, great for families with buggies and wheelchairs. Los Cristianos is a little touristy, you don't get a feel for original Tenerife there, but there are adapted vehicles available to rent on the island and wheelchair spaces on many of the buses, although in high season these may need to be booked.
The staff at Mar Y Sol appear to take everything in their stride. The rooms were great, as were the showers. We were also able to borrow a shower chair free of charge. The emergency buttons proved to be a little problem for us as they were in reach of our 2-year-old daughter, who could not resist initially. But it was good to know that if we needed help, it was there.
There is plenty of room in the restaurant to move around, relaxed staff, lots of food to choose from with a different international theme each night. The buffet means you don't have to wait for food and can choose what you like; great for little hungry ones!
We would definitely recommend this hotel and intend to go there again. It is great to have finally found somewhere that makes our lives easier on holiday and has all the facilities needed; and all on a fabulous island with lots of excursions on offer. We saw pyramids, pilot whales, sea water pools, amazing volcanic scenery and we still have lots to see and do there!
By Maggie Layton