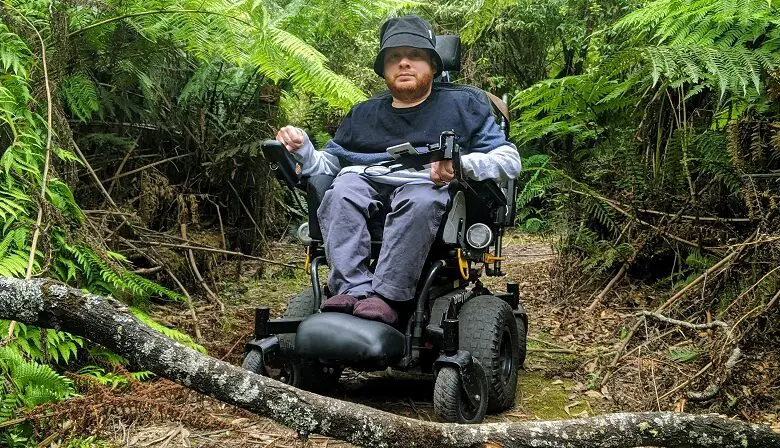 Carl Thompson is an Australian vlogger who has cerebral palsy and uses a wheelchair. Having been astounded by the number of disabled stories told by non-disabled people, he started vlogging to change the narrative and showcase disabled people's lives authentically.
Writing about yourself when you have a disability is particularly challenging. On the one hand, you don't want to paint yourself as a beacon of inspiration and feed into the damaging stereotype of inspiration porn of people with disabilities.
On the other hand, you don't want to come across as being so bland and mundane that you run the risk of implying people with disabilities can't have any fun or be at all interesting. You really can't win.
Now that the disclaimer is out of the way, I can introduce myself. My name is Carl Thompson. I'm from Melbourne, Australia and I love long walks on the beach.
Actually, that's a lie. I can't walk as I have cerebral palsy and use an electric wheelchair, and I don't particularly like the beach as my skin is so pale I get a sunburn after about 10 seconds of UV exposure.
I'm a dog owner and together with my partner, we look after our puppy, Oscar. He's a Cavoodle who's more popular on Instagram than I am – check out his first birthday party recently with his Cavoodle siblings.
I also run a YouTube channel, where I attempt to be funny as I talk about my perspectives and experience living with a disability in Australia.
My day job involves helping people with a disability and their families navigate the National Disability Insurance Scheme (NDIS).
If you're not from Australia, the NDIS is the government-funding system that pays for things like disability support workers, therapy, as well as assistive technology, such as wheelchairs and hearing aids.
Getting into filming
When people ask me if I have any hobbies, I often go quiet. Is dining at a nice restaurant a hobby? What about drinking good-quality coffee? I like listening to music and watching reality TV sometimes, does that count?
I always feel a bit apprehensive writing about myself as lots of my interests are nearly universal. I mean, who doesn't enjoy music? Well, I know of one person, but we won't talk about them.
Speaking of music, it was quite a few years ago now when I worked with a band full of disabled people. I worked as the videographer to record an EP and produce a music video. You can watch it here: www.youtube.com/watch?v=ErycGb7yUZI
My work as a videographer came about by accident. I was working for a wheelchair company in a marketing role and took it upon myself to create some videos for the company.
I had the equipment and learned how to edit videos together. Some of my friends were in a band and were wanting to make an extremely low-budget video, so I put my hand up and gave it a go. It's been a hobby of mine ever since and certainly set the building blocks for creating my own YouTube channel.
Starting to work as a vlogger
Looping back to the video, it won an award at a short film competition called 'Focus on Ability' – something I am really proud of but then disappointed by when I attended the awards ceremony.
You might assume that an award ceremony for a disability film competition would be wheelchair accessible, right? Well, I assumed the same and I was wrong.
The organisers of the awards didn't know that I use a wheelchair; because people with a disability can't actually be involved in making videos, we just appear in them when the able-bodied people say so, right?
This led to an awkward exchange as the presenter read out my name as the winner to applause, then frantically tried to find me in the crowd. Somebody quickly pipped up to tell them that I couldn't descend the staircase to the stage to accept my award. It was a comedy of errors, and I would have cried about it if I didn't take home $3,000 prize money.
My experience at the awards ceremony really cemented a couple of truths into my mind. The first being that people with disabilities sure have some interesting stories to tell.
The second being that while our stories are interesting, we are rarely the ones in charge of telling them – instead it's able-bodied people who write about us and filter our stories through their lens.
I'm trying to change this by forging my own path – telling my own story and assisting others to do the same through my work.
Creating my own videos on YouTube about living with a disability is liberating, as is being my own boss and running my NDIS disability support business.
Can you imagine a feminist advocacy organisation being run by a man, an LGBTQI+ group led by a straight person, or perhaps a white dude co-opting a movement for people of colour?
It just doesn't sit right, does it? But for people with disabilities, this is the norm. The people who represent us are not us. This must change, and I'm doing my bit to make it happen.
You can follow Karl on YouTube, Instagram and TikTok. 
By Carl Thompson
More on Disability Horizons…