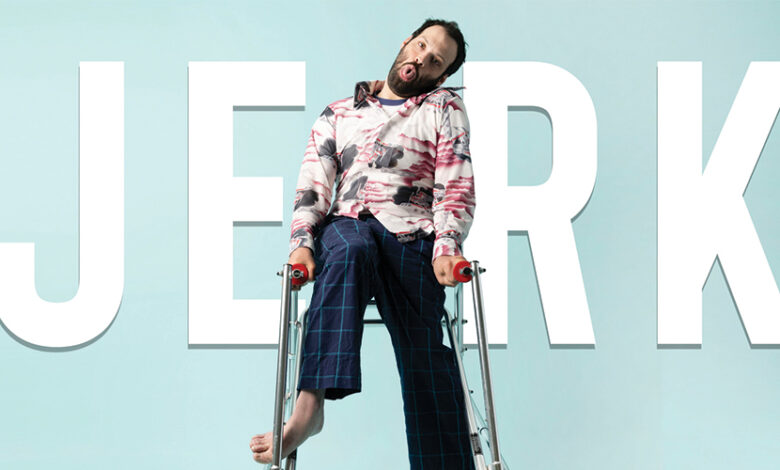 Tim Renkow is a comedian and actor with cerebral palsy who is best known for his smash hit BBC sitcom Jerk, in which he portrays a fictional version of himself and breaks down the taboos around disability.
Our writer, Emma Purcell, got the opportunity to interview Tim Renkow about living with cerebral palsy and his comedy career.
Tim Renkow is a Mexican-born American comedian and actor. He was diagnosed at six months old with cerebral palsy – a neurological condition caused by brain damage before or during birth – which affects his mobility, balance and speech.
Tim's family moved back to North Carolina when he was young, then he went on to attend art school in Memphis. He came to London when he was 22 to study creative writing and promptly started performing stand-up.
His critically-acclaimed shows earned him the Leicester Square Best Newcomer Award, The Amused Moose Comedy Award and a Chortle Best Newcomer nomination.
Tim is the co-creator, co-writer and star of Jerk on BBC Three, a devilishly funny series in the awkward comedy vein of The Office that debuted in 2019 to rave reviews.
The concept was born out of Tim's short film, A Brief History of Tim, which was first shown on the BBC in 2016.
It follows the life of an American art school dropout whose cerebral palsy means people continually judge him. But what they don't know is that inside he is, well, a complete jerk. Jerk was quickly commissioned for a second series, which aired in 2021.
Previously, Tim starred in the hit Viceland comedy Bobby & Harriet Get Married, which was broadcast on Comedy Central in the UK in 2018.
Tim was nominated for Breakthrough Act at the RTS Awards 2020 and Jerk won the Representation of Disability Award at the MIPCOM Diversify TV Excellence awards. In November 2020, Tim was also selected as a writer-performer for BAFTA Breakthrough.
Tim lives in London with his wife Spring Day, who is also a comedian with cerebral palsy. She made a brief appearance in Jerk as a yoga teacher in series two episode one.
Read on to find out more about Tim Renkow in his own words.
Tim Renkow on living with cerebral palsy
What was it like growing up with cerebral palsy and what level of impairment do you have?
Fine, I guess, it never was that big of a problem growing up. There was some trouble in that I was automatically put in the special needs class, which I didn't need. So, every year, I would spend two weeks there and then get out. But other than that, it was pretty normal.
I have Athetoid cerebral palsy, in which I have poor balance, speech and involuntary movements.
I use a walker and a wheelchair but mostly a wheelchair nowadays because, with Covid, the only time I go out is long distances. So I use a wheelchair for long distances and a walker for shorter distances.
Tim Renkow on becoming a comedian
View this post on Instagram
What inspired you to become a comedian and is most of your content based on disability?
I could say it was a lifelong dream but that would be a lie. Really, I was bored. I was in art school studying fine art and I just was not good at it. I just didn't care and couldn't convince myself it was important in any way.
Then there was a club next to my dorm that was doing a comedy competition. I took part in that and ended up coming third. I then thought, "oh, this could be something I'm good at and I could make money". So, I just carried on.
In regards to my comedy content, I'm a storyteller, so I tell life stories and therefore they are mostly things that are relevant to my disability.
I find usually the disability is a jumping-off point. Like usually the weird things that happen to me are because of my disability, but it's not the disability that's weird.
I've had complaints from both sides saying I'm too focused on disability and then complaints that I don't talk enough about it.
Does your comedy style differ in USA and UK or do you use the same content but get different reactions from audiences?
No, it's pretty similar. I haven't performed in the US in like 10 years, so it's been a long time. But I'd say it's probably pretty the same because it's stories though.
However, when I'm talking about America to a British audience, you need to explain the background information, so that people will get the joke and vice versa for Americans.
For instance, I have a story about being on the night bus and if I'm in America, I just need to explain what the night bus is a little.
Tim Renkow on starring in BBC Three's Jerk
View this post on Instagram
How did you come up with the idea of the TV show Jerk and did you think it would be as popular as it is?
My friend and I came up with the idea as an extension of the character I have in my stand-up comedy.
The pilot got commissioned easily but it was such a learning curve between writing stand-up and writing a sitcom. So, between the pilot and the actual first episode, it took about three or four years.
I never thought the show would be as popular as it is. Every series I expect to be cancelled and then when I'm not, I think, "I need to try harder."
Is the character of Tim a true representation of your real life?
I think it's the real me but turned up to like 11. I hope I'm not that big of a dick in real life but that's not for me to say.
I use a lot of stuff that has happened to me but also fictionalise the worst ways I could have behaved in that situation.
There is one true scene in the first episode that happens quite frequently. When waiting to use the disabled toilet, I notice able-bodied people go in to use it. While I queue, I spill water all over my crotch, so when the non-disabled person comes out, they'll think I've wet myself – I've done that to people before.
What was it like working with Lost Voice Guy?
I love Lost Voice Guy (Lee Ridley). He's sweet and funny. We almost killed ourselves last series because our outside scene – in which our characters battled it out to be the greatest athlete with cerebral palsy – was so cold and we just had to hang out in the cold most of the day, but we did it, which was amazing.
Then when we got back inside, some people asked, "how are you, Lee?" and there was this little pause and he just said, "I am going to die." I like him, he's very funny and I'm a fan.
Tim Renkow and his wife Spring Day
View this post on Instagram
How did you meet your wife Spring Day?
We met in Edinburgh when she was doing a show and she scared the s*** out of me. She would force me to do a show and I was like, "okay. I like this woman."
Then we became friends for about four years because she was living in Japan. She then moved back to the States and I grabbed her immediately and we've been together ever since.
How did you propose and how was the wedding?
I proposed after we saw Cats the movie because it made us so sad. Her response was, "I will say yes, but not now because you need a bit of time", which is fair.
We gave it some time and then we were going to have the wedding the month after Covid started, but of course, we had to cancel it,
Eventually, we just had a tiny one in Brixton with just us, four other people and our family on Zoom, which I have to say is a great way to do it. It's so much less stressful.
Have you ever performed comedy together?
We've done a couple of shows but it's really hard because people don't like two disabled people on the bill (Sping has cerebral palsy too). So, we do some specific disabled shows, but usually, we're not booked on the same show, which kind of sucks because we are good together.
What advice would you give to other disabled comedians?
I have no idea how to advise actors because that is something I never thought I could do and it just kind of happened. I just got lucky.
For disabled comedians and comedy writers, my advice is to study psychology, don't study arts, because as a comedian, psychology is what you're talking about.
If you have a degree in psychology, it'll make you a better comedian and it'll give you backup and another stream of income, which is really important to have. Also, it will help you better understand how to talk to people.
Watch Tim Renkow in both series of Jerk on BBC iPlayer.
You can find out more about Tim Renkow by following him on Twitter and Instagram.
Interview by Emma Purcell 
More on Disability Horizons…