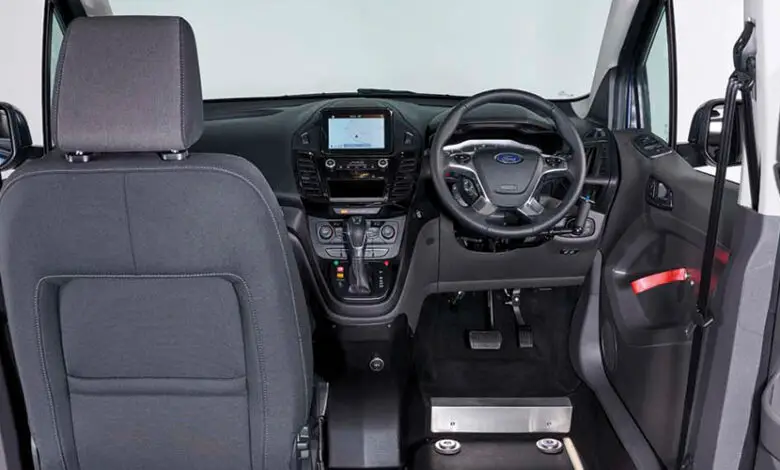 Buying a wheelchair accessible vehicle (WAV) isn't cheap, so you'll want to make sure that you get it right. Here, Sirus Automotive, which specialises in WAVs that enable you to drive or travel upfront as a passenger in your wheelchair, shares 5 things to consider when choosing a WAV based on its customer's real-life experiences.
We have been designing WAVs for almost 20 years now, so we know what's important when it comes to choosing one to suit your needs.
Over the years, we've heard first-hand from many Sirus customers, and they've helped us to shape our vehicle conversions to suit people's needs.
Access in and out of your WAV, parking and seating options are a big part of your decision to ensure independence and stress-free motoring. Here are some key considerations…
1. Consider a side entry WAV
When buying a WAV, you can buy one with either rear or side-entry access. Some of our customers find that side-entry vehicles are much more practical, particularly when it comes to parking.
Side entry allows access to the vehicle from the curb or from a Blue Badge parking space. There are many other benefits to this too, including retaining rear passenger seats and boot space.
Sirus customers Ian and Jackie told us: "We want to be able to get in and out of our vehicle whenever and as frequently as we want, with ease. The simplicity of the powered side entry is perfect, and it looks pretty good too!"
Susan, who has a Ford Internal Transfer WAV, said: "The fact that I enter from the side is brilliant. It just means that when parking I look for a space on the end or any standard-sized Blue Badge bay. There is plenty of space to get in and out using a side entry ramp.
I can also operate the vehicle using a remote, so as soon as I open the front door I click the button and the powered ramp and door open."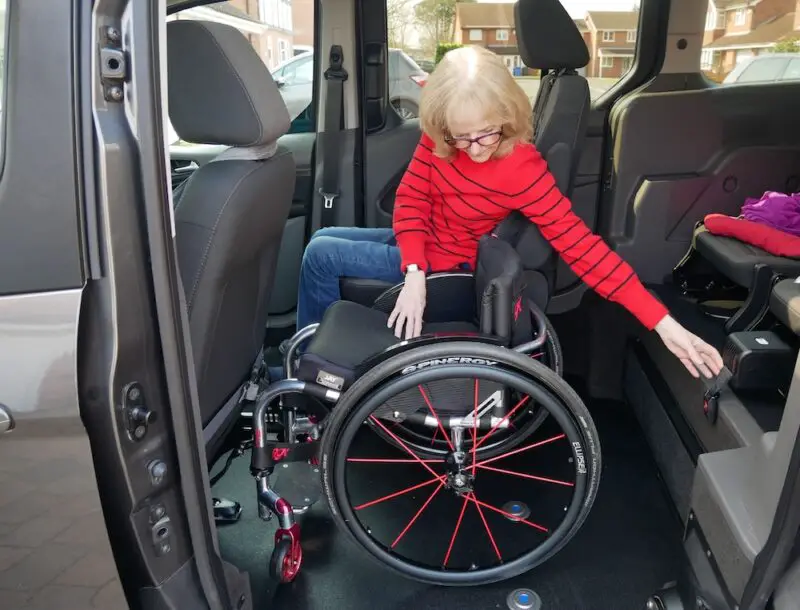 2. Look for a short ramp
A shallow, short ramp in a WAV can also help you when it comes to parking. We have designed our Ford Drive/Upfront with lowering suspension, which means the automated ramp is just 70cm long.
This means that you can easily enter and exit a Blue Badge parking bay and the shallow ramp has an angle below 11 degrees.
Ian and Jackie said: "When we park in a Blue Badge bay, the lowering suspension and short ramp length enables Jackie to get out easily."
3. Opt for a WAV with different seating options
Having a WAV that allows you to choose how you travel in the vehicle can make your journey so much more enjoyable.
For example, having the option to drive or travel upfront and switch places between the driver and passenger positions at any time will give you a great sense of independence.
Ford Drive/Upfront owner Mark explains: "When I'm not driving I can travel upfront next to the driver in my wheelchair. Sitting upfront the journey is perfect. It literally feels like being in a normal car.
I can turn the radio up and down, get the temperature right, help with directions, and actually contribute to our journey.
Just because you are in a wheelchair, why would you sit in the back as an adult? If you are able-bodied, the only time you would choose to sit in the back is if you were getting in a taxi! ".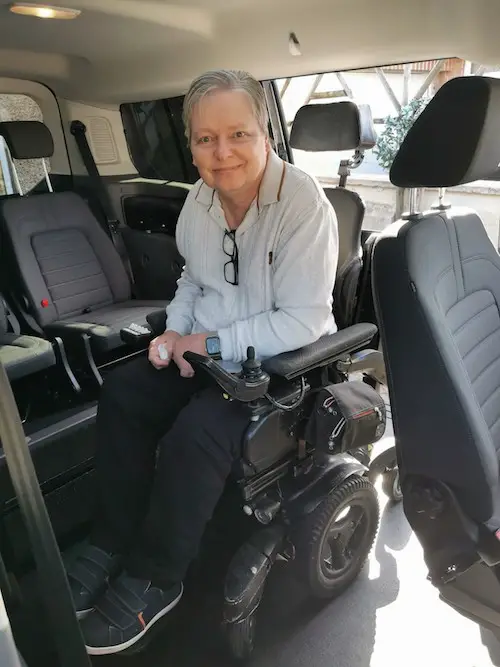 Our Ford Grand Tourneo Connect WAVs, which are all designed with side entry, have three different seating options:
On the Ford Drive/Upfront, the front seat, which has transfer wheels fitted, can easily be detached and moved to the opposite position and secured safely. 
4. Get rear seats as standard
Having rears seats gives you lots of flexibility as it means that you can take more people with you on journeys.
For Mark, this works perfectly: "I have two seats in the rear, which is ideal, as I'm forever taking passengers."
The Sirus Ford Drive/Upfront has two rear seats as standard. A fold-away step can also be fitted in the rear for additional leg comfort.
Ian and Jackie love the space they have in the back. "A side entry vehicle means that on our journey we don't have to take everything out for Jackie to get in and out, so we can stop off on route."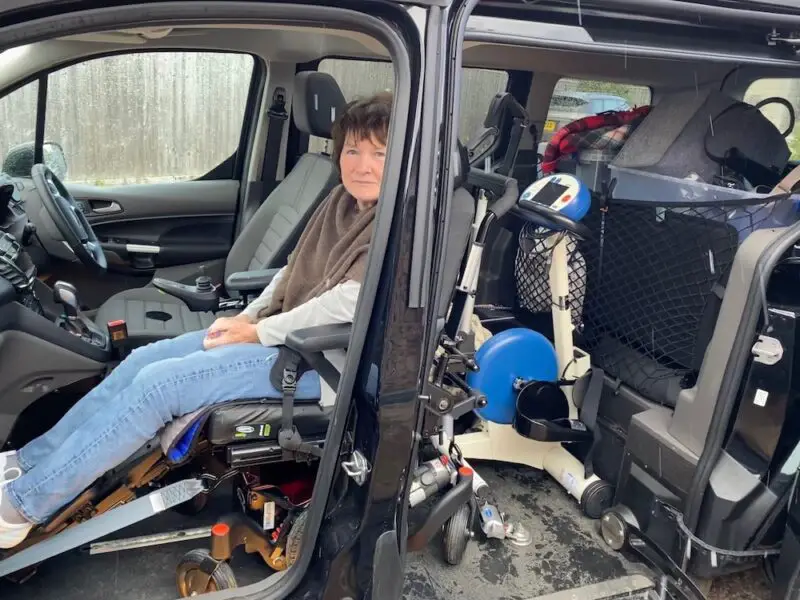 5. Choose a WAV with ample boot space
We all know that having a disability or health condition often means that there is a lot of equipment to transport. So having as much boot space as possible will make your life easier.
In our Sirus Ford conversions, we haven't modified the boot, so they retain the original boot space. Mark said: "As the Ford conversion has side access, it means I have full use of the boot, which is great. It means I can go shopping with ease."
For ease of use or if travelling independently we can fit an optional automated tailgate. Watch our customer Susan's video below.
Susan opted for an automatic boot opener, which means she can easily operate the boot with her key fob. "The boot is fabulous, I didn't have one with my previous WAV and it's really spacious.
I take various equipment with me, there is nothing I cannot fit in there. The boot is operated automatically, all I have to do it press the key fob to open and close it! It's a brilliant feature."
You can read more about Mark, Susan and Jackie and Ian's experiences with their Sirus WAVs.
Our Ford Drive/Upfront WAV is available on the Motability Scheme. We also sell a range of new and approved used wheelchair accessible vehicles. Get in touch for a free home demonstration and test drives.
By Sirus Automotive
More on Disability Horizons…