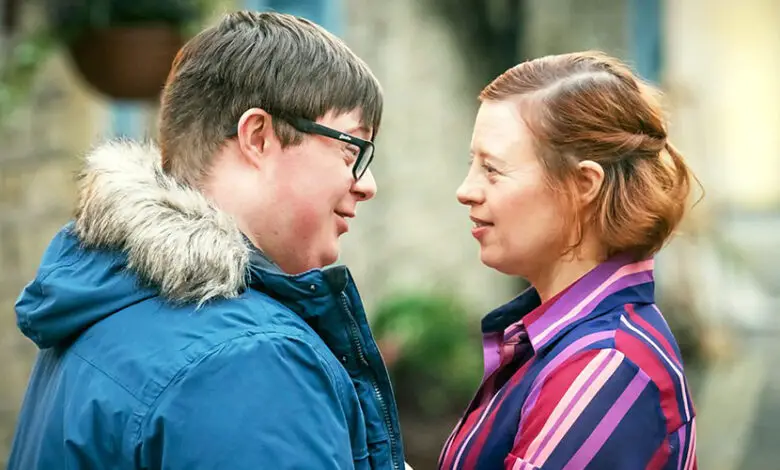 Ralph and Katie, two disabled characters from the hit BBC One series The A Word, are set to appear on our screens in their very own spin-off show.
The six-part series will follow Ralph and Katie (played by Leon Harrop and Sarah Gordy) on their journey as newlyweds.
Both characters have Down's syndrome, and the series has been written by a team of disabled writers, led by Peter Bowker, who was the lead writer of The A Word.
What happened in The A Word?
The A Word follows one family's journey of discovery following an autism diagnosis. Joe Hughes (played by Max Vento) is a five-year-old boy who has difficulty communicating and consistently isolates himself by listening to music through headphones.
Joe's parents, Paul (Lee Ingelby) and Alison (Morven Christie), can't understand why Joe struggles in social situations, and eventually, take him to the hospital to find out more. Here, he is referred to a specialist where he is diagnosed as autistic.
The three-part series follows the family's journey of understanding and accepting autism, which comes with its own unique challenges.
Near the end of the series, Ralph, who has become part of the extended family, gets married to Katie. The new spin-off series, Ralph and Katie, will follow the domestic challenges faced by the newlyweds, with each 30-minute episode featuring a different story.
Also returning will be Pooky Quesnel as Ralph's mum Louise, Nigel Betts and Sherry Baines as Katie's parents Steve and Clare, and Matt Greenwood as Tom.
"An excellent example of disabled representation on and off screen"
The BBC had previously teased the new series would explore "issues faced by all newlyweds, but with an added ingredient in the mix being that the couple have Down's syndrome".
Sarah Gordy, who plays Katie, said: "It is great to be able to take the character of Katie forward after her exciting journey in series three of The A Word. The wedding and the dress were a dream come true for Katie. I am so looking forward to seeing what comes next in Ralph and Katie's married life."
The A Word creator Peter Bowker is also Ralph & Katie's lead writer, with a new team, made up completely of emerging disabled writers, who were chosen in partnership with BBC Writersroom. 
They include Amy Trigg, Annalisa Dinnella, Genevieve Barr, Tom Wentworth and Lizzie Watson. It is directed by BAFTA-winning director Jordan Hogg, who is also disabled.
Peter Bowker said: "The writing team have delivered a series of scripts that are full of joy, humour and authenticity. It will be exciting to see the wonderful cast bring them to life under the Direction of the force of nature that is Jordan Hogg."
In a drive to encourage a more inclusive future behind and in front of the camera ITV Studios and BBC Drama teamed up with TripleC DANC (an organisation created by Melissa Johns and Cherylee Houston) on Ralph & Katie to offer behind-the-scenes access for those interested in how a High-End TV production is made. DANC facilitated access and support for participants throughout the process.
The programme was offered to people in the northwest and beyond who are deaf, disabled, autistic and neurodivergent and at an early stage in their careers. It ran for six months and took place remotely, with participants being given confidential access to key documents, which stretched from pre-production to the final edit of the first episode. 
Disability campaigners have welcomed the announcement of the new programme, calling it an "excellent example of disabled representation on and off screen".
Carol Boys, Chief Executive of Down's Syndrome Association, said: "We're so pleased that Ralph and Katie's story will be continuing, and that Leon and Sarah, two marvellous actors, are getting this well-deserved opportunity to play the central characters in a BBC drama."
Ralph & Katie will air on BBC One from 5th October 2022 at 9pm and you can catch up on BBC iPlayer.
By Emma Purcell 
More on Disability Horizons…