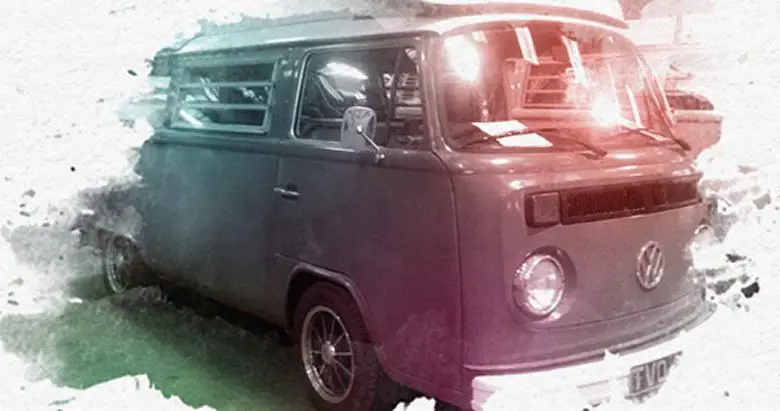 Lifestyle
Accessible wedding camper van with Great White Occasions
Getting married is an exciting but busy time with so many things to organise, especially if you have a disability. Well new business Great White Occasions hopes to take away one stress by offering accessible travel to and from weddings in a converted camper van.
We are Daniel and Emma, a married couple in our 30s from Manchester, and we've just launched Great White Occasions, offering a chauffeur driven service in our renovated vintage 1973 VW camper van, which has optional wheelchair access.
We were originally inspired to start our own business after watching a TV programme where a couple had renovated a double-decker bus to use for weddings. We always liked the idea of working for ourselves, and something just clicked that this could be something we could work on together. We decided a VW camper van would be more suitable for us than a double-decker bus, and we wanted to make it wheelchair accessible, given that it is larger than most typical wedding cars.
We got married in 2010, so we know first hand how exciting but sometimes stressful it can be to plan a wedding. When we were researching into the types of wheelchair accessible wedding cars available, we were surprised to learn that the options available are much more limited. We found that the main options available were either a black taxi cab (sometimes available in white) or a minibus-type vehicle, which was often in a white or grey/silver colour.
It seemed very unfair that just because someone is in a wheelchair they have very few options when it comes to planning their big day. The lack of choices in wheelchair accessible wedding transport inspired and motivated us further to make our idea a reality. We chose the name Great White Occasions for our business based on Daniel's favourite film, Jaws, and our love of sharks in general. Also, our camper van's name is Bruce, the nickname that the crew filming Jaws gave the shark in the film!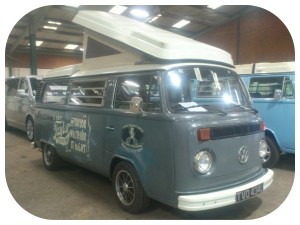 We were lucky enough to make contact with a mechanic called Lee, owner of Manflowers VW Restoration, who had a VW camper van for sale. He also felt our ideas were something he could help with. We knew from the beginning we wanted the wheelchair access to be flexible, as we know from experience that every wedding has different requirements.
The camper van has therefore been renovated in the back to keep the original bench seat, but we have fitted 2 removable seats installed facing it. When removed, this allows a person in a wheelchair to sit next to someone in the seat, or for 2 people in wheelchairs to sit next to each other; we certainly don't want to limit who people can sit next to on their special day!
We have a lightweight portable ramp to enable people in wheelchairs or people who may struggle with the step to enter the van with ease. Because the camper van is only used for weddings, there is no camping equipment inside, which gives it a more spacious interior, and more space for photos. We decided on a pastel yellow and blue/lilac colour scheme for our camper van inside, as we felt the colours complemented each other well, and will give a summery and fresh feel to weddings all year round.
VW camper vans already attract attention on their own, but we wanted to make ours even more eye-catching, to add to the fun and unique feel of your day. With Daniel having a background in special needs education and me (Emma) having a general practice doctor, we hope we can offer a different perspective on the difficulties people with disabilities or in wheelchairs may face when planning a wedding. But this is where we need your help, to ensure we are offering the best service possible.
We have created a survey to try and get an idea of the actual difficulties faced by people when planning a wedding. We would be grateful if you could complete our short survey on the Survey Monkey website, and hopefully we can help people enjoy their 'Great White Occasion' a little bit more!
Please contact us on our website, Great White Occasions, on Twitter or on Facebook if you wish to suggest anything that the survey doesn't cover.
By Emma and Daniel Ryan
Check out…
• Pony Access: making horses part of disabled people's lives
• Paula Moulton and Strictly Wheels!
• DitzAbled Princess: new disability comic
Got a business idea to share? Email us at editor@disabilityhorizons.com, message us on Facebook, tweet us @DHorizons or leave your comments below.