My accessible golden tour of India: part 1
Lynne Kirby from Enable Holidays – a specialist tour operator for wheelchair users and those with limited mobility – recently visited India to assess the suitability of The Golden Triangle Tour. Here is her first installment of diary notes from the extraordinary trip…
The adventure in India begins
Travel has been my passion and my career for more years than I care to remember, so you can imagine the number of places I've been fortunate enough to visit throughout the world. Yet, one destination that has escaped me – even though it's been on my must-see list for some time now – is India. Well, today that is going to change as I find myself in Bahrain en route to Delhi and the start of my 11 day tour of India.
The Indian Tourist Board are just as excited about my visit as I am. I am feeling sure that the wonderful country has much to offer disabled travellers looking for the adventure of a lifetime, with good levels of accessibility and much improved facilities for wheelchair users and people with limited mobility. I'm certainly interested to see how accessible India can be – especially since an increasing number of our customers are eager to consider exotic destinations that offer outstanding sight-seeing opportunities. Ahead of me lie the wonders of historical Delhi, the Taj Mahal, Agra Fort, Jaipur, Sikandra, and many more magical places. In the past I've only seen them upon the pages of books or as mystical backdrops to films and documentaries, but now I am about to have the pleasure of discovering them for myself.
Delhi… Old and New
After arriving at New Delhi's impressive new airport I had a relatively quiet and trouble-free transfer to the Hotel Maidens in North Delhi. As it was now 5.30 local time and I hadn't caught much sleep during my flight, I was pleased to see the welcoming sight of my bedroom, where the irresistible looking bed was far too appealing to ignore. And so to bed.
My first daylight experience was driving (well, being driven to be precise) from North Delhi to the southern part of the city, for my visit to the Taj Palace Hotel, where I was scheduled to undertake my first inspection and audit. The journey to the hotel was an experience in itself. Travelling along Delhi's equivalent to the M25 presented me with a myriad of emotions. At times it was thrilling, at others it was scary, but above all it was a real eye-opener. The ring road was a highway for every mode of transport (old and new, slow and fast).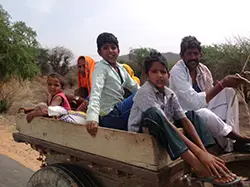 But whilst bicycles and carts competed with gusto against honking motorbikes, cars, trucks and buses swerving from lane to lane (some with passengers clinging on to the sides), I was amazed to see that no one hit anybody else, nor did anyone show signs of road rage – so nothing like the M25, really!
The Taj Palace Hotel is a real gem of a property. The members of staff are extremely friendly and welcoming and I noted how attentive they were with all guests. The fully adapted room is easily accessed via a ramp at the entrance, and I found it to be very well appointed. Hotel facilities are of a high standard and the pool area is a pleasant place to relax after your morning excursions.
My first excursion was to the fascinating Qutab Minar, the tallest stone tower in India, which has been made accessible by the installation of several ramps. Regretfully though, I discovered that the toilets were not adapted with disabled facilities. The tower is however a very worthwhile place to visit with a very interesting history dating back to 1199.
The return journey gave me the opportunity to marvel at the imposing India Gate, Parliamentary buildings and the President's palace, which is home to no less than 340 rooms.
In just a few short hours in this fascinating country, I'm already captivated by the Indian people, their rich history and the exciting atmosphere I find myself in. This is really a whole new experience, and my early impressions are very positive. Let's see what the forthcoming days bring!
Jama Masjid, Chadni Chowk, Raj Ghat and Humayan's Tomb
An early start to try and avoid the traffic, we set off to visit Jama Masjid, one of Asia's largest mosques. As mentioned yesterday, the ring road is a complete free-for-all. Today, however, the challenge was stretched even further when I noticed that in the inside lane (if there is such a thing here in Delhi) was a bull elephant as large as you like going about his business in a most nonchalant fashion. He actually turned out to be the first of 3 elephants I would see before reaching my destination.
After visiting the famous mosque, I took a ride along Chadni Chowk in a native cycle-rickshaw. This mode of transport is very popular in India and it's surprising how effective they are for getting from A to B. The ride was a real experience with the guy pedalling as fast as he could down the narrow streets that were populated by bullocks and carts on one side and tuck tucks on the other. It was amazing to see the locals setting up for the day there with their colourful offerings of flowers, food, fabric, fresh fruit, pots and ceramics and every other form of saleable item. It was a sight to behold, and almost as if I had stepped back in time to India of old. Truly memorable!
Our next stop was Raj Ghat where Ghandhiji was cremated. I'm pleased to report that it was accessible for most part, and truly amazing to still be in the centre of Delhi whilst surrounded by a peacefulness that was only broken by the constant sweet notes of birdsong. And the variety of birds you can see is staggering – from small common garden birds to parakeets, crows, circling kites and other birds of prey.
Upon leaving Raj Ghat, the therapeutic feathered chorus was replaced by honking horns and the sounds of hectic life in a modern city. My next stop was a visit to Humayan's tomb, which is another very worthwhile historical site to experience, and again mainly accessible, apart from the last staircase of this precursor of the Taj Mahal.
Today is the Hindu festival of Goddess Durga. This is celebrated in many ways, including fasting for a single day or up to seven days, the shaving of hair, and the sacrifice of animals in the street. In fact, I witnessed the sacrifice of a lamb, a goat and a chicken, before seeing a little girl of around two years of age having her head shaved. It all made pretty sad viewing to be honest, and the little girl seemed very distraught to see her locks falling to the ground. I do however accept it is a local ritual and did appreciate the colour and excitement that was mounting when I left the celebrations.
My afternoon was spent at the Anna Ruche logical site and inspecting four hotels, where once again I was able to witness smiling faces, excellent service and superb facilities.
Agra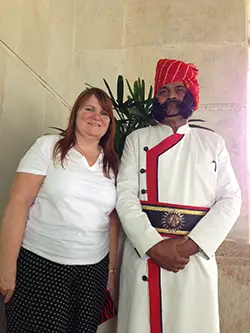 An early start this morning and time to say goodbye to Delhi and move onto Agra. The journey took us along the new Express Way, which was 5 years in the making but has now reduced the journey from Delhi to Agra substantially and there are several adapted comfort breaks on the way. The land north of Delhi is very flat and mainly comprises miles and miles of farmland; but the nearer we got to Agra the temperature increased dramatically and the fields were populated by local farmers – men, women and children – all working on the land with their rustic carts being pulled by loyal oxen and donkeys.
As we approached Agra we crossed the Yamuna River where a herd of water buffalo were basking in the muddy water alongside children enjoying their daily dip. The traffic in the centre of Agra was just as hectic as that witnessed in Delhi with carts, tuk tuks, cycles, coaches and cars all competing for the same two lanes. It was noted however that cows clearly had priority above everything else, but as they are sacred animals it was hardly surprising. So we had no option other than to manoeuvre around them.
In the distance I caught my first glimpse of the amazing Taj Mahal, which we will be visiting tomorrow morning. As we took the main road into Agra we could see monkeys watching the traffic and chattering amongst themselves on the windowsills of derelict buildings. Now I do realise that these chummy characters are very nifty souls and will happily steal anything edible from anything or anyone, but they did look really innocent and endearing…

Check back in a couple of weeks to hear about the second part of Lynee's tour.
Lynne Kirby and the team at Enable Holidays are currently planning The Accessible Golden Triangle Tour of India – a new opportunity for holidaymakers with limited mobility. For further details telephone 0871 222 4939 or visit www.enableholidays.com.
By Lynne Kirby
Check out…
Have you been to India? We'd love to hear about your trip, so get in touch by messaging us on Facebook, tweeting us @DHorizons, emailing us at editor@disabilityhorizons.com or leaving your comments below.