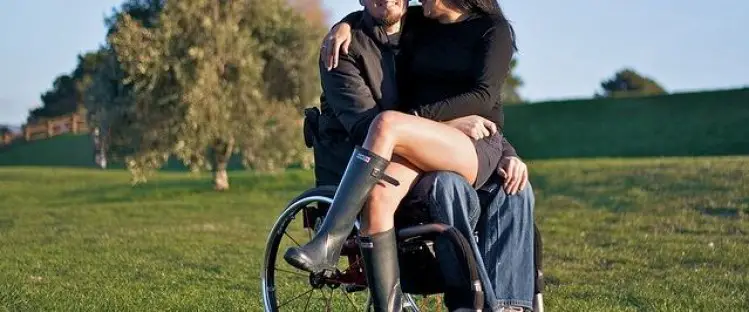 In our series on disability, sex and relationships, expert and resident agony aunt Tuppy (who runs Outsiders – a private club for disabled people looking for a relationship) answers your questions. This week, the disabled lesbian scene.
#DHgurus
Dear Aunty Tuppy
I am a young lady with MS using a wheelchair. I have other slightly embarrassing impairments but, despite these, I have enjoyed sexual relationships with boys. However, I have now reached the conclusion that I am actually gay. This realisation has been a bit of a shock to me and my family but I feel ready to move forward. I am told I am pretty but have no idea how lesbians get together in London. I have read upon lesbian sex and it sounds wonderful, I can't wait!
I'd love to have fun going clubbing but don't know which clubs might be best for me in London as I am disabled and cannot cope with loud music and crowds. Tricky. Your advice is welcome.
Suzi
———- ———- ———- ———- ———- ———- ———- ———- ———- ———- ———- ———- —-
Dear Suzi,
It's great you have a supportive family and you are ready to move forward. Another place you could find support is the Outsiders club which has lesbian members as well as straight, and we all support each other on our journeys.
It's a shame that the MS Society's GLAMS , a support and social group for LGBT people with MS has sadly closed down due to lack of volunteers. Keep an eye out to see if it opens again.
Shame too that you just missed our big all-night fund-raiser, the Sex Maniacs Ball, which is always accessible and welcoming to all sexual tastes. Next year, Ashley Ryder will help us to bring in gay guests, so don't miss it! We have several quiet, uncrowded areas and plenty of opportunities.
My bisexual colleague tells me that disabled people are more likely to be accepted in an LGBT club than a lesbian club (and she is supporting our new lesbian member to go to these). She recommends the Resistance Gallery which sometimes runs LGBT nights. The ground floor is accessible but toilet not. You did not actually tell me if you can stand or walk.
Most clubs are either noisy, inaccessible or not lesbian, so how about taking ear plugs and a little card saying 'Lets talk outside where I can take out my ear plugs'? All nightclubs have outdoor smoking areas. The only truly accessible gay clubs are Fire and Pulse but neither have regular lesbian or LGBT nights.
Blush in Stoke Newington is a little lesbian bar with a ground floor and beer garden but their phone is not working so I've not been able to find out whether you can access the beer garden without going downstairs.
Soho's Freedom Bar claims to be the first metro-sexual club in London. That means visitors of all persuasions are welcome, as long as you're respectful. The ground floor lounge bar is quiet but the toilet is not accessible.
So, as you can see, I am struggling to find exactly what you are really looking for, but I have some other suggestions for you.
BiCon is something you might like to try. It is an annual bisexual get together organised by different people every year, some of whom are more disability-aware than others. But if you tell them you want to come along, and what your needs are, they are more likely to make the place accessible to you.
I don't know if you have heard of Janet Jones, but she is a politically active lady who has MS and is a butch lesbian. Janet has made a film called Butch Losses in which she describes how her sex life has changed since the onset of MS. She finds it increasingly difficult to dominate a sub when she has less control over her own body. She says 'nobody taught me how' and yes! Much as the MS society and MS Trust work hard to support people with MS, they don't go far enough when it comes to sex.
Alex Cowan is a sex and disability adviser and campaigner with MS, who appeared in our Sexual Respect Tool Kit training film. Right at the end, there is a very moving scene where she speaks with another disabled girl about having a sexual relationship when you have a catheter, and the other girl slowly acknowledges that it just does not matter. I mention this as I guess the 'slightly embarrassing impairments' you spoke about might be something like this. Alex is about to start sex and disability coaching.
I hope you can make lesbian friends and, together, have fun going out. Try Outsiders, and the many meetups in London for various groups.
GLAMS: glams@googlemail.com
Resistance Gallery: 0207 729 9072
Freedom Bar: Tel: 0207 734 0071
By Tuppy Owens
Get in touch by messaging us on Facebook, tweeting us @DHorizons, emailing us at editor@disabilityhorizons.com or leaving your comments below.