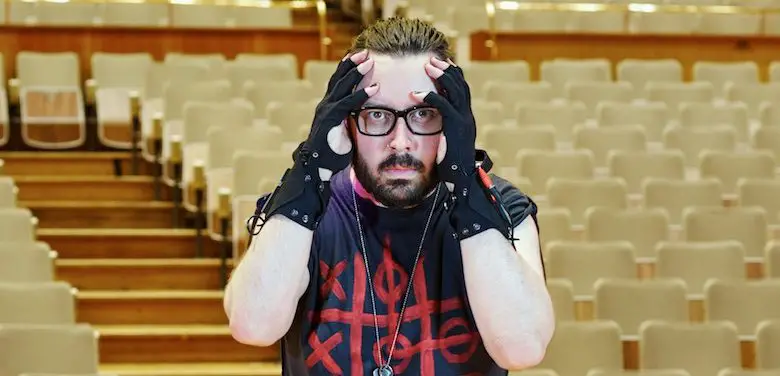 People think they know how music should sound and, sadly, how it should look. But disabled musician Kris Haplin has been trying to change all of that. Kris has been collaborating with Attitude is Everything, a charity that aims to make live music accessible to everyone, to show how a new invention, Mi.Mu Gloves, are the next best thing in creating music, whatever your disability. We sent disabled music blogger Meghan to find out more.
When I was asked to interview Kris for Disability Horizons, I have to say that, despite being a big music fan, I'd never heard of the Mi.Mu Gloves. An invention by artist Imogen Heap in collaboration Drake Music, an organisation that works to make music more accessible through technology, the gloves aim to give musicians with limited mobility an easier way to make and perform music. You can see for yourself in this video what they can do:
Kris says that the Mi.Mu Gloves have given him so much more freedom as a musician, in part because they can 'learn' his movements and adjust to his needs, in a way that a normal instrument couldn't. So to promote this great invention, Kris is working with the charity Attitude Is Everything to perform The Gloves Are On tour, where they will be central to his performance in Guildford, Coventry, Bristol and London.
Here's what Kris had to say about the gloves, tour, his love of music and disabled artists…
Let's start with an easy question, can you tell Disability Horizons about yourself?
Ironically enough, I always find that one of the hardest questions! It's so weird, talking about yourself. I'm a singer/songwriter and something of a musical magpie. I borrow all sorts of stylistic ideas (I used to work in a record store, maybe that explains my electric style) but my constant influences are Stipe, Yorke, Bowie, Bjork, Corgan. I like to think I stand a chance of pushing some boundaries like the songwriters who've influenced me.
I'm a disabled person with Cerebral Palsy, which obviously influences not only what I can do, but how I'm perceived. It's definitely something that catches people's attention. Often it's a positive thing for me – people are surprised, but supportive. Of course, that also tells me that disability in music is still far away from being seen as normal.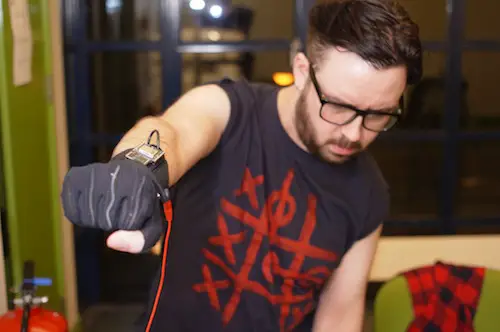 What kind of genre/s do you normally listen to on a daily basis?
As well as the singer songwriters I love, I jump around all sorts of unconnected genres. I was a metal kid, I love drum n' bass – my not so guilty pleasure is yacht rock, especially Toto.
Do you believe that going to school to get a degree in music is helpful if someone wants to become a musician and produce songs?
The honest answer is that I don't know. I did a Higher National Diploma in pop music, which was performance and theory heavy. But it taught me almost nothing about getting into the business. My brother is a lecturer, and he tells me that social media is a big part of what they teach now. That's an important part of getting yourself on a path towards being heard. It's not just about how well you can write music or play – people need to know about you too.
I went back to college to do art, following the influence of John Lennon, David Bowie, and Thom Yorke. I figured I could learn more in art college. It taught me how to solve problems creatively and had a much bigger influence on my career than any musical education. I'd highly recommend looking beyond the art form you're in for influences.
Despite your disabilities, what made you decide that you wanted to have music a career?
Well, everybody creates music in my family. My dad has played in bands since he was a teenager. Guitars were always around the house, so music seemed like a perfectly natural thing to do. I didn't really consider what being a disabled artist would mean until I was an adult and beginning to realise how different that was.
What do you think are some of the ways in which we can make music more accessible for everyone, especially for those with more severe disabilities that want to have a career in music as well?
Well, I think visibility and inclusion are the most important things. As I'm becoming a little bit more successful, I've thought more about what it would have meant to see a disabled artist be successful when I was younger. I've met kids at disability workshops who know who I am, and to be told that I'm inspiring them is HUGE. It makes it seem so much more worthwhile than just being about me, me, me all the time.
Are you excited about your new tour?

Excited, yes. Slightly terrified also! It was so simple when I just played guitar. We only have a short run, but hopefully this is just the start – there are already offers of gigs later in the year.
What is tour life like for you? What are some of the things you do differently that maybe other people don't do?
Well it's not very rock n' roll having to ring ahead about Blue Badge parking! But it's important to be honest about what you need. I used to hate bringing up access needs so I put up with a lot that wasn't right for me and made life tricky. But I felt like I was making a fuss. Nowadays, I don't worry so much – I'm honest about what I need.
What are your thoughts on venues not being accessible to people with disabilities? What are some changes that can be made to improve them?
I've wanted to work with Attitude Is Everything for a while to tackle this and they've done already some amazing work. We weren't quite sure how we could make more of an impact, then the idea of this tour came up. The tour is happening during Independent Venue Week, so it's a great opportunity to work with small venues to improve accessibility, as well as promote the gloves.
While I feel venue access is improving in public spaces, I still feel for artists it's harder. For example, maybe there's a ramp outside, but steps to the stage. Hopefully my being on tour will raise some of these questions.
It's important to remember that we're not trying to browbeat venues, we sympathise that it's a tough to meet all access needs. Most venues we deal with take it seriously, but perhaps need the right advice. That's why I feel we're doing something quite important – hopefully this tour will contribute to improving access to live music. Music is so important, I certainly can't imagine life without it.
The Gloves Are On tour starts on the 27th of January in Guildford. You can find out more about the dates and venues on the Attitude is Everything website. You can learn more about Mi.Mu Gloves by visiting its website, and hear some of Kris's music on his YouTube channel, Dancing About Architecture.
By Meghan
You can read more of Meghan's articles by visiting her blog, Got Meghan's Blog.
Image credits: Emile Holba,Gawain Hewitt and Lee Cogswell.
Get in touch by messaging us on Facebook, tweeting us @DHorizons, emailing us at editor@disabilityhorizons.com or leaving your comments below.