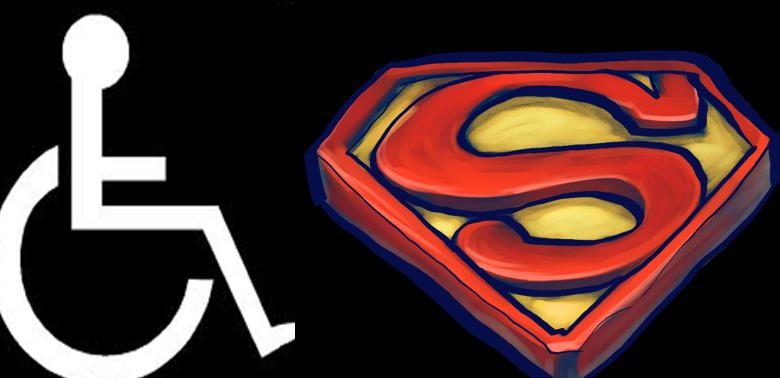 Following on from our article about the need for books featuring disabled characters, new Disability Horizons contributor, Frank Lambert, tells us how he was inspired to introduce a disabled superhero to the world of fiction and children's books.
"Can you name five disabled superheroes, dad?" My 12 year-old son, Mikey, suddenly asked out of the blue.
"Professor X" I quickly replied. I had to think a bit before I could name another. "Err, Daredevil. He's blind, isn't he?" Disappointingly, that was me done, I couldn't think of any others.
Mikey frowned. 'I mean superhero's who are disabled like me, you know, with a medical condition rather than disabled because they have been shot in the spine like Dr X. And I don't think Dr X would be into The Clash or Nirvana, like me either."
Michael has hereditary spastic paraparesis. Although he can get around on his feet a little, he is pretty much reliant on his wheelchair.
Later, we searched for disabled superheroes on the internet. I was right about Daredevil, and Professor X is probably the most recognisable disabled superhero out there thanks to the X-Men movies.
We found a few others; Batgirl who is transformed into Oracle after being shot in the spine by Joker, is confined to a wheelchair; Echo, a deaf superhero who has dealings with Daredevil. Dr Mid-Nite, another blind superhero, and Cyborg, a character similar to Iron Man who became disabled after an experiment went wrong.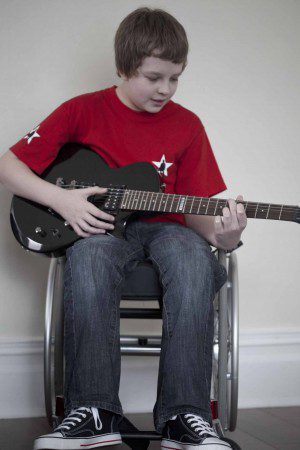 There are others, but none like the kind of superheroes Michael wanted to read about. He was looking for a hero that is similar in age to him. One who didn't have any superpowers like Superman or Spiderman. He wanted a hero who used gadgets and wits to overcome obstacles. A hero Mikey felt he could become, if he used his imagination – a superhero like Napoleon Xylophone who suddenly introduced himself to my imagination as we talked.
At the time, I was completing an MA in creative writing at Teesside University. One of my modules called for me to develop a creative writing workshop for a group I had an affiliation towards. Michael is an Ambassador for Whizz-Kidz, the charity that provides mobility equipment for disabled children as well as encouraging them to look beyond the restrictions of life in a wheelchair.
I contacted Whizz-Kidz and asked them if I could run some creative writing workshops at their ambassador club at Newcastle, with the aim of writing a short story about a disabled 15-year-old boy who becomes a superhero. They said yes straight away and within a month I found myself in front of a group of disabled children talking about characterisation and plot, as well as changelings, ghosts and gargoyles.
When we came up with a name for the story's bad guy, I knew we had something special on our hands. Mandrake Ackx filled me with the drive to do more than write a short story, he made me want to tell Napoleon Xylophone's story in full.
So pretty much a year later here we are with Napoleon Xylophone due to be published at the end of May. Our superhero is a schoolboy who has problems with bullies, a crush on a girl who also happens to be his best friend and a medical condition called HSP, which pretty much confines him to a wheelchair.
He is disabled, but the story is more concerned with his personality and the personalities of the other characters in the book. We have placed our characters in unusual situations, to see how they react, to challenge them so we can see how they cope and grow into their future selves.
Napoleon also fights wytes, gargoyles and mannequins that come to life in the underworld below Newcastle city centre.
I guess what I'm trying to say is that Napoleon Xylophone is the story about a normal every day kind of boy who eventually becomes a superhero. The fact that he happens to be disabled adds depth to the story, but isn't the main driver for how the story unfolds. This is a deliberate approach, the need for more positive disabled role models in fiction is important, but it is also important that disabled characters are not introduced just because they are disabled, that would be counter-productive.
No one involved with the workshops wanted Napoleon Xylophone to be a book about his disability. We wanted to tell a good story that would also give an insight into some of the problems young disabled children encounter in everyday life, without coming across as preachy. We wanted a different kind of role model with a different kind of voice, someone who could show that being in a wheelchair may be difficult at times, but at the same time it could also be cool and fun, especially when you begin to think about things in a different way and when you let your imagination turn your wheels into your friend.
Hopefully, that's what we've achieved with Napoleon Xylophone and one day, maybe Napoleon will make the top five lists of some reader's superhero's.
If you'd like to find out more about Napoleon Xylophone and read his first chapter, you can do so here.
By Frank Lambert
If you missed it, check out our article on the need for more disabled characters in fiction books. Also learn about the great new children's book, Tilly Smiles, from twelve-year-old disabled author Tilly Griffiths.