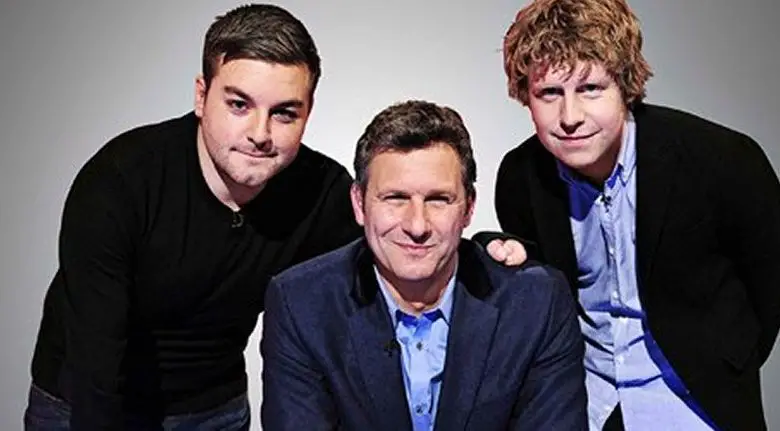 Have you been watching The Last Leg? Regular Disability Horizons contributor, Sarah Ismail, tells us her thoughts on the show and how it may be playing a part in the Paralympic legacy.
During Channel 4's coverage of the 2012 Paralympic Games in London, the comedy program The Last Leg – a hilarious highlights show – aired each night at the end of the day's sports coverage. By the way, its two disabled presenters, Adam Hills and Alex Brooker, are amputees who have one leg each. The third presenter, Josh Widdecombe, is not disabled.
Disabled people loved The Last Leg in its original format. However, once the Paralympic Games ended, there seemed to be no need for it to return. Like the Games itself, it soon became all but a treasured (and extremely funny) memory.
So, last week I was thrilled to discover that it was returning on Friday nights at 9.30pm with the same presenting team. But, readers, before I watched it, I thought the new version of The Last Leg was going to be a round-up discussion of the week's big disability stories. I was expecting something like the BBC's This Week, but with disability news, disability-related one-liners and disabled studio guests.
---
Head to the Disability Horizons Shop to find stylish and practical solutions to everyday problems. 
---
Why was I expecting all this? Well, simply because Adam Hills and Alex Brooker just happen to be missing a leg each. Yes readers, I, a disabled person, am guilty as charged. I fell into a mainstream trap. Because, of course, no one but no one in their right minds would ever let two disabled presenters loose on national television to talk about anything that wasn't related to disability in some way. Right?
Wrong Sarah. So very, very wrong.
I sat and watched in wonder as these three witty presenters brought their usual brand of fun, friendship and laughter to my screen. However, in this new series of the show, they are discussing the mainstream news stories of last week – horse meat in burgers and Prince Harry's recent return from Afghanistan – not disability-related soundbites.
The strongest connection it had with disability was when they read out a tweet from disability rights campaigner Sue Marsh asking whether or not the program was still going to be disability related!
As a journalist who specialises in disability news, I would personally have found the revamped The Last Leg that I was expecting very interesting and useful.
However, when I turned off my TV on Friday night, I sat back and thought about what I had just spent half an hour watching. And very soon I realised I was thrilled that Channel 4 had let two disabled people loose on my screen to discuss things that had no connection whatsoever to disability. Because, first and foremost, I am a disabled person who would love to see full inclusion of disabled people in the media, as well as all other areas of society.
I thank Channel 4 for bringing The Last Leg back to my TV screen. It really and truly is new and improved.
The program's theme tune, carried over from the original, says: "Thank you for letting us be ourselves." With this new series, Channel 4 have allowed Adam Hills and Alex Brooker to be themselves; two talented and hilarious TV presenters who are fully qualified to discuss anything they like without making any secret of the fact that they each wear a prosthetic leg.
This program, readers, is the Paralympic legacy in action.
By Sarah Ismail
Check out…
Have you been watching The Last Leg? We'd love to know what you think of it and whether it's part of the Paralympic legacy. Get in touch by emailing us at editor@97c.026.myftpupload.com, tweeting us @DHorizons, sending us a message on Facebook or commenting below.