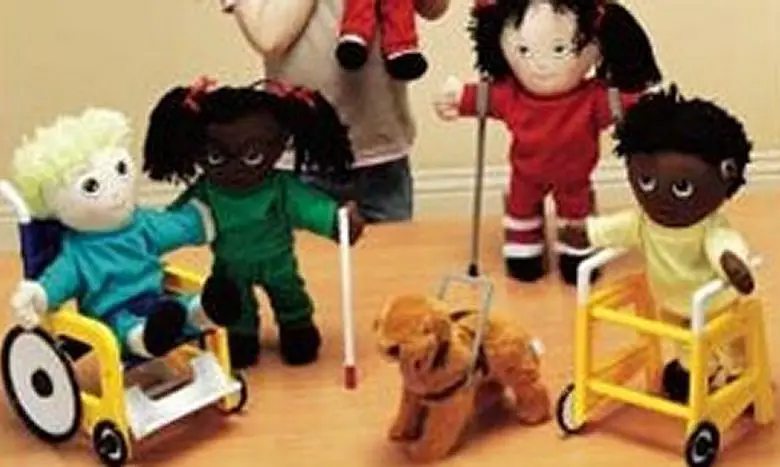 Do you remember any of your childhood toys having disabilities? Or maybe you have never seen any? Sarah Ismail shares her thoughts on how a disabled doll added to her childhood, and why we need more of them.
Yesterday, I found out that one of my favourite toys as a young teenager was discontinued two years ago. Share a Smile Becky was a friend of Barbie's who used a beautiful, bright, pink and purple wheelchair. By the time she rolled into the lives of little girls in the late 90s, I wasn't really a little girl.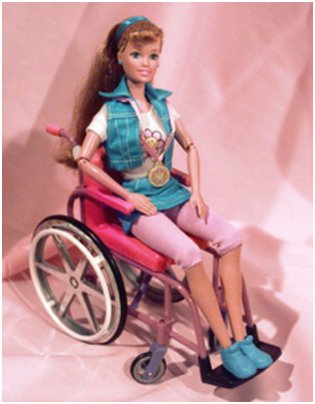 I had never really been into plastic, perfect Barbie. Sure, I had a few of them, what little girl doesn't? But I thought there was something wrong with them because they had straight knees.
So Hollywood Barbie, in all her glitz, glamour and genuine beauty, lived hidden in a drawer. Meanwhile, I subjected my poor, long-suffering teddy bear to hours of 'physiotherapy' because he, at least, could bend his paws.
Still, when I heard about Share a Smile Becky, my immediate reaction was; "what a wonderful idea!" I went out and bought her, and for a while, she had a front row seat among my toys and games. I spent hours making sure she was comfortable in her wheelchair, because I knew better than most how it felt not to be comfortable in a wheelchair!
So, why was Becky discontinued? For a reason any disabled person will instantly understand. She couldn't fit through the door of Barbie's dream home. Manufacturers Mattel tried to modify Becky, but she still couldn't fit through Barbie's front door. So, instead of modifying her environment, they simply discontinued the doll. And with her, a big piece of progress for disabled children went to toy heaven.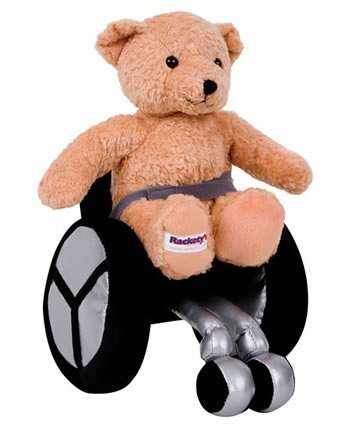 There have been other toys with disabilities. In 2008, I heard about dolls with Down's syndrome. I thought they were a great idea, for the same reasons I loved Share a Smile Becky.
More recently, I heard of Teddy Jon, a teddy bear in a soft wheelchair aimed at younger children, and then I found a collection of dolls with various disabilities sold through the Disabled Living Foundation (main image).
Share a Smile Becky was me. She was my best friend. I learnt, albeit a little too late, that plastic dolls have bent knees, and wheelchairs, too. You see, parents, teachers and toymakers… if you want to teach a disabled child that they are all right as they are, that there are others like them… you're not going to have much luck if you take them to toyshops filled with blonde, blue eyed, beautiful examples of plastic perfection.
Instead, give them a toy in which they can see themselves. Let them learn that Barbie has a friend who's just like them. If you want to teach children who have no experience of disability about disabilities from an early age, let them learn that through seeing disabled toys. Let them say; "if Barbie can have a friend in a wheelchair, so can I."
Hopefully, when they meet a real person in a wheelchair, or a person with Down's syndrome, they might remember the toys and want to be their friend. By discontinuing Becky, Mattel took that opportunity away from children everywhere. I do hope they will create another friend in a wheelchair for Barbie, and that this time, she will be able to fit through Barbie's front door.
By Sarah Ismail
Check out…
Do you remember having a toy with disabilities as a child? Do you think there needs to be more of them? Let us know by  leaving your comments below, emailing us at editor@disabilityhorizons.com, messaging us on Facebook or tweeting us @DHorizons.