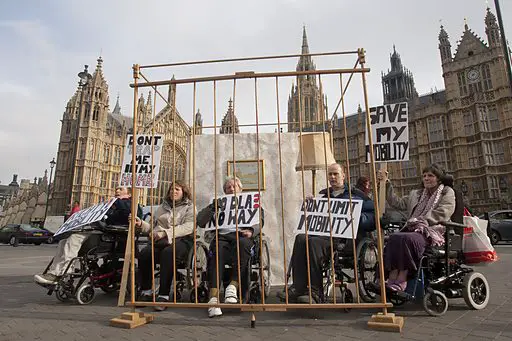 News
Brakes applied to PIP introduction
Fleur Perry, a member of the Muscular Dystrophy Campaign's Trailblazers shares this topical article about recent developments with the controversial introduction of the Personal Independence Payment.
Personal Independence Payment (PIP), the controversial benefit designed to be the new-and-improved version of Disability Living Allowance, was due to be rolled out across Britain this Monday. Instead, only a handful of regions will begin to carry out these assessments. If you live in Wales, the East and West Midlands or East Anglia and your condition changes, you will transfer to Personal Independence Payment from Monday.
The change in schedule has given Labour MP's a good laugh, despite reassurances from the Department of Work and Pensions that: "We have deliberately chosen to introduce PIP it in a phased way, learning as we go, to make sure it is done safely and effectively. We believe disabled people will welcome this approach."
What's striking here is the uncertainty of the DWP, interestingly coupled with a hint of arrogance. I can't (and wouldn't presume to) speak for every disabled person, but I would rather the DWP properly researched the potential impact of changes before starting to carry them out. Trial-and-error experiments with money seem unlikely to be popular.
The motives for introducing PIP are unclear. The Personal Independent Payment FAQs on the DWP's website answers Are these changes driven purely to achieve a reduction in costs?  with a cleverly worded response, starting "No". Whilst this seems clear enough, the wording of the question itself means that a reduction in costs cannot be ruled out as a motive. This suspicion is raised again by:
"These changes will ensure that Personal Independence Payment will remain affordable in the future. The amount we expect to spend in real terms in 2015/16 on Personal Independence Payment and DLA will be higher than we spent in 2009/10." It neglects to mention that 6 years of population increase and inflation will cause the pricetag to increase regardless.
The last sentence is its one saving grace: "Through greater use of evidence and reassessment the intention is that the new benefit will enable a more accurate assessment of an individual's entitlement to make sure support is reaching those who need it most." Though there are a small minority who take more than their fair share from the benefits system, there are also those who receive a lower rate than they're entitled to. If a person's condition worsens but the DWP are not informed, they could be missing out. Reassessment has the potential to help in such situations and I support that, even if it means more pointless paperwork for me.
Should we be worried? Maybe, because though there are some good intentions behind PIP, the criteria for entitlement are not laid out in plain English. There seems to be no definitive line, though a points system has been mentioned but not explained.
Should they be worried? Yes, because I've now got more time to prepare and will be going in with a tape recorder.
Read more:
http://www.dwp.gov.uk/publications/specialist-guides/pip-faqs/general.shtml#costs
http://www.bbc.co.uk/news/uk-politics-24680366
http://www.dwp.gov.uk/docs/pip-audio-recording-consultations.pdf
By Fleur Perry