Disability Horizons contributor Zubee talks to Colleen McGilpin about being a deaf volunteer helping animals in Africa, and how taking on this adventure on her own meant never giving up on her dreams.  
Please could you tell Disability Horizons readers a bit about yourself?
My name's Colleen McGilpin and I was born deaf and grew up in a hearing family. My parents and two older sisters learnt sign language so that we could communicate, but family life could be quite lonely at times as my extended family didn't learn to sign.
I turned 22 this year and spent my birthday in Cape Town, South Africa, while volunteering. I'm currently studying to be an animal doctor and I went to a deaf boarding school when I was a child, before deciding to go to a hearing school when I was a teenager. Life has always been a challenge, but I love working hard and being able to do things that I love, especially volunteering.  
What was it like to attend a hearing school at the age of 12?
It was very tough at first, but I was determined to make it work. Leaving the deaf school was one of the hardest decisions I've ever made, but it was my choice, no one else's. No one in my hometown supported my decision, but I was determined to prove them wrong.
I was the only deaf student at my hearing school and no one knew sign language. I didn't want a sign language interpreter as I wanted to be independent like everyone else and not be constantly followed around. So I fought for my independence and consequently did well in my classes, started to feel comfortable and made new friends. Some of them subsequently learnt some signs for me; I think everyone was really interested in what being deaf was like.
How did you get involved in the voluntary project in Africa?
I looked into volunteering abroad on the internet because I thought it would be a really exciting experience. I first heard about African Impact and the Veterinary Assistance Project, which is the program I assisted on, when I was 16, and I have wanted to volunteer with them ever since.
I chose the Veterinary Assistance Project with African Impact because I thought working with animals would be great. I grew up surrounded by animals and I've always wanted to work with them. I was so happy when I was accepted and was able to volunteer with the project for two weeks in Cape Town, which is a beautiful city.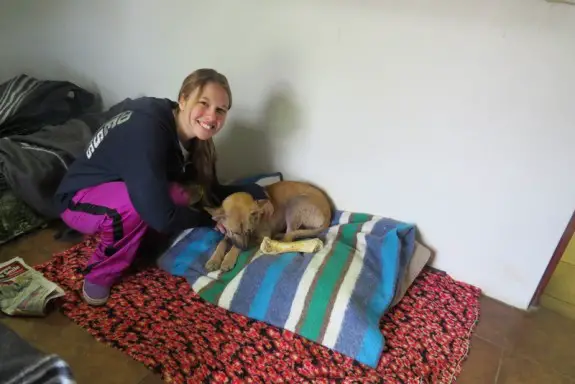 What was it like travelling to Africa alone as a deaf person?
I was very anxious about traveling alone, but I just kept telling myself I could do it. The journey was tiring and I had to drink a lot of coffee to stay awake! At the airport and on the plane I couldn't hear any of the announcements, so I had to keep my eyes open and pay attention constantly.
I was so relieved when I made it to Cape Town and people from African Impact were there to help me. I was with a great group of volunteers 24/7, so I never felt alone or left out, I felt totally safe.
What were people's reactions towards you when you got to Africa?
When I got to Cape Town, I was very nervous about what the other volunteers would think of me, but I was made very welcome by the volunteer co-ordinator at the airport. I told her that I'd do my best to communicate with the other volunteers by writing. She was excited that I'd managed to make it all the way there.
When I arrived at the volunteer house, everyone was so nice and tried their best to communicate with me. Everyone was asking questions about how I made it all the way to Africa without the ability to hear anything.
We got to know each other very quickly, everyone was from a different country and some volunteers spoke different languages. But we managed to understand one another very well, and it wasn't long till we were all comfortable with each another.
What work did you do while volunteering on the veterinary project?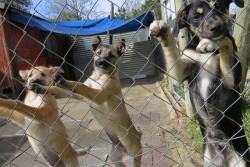 While I was there I volunteered at The Emma Animals Rescue Shelter (TEARS) and the Wenga Cat Farm, assisting the veterinarians with their surgeries. Being able to get involved in the surgeries was very exciting as it's something I want to do in the future. I felt honoured to be a part of the life-saving work they do every day, it's amazing.
I also helped out with feeding and caring for the animals, cleaning the kennels, and weighing the puppies and kittens. I even had an opportunity to bottle-feed kittens too. The TEARS and Wenga Cat Farm staff and volunteers travel around Cape Town and the Peninsula area to educate people about animal rights and animal care.  It is a very important thing to do because not many people in South Africa are educated about animals. Many animals are left abandoned on the streets.
Did you meet any other deaf or disabled people while working on the project?
Surprisingly, I did meet another deaf person on the project! There was a young deaf girl volunteering at the Wenga Cat Farm. She didn't know any sign language, but she was able to speak and hear using a cochlear implant, a device a bit like a hearing aid, which helps deaf people to hear some things.
She'd been volunteering for about a year and had played a big role at the farm. It was great to meet her and I learnt a lot. I also met some other disabled people, who were among the friendliest people on the trip. Being disabled certainly didn't stop them from volunteering or working. It was a really wonderful thing to see.
What has volunteering given you and what do you plan to do in the future?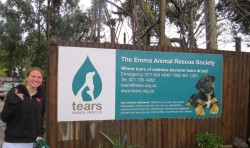 I think this project is going to have a life-changing effect on me. Firstly, I am so happy that I was able to travel alone, and such a distance, because it helped me to realise just how much I can do and what I'm capable of.
In terms of a career, I've always wanted to be a vet or work with animals, and I think this experience will help me get into medical school after I finish college, which is my main goal.
I have known many disabled or deaf people who choose not to go into paid employment because they feel they won't be able to make it. But I don't feel like that. Disabled people can do anything, and it is important that they choose to do what they love.  It is also important to show people that you can work hard and that you can do a great job too.
What advice would you give to young disabled people who have grown up in a similar situation to you?
I would say that you can always achieve your goals, no matter what other people say. As long as you know what you really want, no one can stop you from achieving it.
When I was young, I let many people hold me down and I started to believe that I couldn't achieve my dreams.  I had many negative thoughts and I felt that I wasn't able to do anything that I wanted to do.
But now I believe disabled people can do anything. Nothing is impossible and you only live once, so grab every opportunity you can.
By Zubee
You can find out more about African Impact and the various voluntary programs by visiting the African Impact  website.
Check out…
• Q&A with disabled skier Talan Skeels-Piggins
• Able2fly: improving accessible travel
• Calling all budding disabled film makers!
Get in touch by messaging us on Facebook, tweeting us @DHorizons, emailing us at editor@disabilityhorizons.com or leaving your comments below.