James Ian is a soulful singer, songwriter, and multi-instrumentalist. All songs on his album, The Labor of Love, were written and sang by him. All instrumental parts on the album were written and performed by him as well. Born with a degenerative muscular condition called Spinal Muscular Atrophy Type 3, he defies the odds on stage and in the studio. Read on to find out how he continues to defy stereotypes of disabled people.
I've always been determined, ever since I can remember. My parents tell stories of me as a little kid trying to lift the heaviest things I could find, and I wouldn't stop until I moved those heavy objects from point A to point B. Later on in life, my ex-girlfriends would come to call my determination 'stubbornness'. Whatever you want to call it, thank God for it, because I've needed it maybe more than I've needed anything to get me where I am today. Before I tell you about where I am today though, let me first properly introduce myself.
My name is James Ian, and I'm a songwriter, singer, multi-instrumentalist, and actor. I was recently signed to a record label based in San Diego, CA, called 8412 Music, and we recently released an album entitled the Labor of Love. I wrote, arranged, sang, and played everything you hear on it. The album is available on iTunes and Spotify, and a portion of the proceeds from the album sales will go to Cure SMA.
I was born with a degenerative neuro-muscular condition called Spinal Muscular Atrophy Type 3. Thankfully, I've walked on my own my entire life, but I have many physical limitations. Although I can walk now, this may not be the case down the road.
I tell you this not because I want you to sympathise with me, but to let you know that I'm racing the clock. There are things I must accomplish while I still have gas in the tank and can still walk, particularly as a musician and actor. To say that time is of the essence is an understatement, so, as I always say, "I'll rest when I'm dead."
Now, let's get back to where I am today. As well as producing the album, I've also been playing a lot of shows. I recently performed at the Cure SMA Southern California Gala of Hope, which was nothing short of a dream come true! It was an experience unlike anything I've known. To be surrounded by such inspiring, loving, and hopeful souls was amazing.
A lot of money was raised to help find a cure for SMA, and it was a night I'll never forget. Trust me when I say that I'll be reliving those memories for the rest of my days. To top it off, I'm booked for more shows through the foreseeable future, so catch me if you can!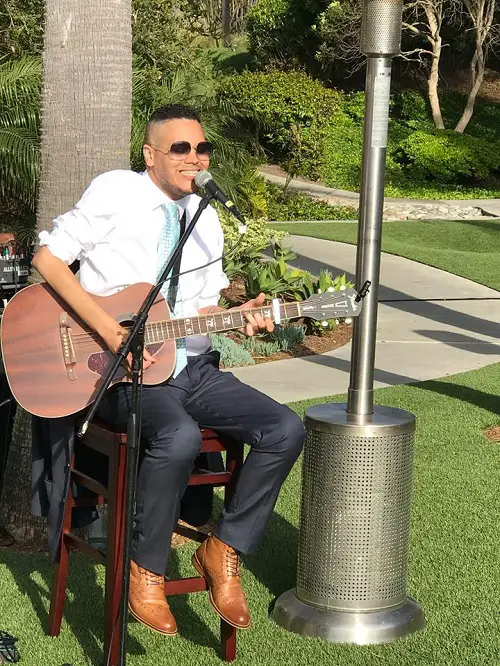 I'm also currently writing a book about The Labor of Love to give readers and listeners insight into some of the inspirations for the songs on the album. I'm often asked who the songs and lyrics are about, or what inspired a song. Without naming names, of course, the book is my attempt to answer some of those questions.
People also ask me for advice on relationships more and more these days, I'm guessing because the album is about relationships. So in the book, I also share a few things I've learned along the way. I'm no expert, but based on the number of times I've been slapped in the face, I can tell you what doesn't work. That's a joke…I've been punched in the throat more than I've been slapped in the face!
I also recently did a radio interview where I talked about the album, how it is working with 8412 Music, and being a musician with a disability. It was a really great learning experience because I had to think on my feet while attempting to engage the host and the audience. It was also refreshing to be able to share another side of myself. After that interview, I'm really looking forward to doing more!
Lastly, I've been acting more as of late. I was an actor as a child, and I had roles in a national television commercial and in a cable television series. I took a break from it for some years, but I'm back! I was recently in a pilot for a new television series. I can't give details at the moment, but if it gets picked up, I think viewers will love it because the show has a unique concept and an uplifting message. I was also recently a part of the Inner Warrior project, which tells the stories of people showing incredible courage and strength in the face of tragedy and adversity. It will support the short and feature length films Stronger Than Pretty. It's been an honour to be a part of such empowering and meaningful projects.
Playing and performing music and acting with a disability definitely complicates things and makes life more interesting, and by "interesting," I mean it can be a real pain in the ass. For instance, I used to be the lead singer and keyboardist for a band called Once Okay Twice. There were a few shows where I fell down on stage (in front of hundreds of people) while I was performing.
Most times, I'd keep singing, and when others recount those moments, I'm regarded as a rock star for keeping the show going in epic fashion. What's funny is that the crowd interpreted my flailing on the ground as me giving a riveting and sensual performance, but I was actually fighting for dear life to sit upright, so the joke was on them!
When the song would end, my band mates would pick me up, I'd make sure the family jewels were still intact, and we'd continue. Being in the band was great because my band mates were like family. They would always give me a hand when I needed physical assistance. If something went awry, I knew that I could rely on them.
Performing as a solo artist is a bit different because I'm on stage by myself like a lone wolf. Although I don't have people with me on stage, I'm now lucky to have the 8412 Music family to help do the heavy lifting before and after the show. If something should go wrong, even though they aren't on stage with me, they are in close proximity to lend a helping hand. No matter the circumstances, I'm fortunate to always be surrounded by selfless people who are always more than willing to help.
As I said earlier, I'm pretty stubborn, so I hate having to ask for help. I kid you not, I fell down once in a gigantic puddle of mud in front of a crowd of people and there was no way I could get up on my own. People were asking if I needed help, and I told them I didn't need help because I thought there was a way I could get up on my own somehow. I looked like a newborn deer caught in the headlights on a sheet of ice trying to get up. Yes, I am aware that I'm a lunatic, but it's extremely difficult to have to ask for help and admit you have a weakness. I absolutely dread it, but I've had to learn to do it in order to perform as a solo musician and actor. Do you hear that ex-girlfriends? Maybe I am growing, and maybe you can teach this old dog new tricks…
Life is strange, and living with a disability adds an element of surprise and makes it even stranger. Without a doubt, this experience keeps me on my toes, except when I've fallen down. There's a lot that can go wrong, which I'm sure scares the hell out of my family and friends. Luckily, I've made it this far, and in some ways, I've defied the odds. I've had to work extremely hard to be able to gig as a musician and actor with a disability. I've heard many times that I'm "not supposed" to do half of the things I do or play the instruments I play.
I'm living proof that you can do the things you want to do in life, and you can even have some laughs along the way while living with a disability. I'm very lucky to be able to sit here and write about what I've accomplished as a musician, actor, and a human being navigating life generally, despite having a disability. Honestly, I'm having the time of my life. I've got lots of stories about my experiences as a disabled musician and actor, and there are many more to come. So, stick around for the show…
By James Ian
You can like James Ian on Facebook and follow him on Twitter.
Want to get in touch with Disability Horizons? You can message us on Facebook, tweet us @DHorizons, email us at editor@disabilityhorizons.com or leave your comments below.