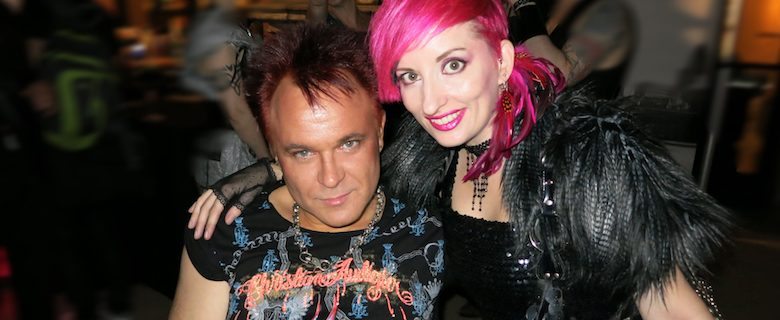 Lifestyle
Festive fashion: going all out for the festive season
Tis the season to get dressed up and go wild! Mik Scarlet, who's known for his bold looks, shares his ideas on achieving a "festive fashion glam look" this Christmas and New Year.
I have always dreamt of writing a festive style guide, as it's the best time of year for looking good, having fun and doing it to the max when it comes to dressing up – all my favourite things when it comes to style.
Let's face it, 2013 has been a bit of a bad 'un for disabled people. After the euphoria of 2012 and the Paralympic Games, this year seems to have been a never ending series of horrors as we face up to government's cuts, changes in support provided and hostility both from the mass media and some sections of society.
But now as the festive season is upon us, I think it's time we tried to forget all of this gloom for a while and let our hair down. Yes this year I think we should all try to party hearty, and look great while we're at it.
Let's start with hair. I have always been a fan of faking it when it comes to hair colour, but this is the time of year when you can get away with it if you've ever fancied trying something brighter on your barnet.
Try a semi-permanent hair dye, because not only are they easier to apply, but if you really don't like your new colour, it'll come out a few washes. For tips and advice on colouring your hair visit Schwarzkopf's website and they also do some amazingly bright colours in their Live XXL range.
Of course once you've got your hair all glamed up, nothing sets it off like a fascinator and those you have to visit Lara Master's Kiss My Cherry.
Next it's make-up. This is an easy choice for the party season – big, bold and smoky eyes with rich lipstick and blusher to accentuate those cheekbones. Two great companies for all things make up are Two Faced and Urban Decay. But if you're on a budget, Boots No7 is a superb range.
Now that I'm no longer a New Romantic, my make-up days are pretty much over, but I still like to use a bit of concealer, and I never leave the house without fake tan and bronzing powder. I use Boots No7 Natural Sunkissed Gradual Body Tan and KCO Natural Glow, but then I am painfully vain.
With your hair looking great and face a picture, it's time to get dressed. I firmly hold that black will always be the new black, so ladies, you can never go wrong with a little black dress or black skirt/trousers worn with a brighter top.
I think that for those of you who use a wheelchair, like me, a knee-length pencil skirt or dress suits best. But for those who have issue with walking but stay up right (most of the time!) it's easier to go for a fuller skirt as it gives you the freedom to move those legs.
Another winner for the stylish party goer is 30s style wide legs trousers, which work for everyone and always bring a touch of classic glamour. Sites to visit for brilliant deals on some amazing styles are Asos and Simply Be.
For the guys I think dark trousers or high quality jeans worn with a bright shirt and a waist coat will ensure you cut a dashing figure. I am a huge fan of waistcoats, as they hide a myriad of post-Christmas waistline sins and conjure up class while still looking cutting edge. M&S do some lovely ones that won't break the bank. A perfect place for the bottom half of your outfit if you use a wheelchair is Rollitex, a company that designs trousers specifically for wheelies of all sexes.
Lastly, footwear. For most party people it has to be stilettos. But if that's not possible for you, French Sole by Jane Winkworth might be up your street. Stylish and easy to slip on, they will set off any outfit.
If you fancy something a little more cutting edge, Mod Cloth has an excellent range. It's based in the USA, but they are currently providing free shipping to the UK on orders over $150.
For the guys we have it easy when it comes to footwear. If we can drag ourselves out of trainers, or in my case biker boots, we can just slip into loafers. For a wide range of great styles at rock bottom prices check out MandM Direct.
Before you head off out to plan what you'll be wearing for the Xmas parties, you might want to check out some handy gadgets to ensure you hang onto your booze on your nights out. For the wheelies the Wheelchair Company makes a cheap bolt on drinks holder and Wheelie Good Mobility has one that is just easy to attach. For those of you who use crutches, try Pimp Mobility's Crutch-Pod. For all of you who are either worried about spilling your drinks or about them possibly being spiked, then Safe Sip is also a must.
I hope you all have a wonderful festive season, whatever you do and where ever you go. Enjoy yourself and cheers to 2014 being an empowering and positive year.
By Mik Scarlet
Check out…
• Accessible Christmas gifts: bring on the sparkle!
• Sweet Taboo: theatre breaking down barriers
• Q&A with Rick Edwards: the Paralympics and beyond
Want to write for Disability Horizons? Get in touch by emailing us at editor@disabilityhorizons.com, messaging us on Facebook, tweeting us @DHorizons or leaving your comments below.