Spending time on a tall ship in the South Indian seas may not sound like an obvious holiday choice for two sisters to reconnect – but for Lily and Alice Helme, it was the perfect way to spend quality time together whilst fulfilling Lily's growing quest for adventure.
Lily and Alice were keen to be part of the Jubilee Sailing Trust's accessible tall ship Lord Nelson's Sail the World Challenge.
Lily explains,
"I have Cerebral Palsy – it's a neurological condition, which affects every individual differently – but for me, it's simply my lower limbs. It means I'm almost a full-time wheelchair user. There are no other ships, apart from Tenacious and Lord Nelson, in the world, that can accommodate a full-time wheelchair user. So the Jubilee Sailing Trust is really remarkable."
Lily's sister, Alice, says that they rarely have the opportunity to spend time together and that the Jubilee Sailing Trust was a natural fit for both of them, so they booked themselves on a fantastic voyage sailing around the gorgeous south coast of India.
"We've got quite a big family, so we're all quite diluted. We don't often spend one-on-one time with each other; but this holiday has meant we've been together for a whole week and that's been my favourite part of the experience – being with Lily."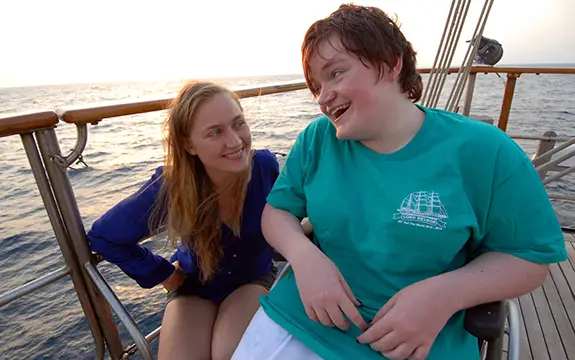 The Helme sisters took part in the 7-day excursion around the south coast of India, departing from the coastal city of Kochi, which has formed part of Lord Nelson's Sail the World journey. Sponsored by Norton Rose Fulbright, it's an incredible ongoing trip, with Lord Nelson circumnavigating the globe, crossing the equator six times, visiting seven continents and covering 50,000 miles, all the while inviting people of all abilities to help to run the ship. One of the many incredible elements that make up a JST adventure holiday is that you aren't just a passenger on the ship – you become a part of the crew. It's one of the reasons that Lily booked the adventure.
"I love being up near the helm and working in the helm as far as the ship is concerned. I like going up the mast too! I love that team building atmosphere as well. There's no escape and it's just a lovely atmosphere to be around."
Alice was blown away by the facilities on the ship.
"I've been really amazed at everyone's knowledge of the wheelchairs and moving disabled people around. What's usually a really difficult job was actually smooth and quite cool!"
Lord Nelson is one of only two tall ships in the world that has been designed and built to enable people of all physical abilities to sail side by side on equal terms. Facilities on board include wheelchair lifts between deck levels, a hearing loop, a speaking compass and hydraulic power-assisted steering. Since its founding in 1978, the Jubilee Sailing Trust has taken 40,000 people to sea, 15,000 of which were physical disabled, including 5,000 wheelchair users.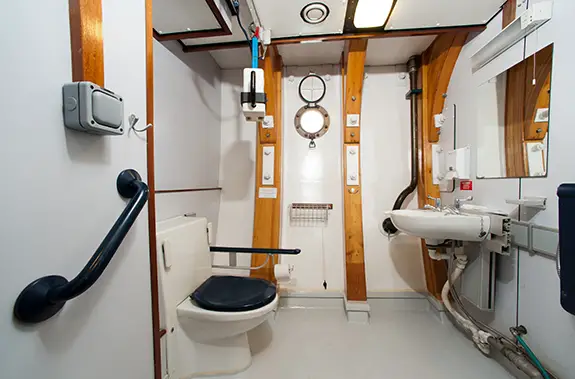 The Jubilee Sailing Trust uses a buddy system so that disabled and able-bodied crew are paired together. This process breaks down barriers and creates the incredible atmosphere on voyages that the Jubilee Sailing Trust is famed for.
There is a very structured system aboard the ship. Everyone is put into a team called a Watch. Each watch has to perform specific duties and within each watch there are a mix of abled bodied and disabled crew.
Lily is really impressed with the Jubilee Sailing Trust and believes their 'Changing Lives' motto is the real deal.
"It IS a life changing experience. The first ever voyage I went on really, really changed my perception on life – it really does change lives!"
Do something amazing. Learn to sail a tall ship with some people that will change your life. You'll come back richer.
Since her escapades in India, Lord Nelson has sailed to Australia and New Zealand, is the first ever all-abilities vessel to sail around the infamous Cape Horn in Southern Chile, and has enjoyed some brilliant South American and Caribbean sailing adventures. She will be arriving back home to London, on her homecoming voyage from Canada, on the 19th September. Sailing down the Thames, accompanied by the Jubilee Sailing Trust's other ship, Tenacious, she'll be arriving to a superb homecoming celebration – organised by Norton Rose Fulbright.
To find out more please visit the Jubilee Sailing Trust website .
By Disability Horizons
Check out…
• Cruising the world over!
• Accessible sailing with Rudyard Sailability
• Paralympic Games 2012: the freedom of sailing
Get in touch by messaging us on Facebook, tweeting us @DHorizons, emailing us at editor@disabilityhorizons.com or leaving your comments below.