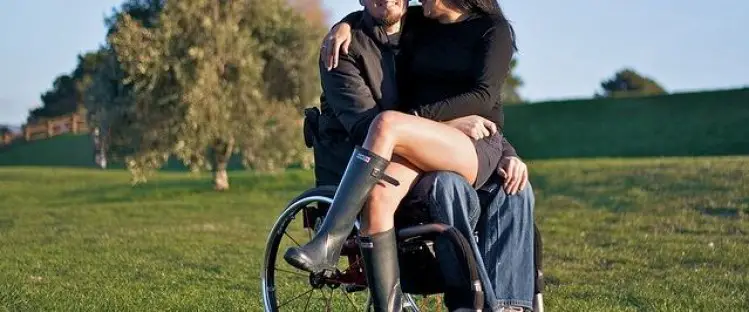 In our series on disability, sex and relationships, expert and resident agony aunt Tuppy (who runs Outsiders – a private club for disabled people looking for a relationship) answers your questions. This month, condoms…
#DHgurus
Dear Aunty Tuppy,
My impairment makes it impossible to open a condom packet or put the condom on. My teenage years were spent agonising over the fact that I'd never be able to have sex with a girl because of this. In desperation, I phoned a prostitute and asked her what I could do. She said come and see her and she would put the condom on me. Her name was Eliza.
I turned up, feeling grubby for visiting a tart. Eliza was lovely and welcoming and did a little striptease to turn me on. I got a wopping boner. She opened my fly, took it out and played with it before removing the trousers and producing the condom. I was optimistic that I was at last going to lose my virginity. But as she was kissing my body and introducing my prick inside her, I could feel it shrink down to limp. I was mortified. Eliza was very sweet and gave me a hand job. I paid her and left.
Tuppy, I am desperate to know what to do next.
Thanks, Bob

———- ———- ———- ———- ———- ———- ———- ———- ———- ———- ———-
Dear Bob,
First. I must pull you up on your terminology. The professionals you described as prostitutes have elected to be called sex workers, as they wish their business to be recognised as legitimate work. Indeed, their earnings are now included in the National Budget. Calling them tarts is a bit like calling you a crip. Once you start to respect these professionals, you will no longer feel grubby hiring one.
You should also know that any girl worth her salt will put the condom on you if you ask – how do you think Mat Frazer manages? If you go soft again, she can put a female condom inside her so you can both enjoy intercourse.
Safer sex does not rely on condoms – there's another way to enjoy it, called "On me, not in me". In other words, instead of entering the vagina (or arse) and coming inside, you avoid penetrative sex and play together using hands, lips and anything you like (except liqueur chocolates up the tush or ginger up the bum, I've found), so ejaculate falls on the skin. And a very good facial it gives too!
Bob, you really need to work on several things:
1) Losing your erection is usually caused by performance anxiety so you need to understand that sex is not a performance – it is an interaction between two people, who both take equal responsibility and discuss things openly.
A sex therapist seeing a couple with this problem would ban intercourse for a month and give them 'sensate focus' exercises. For an hour every day or so, they take turns to touch each other's bodies all over, focusing on the sensations this causes in their body or finger tips. To begin with, they avoid the genitals and breasts then, after a week or two, include them. At the end of the month, intercourse can be enjoyed. This magical Masters and Johnson technique never fails.
2) Sex is much better when it is not goal orientated, but you both explore each other's bodies, tell each other how things feel, and live in the moment. Remember, the capacity for pleasure is in the whole being rather than just the genitals. This is part of the principles of Tantric sex.
3) If you have an impairment which limits your movement, you will be quite accustomed to asking for what you want, so extend this to your love-making. If you cannot finger her clitoris or hold a vibrator to give your lover an orgasm, ask her to help you, perhaps moving your fingers for you, or helping hold the sex toy. The less you are able to do things physically, the more you can compensate with words and gestures of enthusiasm, intimate tenderness and playfulness, and love.
One of our Outsiders members once said, "Disabled people make the best lovers because we know how to ask for things and we are very skilled at working out how to overcome obstacles". The members have taught me almost everything I know.
By the way readers, don't miss the new film 'Margarita with a Straw' which is about a girl with cerebral palsy caught looking at porn by her mother who provides her main care support.
By Tuppy Owens
Check out…
• Disability and independence: Occupational Therapy services
• Disability and fashion: Chelsey Jay's style diary
• Employment and disability: doing the obvious in 2015!
Have you got a question about relationships or sex that you would like to ask Tuppy? Get in touch by messaging us on Facebook or emailing us at editor@disabilityhorizons.com.