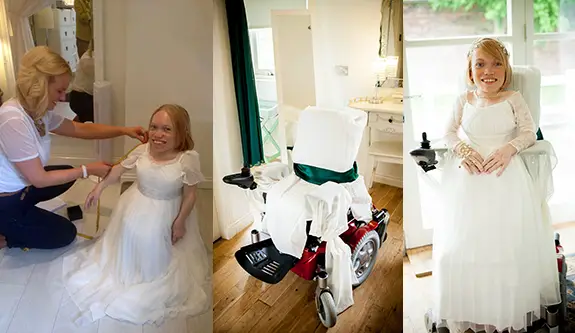 Valentine's Day has come and gone, but love doesn't exist on just that one day. So we're coining February an entire 'love month'. Keep your eyes peeled for our dating, relationships, love and sex articles. First we talk to Jo Evans about her wedding day, and how being in a wheelchair didn't change how special that day was.
As a wheelchair user, you're probably the more organised out of your friendship group (unless most of your friends are in chairs as well, in which case, there's probably a lot of competitive organisation going on).
And as a bride to be, the organised part of me came into its own. I'm used to being the only one who can search for accessible locations (no, asking the staff if a venue is wheelchair friendly doesn't work, find it on Google Earth and see if there are steps), who knows how to shop for garments (to my now husband; please, never buy me clothes. I have to try them on first and either way, it will never be a nice surprise) and I usually have to compromise on niceness over being realistic in all my choices. But as a bride, I finally got to have what I wanted. And compromising on realistic over elegance was never going to be an option.
Phil and I met as voyage crew on the Jubilee Sailing Trust's ship, Tenacious, back in 2004. He was 6 foot 3 and confident having sailed with them before. I on the other hand was 3 foot and a little nervous about going on my first proper holiday away from home with a wheelchair that had had its castors bent by British Airways on the flight to New York. Yet somehow we gelled and a year and a half later, on another JST voyage, we became a couple. Having met in this nautical environment, I don't think it was a surprise to anyone that our wedding theme included anchors, model tall ships, helms and seashells.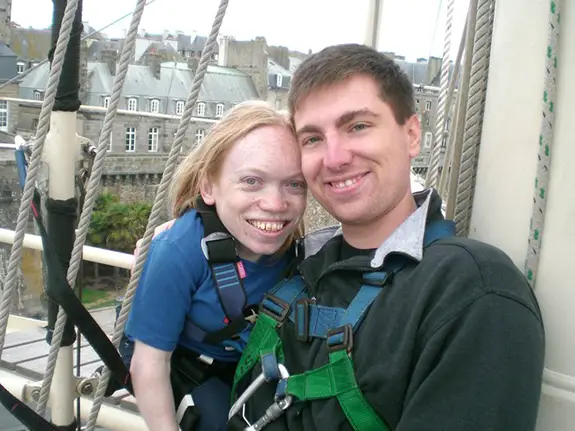 The proposal happened just as we had bought our first flat together in Oxford. He pretended I had one last box to open, where the ring was buried beneath a tonne of bubblewrap and cardboard. He also followed this up with; "and you can have whatever you want", which I took to be a nod to my fantastic organisational skills, or perhaps it was really him trying to get out of having to be part of the planning. After his proposal, my first thought was the dress.
Now I am the size of a toddler, and my worst nightmare was wearing a child's confirmation dress on my wedding day. I knew that going into any wedding shop I would either terrify the assistants or leave feeling deflated, or both – I could see them suggesting I try flower girl dresses. But I knew the high street, teamed with a brilliant seamstress, could work in my favour. As luck would have it, that weekend Monsoon was having a sale and it must have been fate as the first thing I saw on entering was a rack of girls white dresses at 50% off.  As my dress was only £30, this was how I justified overspending on everything else! Just don't mention the alteration costs.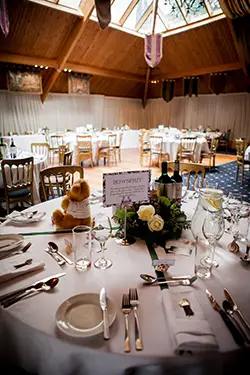 I am sure that all wheelchair users on receiving a wedding invitation react in the same way: 1) oh God, is it accessible, 2) will I be able to get to the loo during the festivities and 3) will there actually be anything for me to do during the evening other than sit in a corner and smile at everyone else having fun on the dancefloor? For my own wedding, I was going to make sure that none of the above was an issue. I am Scottish and wanted to get married back home. A couple of long weekends were spent venue searching, and we chose The Cruin – a fully flat, all on one floor restaurant on the banks of Loch Lomond, with stunning views over the loch and TWO wheelchair friendly toilets!
But despite looking at the location there was still a hiccup. On the day I realised that the bridal lodge, which I hadn't looked at prior to the day as the co-ordinators had reassured me it had ramps, didn't in fact have ramps. To rectify it, two guys spent the morning working away in the rain carpentering a bit of spare wood they had found after a last minute panic!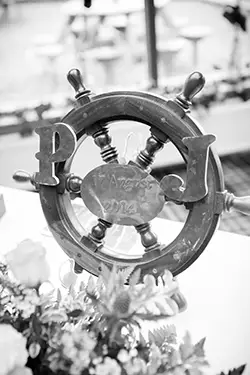 So having ensured I addressed worries 1 and 2, I made sure there was also a wheelchair friendly taxi service to get people back to their hotels. With number 3, I knew I didn't want a ceilidh (a traditional Gaelic social gathering) as I wouldn't be able to take part. But I knew that something musical would be required given that the majority of our guests would be walkers, and dancing is very much a recognised part of 'celebration' in western culture. I decided therefore that we would definitely have a band, but something else to go alongside it for anyone who couldn't or didn't want to dance.
At a wedding fair, my mum (I have to give her credit here, but as I am the only daughter, she did get a little overexcited with the proceedings), found a group called The Singer Swingers, who sing to a backing track of swing and cabaret numbers. Great fun, and a little different to your typical wedding band/DJ. To go with these, I employed the services of Top Hat, who will provide casino tables, croupiers and 'funny money' (no real gambling after a religious ceremony!) and a bottle of champagne for the winner.
Save the dates, invitations, flowers, bridesmaids, ushers… most of the list I have in common with any other bride, abled or otherwise. It's a lot of fun, and will be the only time of your life when people will at least pretend to understand why you are flipping out over the wrong colour napkin.
But one thing abled brides probably won't have to worry about is their mobility breaking down. High heel breakage, possible. And I've heard many stories of wedding cars breaking down and brides rocking up to their churches/registry offices in rescue cars.
But if you rely on your wheelchair, your day depends on nothing going wrong with it. So do yourself a favour and get your chair serviced well in advance. Otherwise, like me, you may end up in a total panic 7 weeks before the Big Day when your gears fail and you risk going up the aisle dalek style. I am very lucky to have a fantastic local team at Ability Matters, who were able to fast track a brand new Quickie Salsa through production for me, so I had in time for our joint stag and hen, the week before the wedding.
On the day my chair became an extension of my dress – mum dressed the seat up in white (an old nightdress!) and let it drape, so it was almost like a train.  We also used some cravats out of the same material as my bridesmaid's dress to make a 'sash'.
Your wedding day, whether you be fully mobile, use a wheelchair, cane, hearing aids or sign language, should not be a day your compromise on. But be prepared to use your imagination and think outside the box to make your day a perfect one  And don't forget to get your chair serviced!
By Jo Evans
Check out…
• Planning an accessible wedding
• Accessible wedding camper van with Great White Occasions
• Lily's growing quest for adventure
Get in touch by messaging us on Facebook, tweeting us @DHorizons, emailing us at editor@disabilityhorizons.com or leaving your comments below.