After his daughter Daisy became blind from eye cancer, Selwyn Lloyd wanted to develop something that would enable her, and other visually impaired children, to interact and have fun with their sighted peers. With his wife Marie and two business school classmates, he founded Audazzle in April 2014, a company that creates inclusive computer games for blind and visually impaired people using 3D sound. 
Can you tell us about Audazzle and how its games work?
Audazzle creates games that are aimed at being inclusive for blind and visually impaired people and their sighted friends and family. We do this by engineering sound effects inside moving objects in virtual reality games. We base this on what we – the Audazzle team – call Inclusive Accessible Intelligence or IAI.
The concept of an inclusive computer game is based on two things: social inclusion – the idea that nobody gets left out – and access – everyone should have independent access to the game.
We're making inclusivity central to our game development strategy. Very few video game developers will attempt to create accessible video games, but we do – inclusivity is the key.
Our first IAI technology enabled game was primarily based on a family experience of playing Goalball. Through it we learnt and experienced how the innovative use of a bell inside a ball can create a game that everyone can play blindfolded.
The game made me realise that applying audio functionally to a computer game would be like putting a bell inside the Goalball. So, objects in Audazzle games have sounds that the game player can move towards, move from, dodge, collide with or in the case of our first game, shoot at in space.
What motivated you to start your own business?
The experience of watching my child and other disabled children being left out at playtime because the sighted kids did not know how to include blind children. Daisy had already suffered enough from enduring years of eye cancer treatments before she became blind, I didn't want her to be excluded by her peers too.
How did you come up with your business idea?
The Eureka moment occurred while I was writing a children's story – Poppy's Cat – for another one of our children. I suddenly thought; why don't I turn this into a game? Especially as I have background in developing.
I have also studied business three times in the last 25 years. On the second occasion I met Marie, who now teaches blind and visually impaired children. I later met the other co-founders of Audazzle when I studied at Saïd Business School, Oxford. There I was forced to analyse every business I'd been involved in to date and to think a about what was missing – it gave me a good head for business.
Given my experience as a developer and a businessman, I looked for a platform to prototype the game Poppy's Cat on. In the end, what started as a surprise for the family – a game we could all play – seemed easy to scale and distribute to a wider group.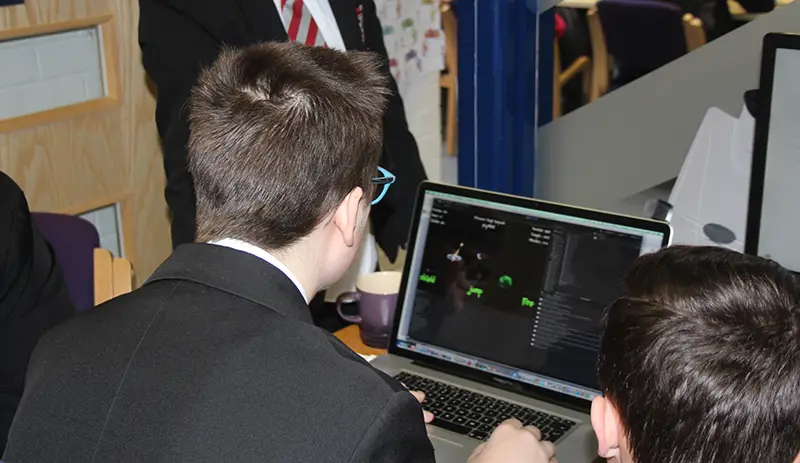 Since launching Audazzle, what has the response been like?
We have the most incredible warm and supportive comments from people who tried out and tested a prototype of the game. We keep in contact with them via Skype chat groups, Twitter, Facebook and email. The responses from our members are a daily inspiration to keep going and making breakthrough features that make our games more playable.
What has been your proudest achievement so far?
Bringing a smile to the faces of the kids who have tested the game JumpInSauceRS. This made us very proud and happy. It reminded me of Daisy's face the Christmas we made our first prototype.
What are the future plans?
The game play technologies we develop to overcome playing without seeing may have much wider applications. We will continue to work very closely with those people who have inspired us to start the business. Most of all we want to build a platform that allows anyone to create games that are inclusive, fun and accessible.
For those that want to buy the game, where can they get it?
Games can be purchased via Google Play or the App Store or directly via the Audazzle website. Games are available in various download versions or on DVD. We have been testing PC and MAC releases, which may be available in the future.
People who want to join Audazzle to test games for release and to own games can contact us through our website www.audazzle.com or by sending an e-mail to membership@audazzle.com.
By Zubee
Want to get in touch with Disability Horizons? You can message us on Facebook, tweet us @DHorizons, email us at editor@disabilityhorizons.com or leave your comments below.