If you have a disability, travelling is rarely straight forward. So that's why we've teamed up with Carrie-Ann Lightley from Tourism for All, to bring you a series of articles to help make travelling and disabled holidays easier and more accessible.
#DHgurus
The lovely people at Homelands Trust-Fife invited me there back in February. I was encouraged to fill the lodge, which had 2 bedrooms, so along came my husband Darren, friends Chris and Kate, and the newest addition to our family, Poppy the Cavalier King Charles Spaniel puppy!
Homelands sits in mature woodlands in the pretty seaside village of Lundin Links, with panoramic views across Lundin golf course and Largo Bay to Edinburgh and the Lothians. In this beautiful setting, four luxurious lodges have been built, each with a wide range of equipment to suit various disabilities.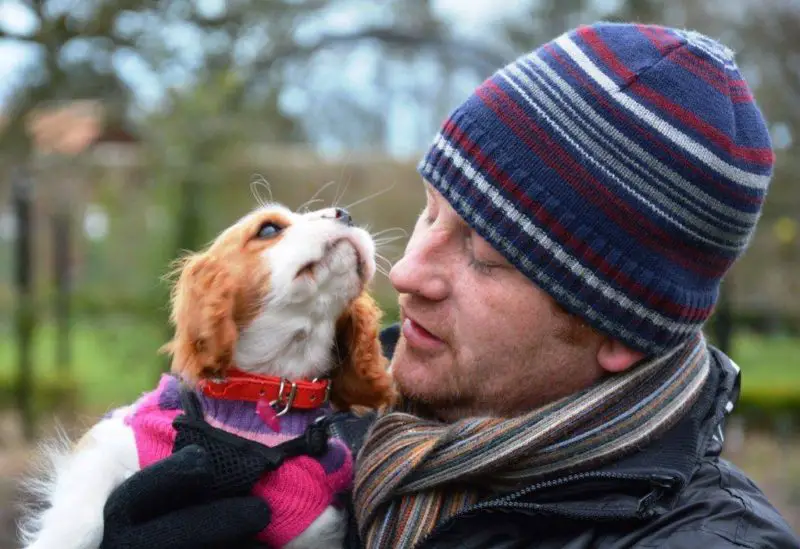 Accessible accommodation
Specialist disability equipment, such as ceiling tracking hoists, profiling beds, clos-o-mat toilet and riser/recliner chairs are provided to ensure all visitors' needs are met and the dream of a family or group holiday can be achieved. The buildings are architecturally stunning and luxuriously furnished. Homelands has an extremely welcoming environment for disabled people, as well as their carers, friends and family members. Three of the lodges can sleep four people (six with a sofa bed) and the fourth can sleep up to eight people in four twin/double bedrooms.
The Paxton Centre, just a few yards from the lodges, is open to guests and day visitors and offers a variety of alternative therapies, counselling, exercise classes, art workshops, and mindfulness, in addition to various other activities and one off events.
Our first port of call on arrival was the local pub! I'd asked Jan, the secretary at Homelands, to recommend dog-friendly, accessible places to eat and drink. Helpful as always, Jan recommended 8 locations, and also some suggested itineraries for our weekend.
At the Crusoe Hotel, just a short walk/wheel from Homelands, we dined on delicious ribeye steak and chatted to some of the locals. The gorgeous, beamed ceilings and views of Largo harbour made for a really lovely atmosphere. The hotel didn't have accessible toilets, but the ladies toilet was step free and manageable in a manual wheelchair.
Accessible Scotland
Waking up to a view of the coastline the next morning was really rather special, and after fuelling up on bacon sandwiches we headed out to the Loch Leven Heritage trail, an accessible thirteen-mile circuit round the loch. I'd been lucky enough to borrow a Mountain Trike from Progression Bikes in Dunkeld. Over the last few years I've gazed longingly at the Mountain Trike when attending mobility shows, and even had a go, but a flat, level exhibition hall is quite different to the great Scottish outdoors, as I was about to find out!
[masterslider id="9″]
Our timing was fairly terrible. As soon as we were on the trail the weather turned against us. I tried to persevere, but my inexperience with the Mountain Trike really showed and I was terrified of dropping off the cliff! Poppy was as disgruntled with the weather as the rest of us, so we retreated to a nearby café to warm up with hot chocolate.
The Mountain Trike is a fantastic piece of kit, as it gives riders the ability to go to places that were completely inaccessible previously, whilst maintaining the function and versatility of a standard wheelchair. I just need some more practice, preferably in the sunshine. If you'd like to have a go, check out the accessible rambles that my colleague Craig Grimes organises in the North of England.
Once we'd thawed out, we decided that a visit to St Andrews would be a less challenging way to spend the rest of the day. The medieval centre of St Andrews consists of a series of narrow alleys and cobbled streets with shops, restaurants and cafés. This makes for a slightly bumpy ride in a wheelchair, but it's such a lovely place just to take in the scenery and people watch.
Our evening was spent enjoying a lovely relaxed dinner in the lodge, and planning the next day's activities.
Accessible attractions
First on the agenda was a visit to Kellie Castle , which is a National Trust Scotland property. As it was a Sunday in low season the castle itself was closed, but we had a lovely walk around beautiful gardens and woodland. For those wishing to visit the castle, the ground floor is accessible for wheelchairs, as are the shop, tearoom, toilets and garden. A wheelchair is available to borrow, and there is also an accessible tour facility featuring a slideshow and photograph albums.
The last stop on our tour of Fife was the pretty little fishing village of Crail. Charming cobbled streets tumble down to the miniature harbour, which is sheltered by cliffs and surrounded by historic fishing cottages. Seasoned wheelchair travellers will know that cobbles + hills can make things particularly difficult, so I'd recommend a strong pusher!
Our time at Homelands was so special as the accommodation has such a high standard of accessibility, without any compromise on style or luxury. It is difficult to incorporate equipment such as hoists and profiling beds without giving the impression of a hospital, but the team at Homelands has got it just right. It was wonderful to explore a part of Scotland that we hadn't before, even with all the liquid sunshine!
By Carrie-Ann Lightley
Get in touch by messaging us on Facebook, tweeting us @DHorizons, emailing us at editor@disabilityhorizons.com or leaving your comments below.