Britain's Got Talent 2022 is in full swing and the 15th series has featured even more amazing auditions from performers with disabilities. Dance troop Born To Perform secured the golden buzzer with their incredible, upbeat, positive dance routine and 14-year-old Eva Abley brought laughter and humour to the crowd with her cerebral palsy-inspired comedy act.
These performers are following in the footsteps of previous disabled acts on Britain's Got Talent (BGT) including 2018 winner Lost Voice Guy, 2020 runner up Sign Along With Us, blind musician Sirine Jahangir and many more.
Born To Perform bring the most joyous audition
Born To Perform is a dance school based in Northampton, which specialises in special educational needs and disabilities. Students at the school are aged between three and 50 years old and have a mixture of additional needs such as Down Syndrome, Autism and Turner's Syndrome.
Classes benefit students by improving their confidence, communication skills and overall mental and physical well-being.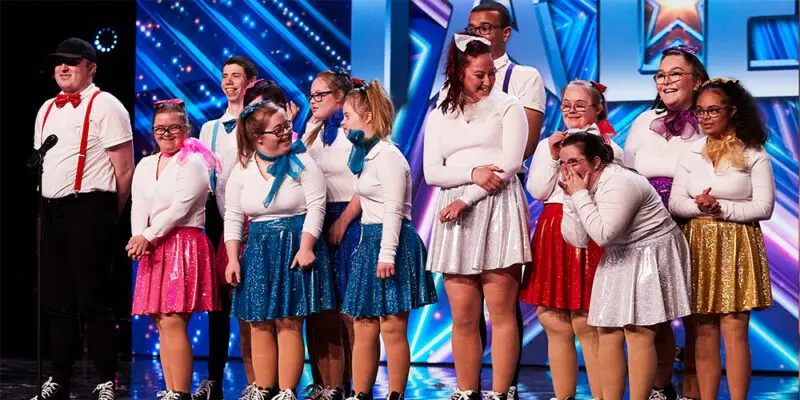 Fourteen members of Born To Perform dazzled judges with their performance to You Can't Stop The Beat from the musical Hairspray so much that it prompted judge David Walliams to push the coveted golden buzzer, sending them straight to the Britain's Got Talent semi-finals.
"I absolutely loved it guys, in fact, I loved it so much that I'm going to do this," David concluded as he pressed the golden buzzer.
Speaking to Northampton Chron, Director of Born To Perform, Clemmie Milnes, said: "It has been an absolute whirlwind. I feel so overwhelmed with it. It happened back in January for us when we filmed… They just performed brilliantly."
The now-famous Born To Perform dance group is in for weeks of vigorous rehearsals as they gear up for the highly anticipated semi-finals of BGT, which will see winners walk away with a cash prize along with the opportunity to perform for the Queen at the Royal Variety Performance.
Eva Abley owns the stage with her stand-up comedy
Another disabled performer to take to the BGT stage was 14-year-old Eva Abley, who lives with cerebral palsy. She delivered a "vivacious, charismatic and absolutely hilarious" comedy routine, in which she breaks some of the taboos around disability and reminds people that we are all different and unique.
Her routine saw her receive a standing ovation from the four judges alongside the crowd.
Amanda Holden, a judge on the show, said: "Stand up comedy is the hardest thing ever, we always say that on Britain's Got Talent because the reaction is immediate – you are either funny or you're not funny, so you immediately won us over.
"Your timing was fantastic. You're so vivacious and charismatic and it was so relaxing to watch you, I felt completely entertained from start to finish."
Fellow judge David Walliams said: "You're brilliantly funny, every single line was an absolute zinger. I think to be a successful comedian, part of that is being memorable and you are very memorable – but most of all it was hilarious."
Following her success on the show, Eva appeared on ITV's Lorraine on Monday and told host Lorraine Kelly about how the routine was her way of getting back at the bullies who drove her to be home-schooled.
"I started to tell people my jokes and then because I find it hard with a disability for people to accept me, I found that jokes were kind of breaking that point in my disability, then people would want to get to know me more," she said.
Eva explained that she recorded a joke on Instagram and that "Britain's Got Talent saw it", with Lorraine adding: "So it came from that? Isn't that amazing?"
Sign Along With Us will perform at Naidex 2022
If you're interested in seeing one of Britain's Got Talent contestants live, then you're in luck. 2020 BGT runners-up Sign Along With Us are set to perform at this year's Naidex disability exhibition in Birmingham.
Sign Along With Us is a choir aged four to 58 from Manchester. Consisting of 37 children and 28 adults, they were formed by Jade, after she started a class for her disabled brother Christian, who was told he might not ever talk again.
In their audition, they did a sign language performance of This Is Me from The Greatest Showman and were awarded the golden buzzer by BGT judge David Walliams. The choir made it to the final and became runners-up behind the winner Jon Courtney, a musical comedian.
Disability Horizons at Naidex 2022
Naidex is Europe's most established event for the disability, independent living, and healthcare sectors.
As well as a performance from Sign Along With Us and special guests including former Paralympian Tanni Grey-Thompson, there will be a range of disability organisations exhibiting their products and services, including Disability Horizons!
This year we've partnered with Naidex to bring you the Marketplace, a live version of the Disability Horizons online shop that includes brands Trabasack, ableMove, Active Hands, Stickman Communications and many more. Come check us out at stand B36.
Naidex will take place on the 6th and 7th July 2022 at the NEC Arena Birmingham. Book your free place at Naidex.co.uk.
Watch Britain's Got Talent on Saturdays and Sundays and catch up on the ITV Hub.
By Emma Purcell 
More on Disability Horizons…