If you have a disability, travelling is rarely straight forward. So that's why we've teamed up with Carrie-Ann Lightley from Tourism for All, to bring you a series of articles to help make travelling and disabled holidays easier and more accessible.
Carrie-Ann has over 10 years' experience working in the accessible tourism industry, and many years as a wheelchair traveller. Here we hear about her recent trip to the Peak District and Derbyshire.
I was lucky enough to be the first ever guest at Croft Bungalow, in the Peak District, back in April. I was encouraged to fill the lodge, which had 2 bedrooms, so along came my husband Darren, friends Rachel and Alastair, and of course, Poppy the puppy.
Croft Bungalow is a level access bungalow that can sleep 3 or 4. It has been recently refurbished (completed October 2015). There is one large bedroom, which can be set up as a twin or double, and one single bedroom with electric profile bed. This can also be turned into a sensory room and lighting can be provided if required.
The bungalow has a large lounge with a bed/settee for one adult or two children, big kitchen and wet bathroom, with grab bars that serve the shower and toilet. All internal doorways have been replaced to be wide enough for wheelchair access and you can enter Croft bungalow via a ramp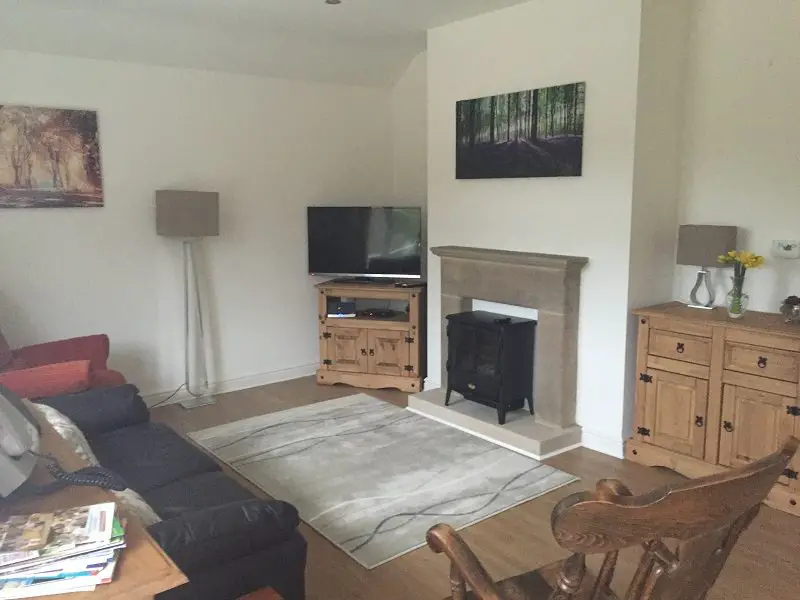 Outside at the rear is a large private south-facing garden with open country views and a large level flagged patio area. There is also a wheelchair-friendly picnic bench and a gas barbeque. The bungalow also has Wi-Fi, and Freesat TV.
The finishing touches really make Croft Bungalow special. It feels so homely and comfortable, so we settled in almost instantly. They've done a fantastic job of adapting what is a relatively small property.
After a full cooked breakfast (prepared by chef Darren) on our first morning, we decided we'd spend the day at Crich Tramway Village, where there are a number of vintage trams to ride. A couple of week's beforehand, whilst exhibiting on the Tourism for All stand at the British Tourism & Travel Show, I'd met Amanda from the Tramway Village, who offered us some complimentary tickets.
As the cute vintage trams ride down the traditional village street, it really does feel as if you've stepped back in time, to a bygone era. All areas are wheelchair accessible (and dog friendly, with the exception of the National Tramway Museum) and there is an Access Tram, which runs twice a day and should be requested on arrival at admissions.
Unfortunately, the Access Tram had broken down on the day of our visit! But with help I was able to transfer to the regular tram, and the staff were so accommodating, knowledgeable and enthusiastic – many of them are volunteers.  A "smoothway" provides a smoother alternative to the cobbles for wheelchairs and buggies, and is shown on the village map. We also enjoyed a delicious ice cream from Bluebells, drinks at the Red Lion pub (which has an accessible toilet) and took home some old-fashioned treats from Barnett's Sweetshop.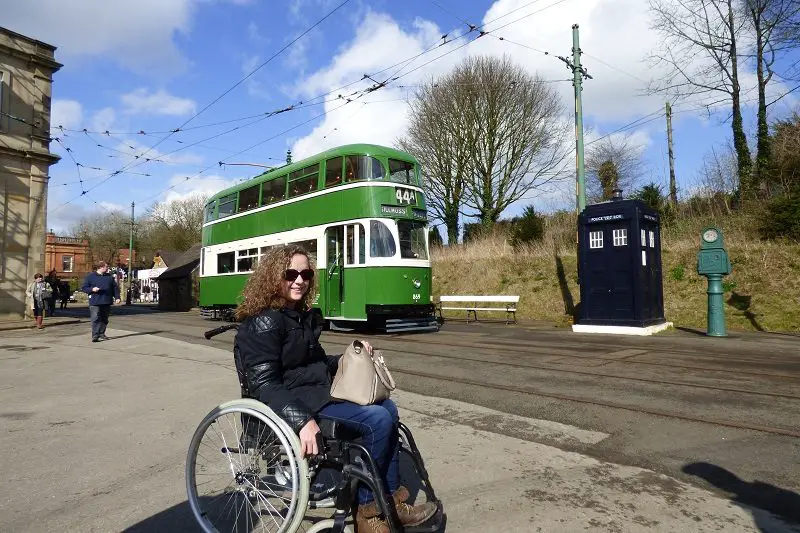 On our way back to Croft Bungalow after such a fun day, we decided to pop in to one of the village pubs, also called the Red Lion Inn, which is just 100 metres from Croft Bungalow. We had a lovely time here chatting to some of the locals and enjoying drinks. It definitely isn't the most accessible pub I've been in – the doorways and toilets were tight and difficult to navigate. But it would be manageable for a manual wheelchair user with some mobility.  The pub boasts it's own microbrewery and a varied menu of tasty looking food.
We enjoyed a relaxed evening at the bungalow, making use of the garden patio. After yet another hearty breakfast the next morning, we set off to visit our friends David and Felicity Brown at Hoe Grange Holidays just down the road.
Darren and I had a wonderful stay at Hoe Grange back in 2014, so we wanted to visit for a quick catch up, to introduce them to Poppy and see the latest additions to their holiday accommodation – glamping pods!  At the moment the pods aren't easy to get to using a manual wheelchair, so the famous Boma 7 was wheeled out, and off up the farm fields I went.
The glamping pods are a chic mini cabin just for two, with the added luxury of your own bathroom and kitchen facilities. Though they haven't been purpose-built for accessibility (there are 4 very accessible, larger cabins on site for this) a pod would be manageable for me, a manual wheelchair user, and we hope to return soon to try one out!
The final destination on our Derbyshire trip was Carsington Water, as recommended by our colleagues at Accessible Derbyshire. This is a reservoir with a visitor centre and a wide range of facilities including shops selling souvenirs, craft items, embroidery materials, ceramics, books etc, as well as a cafe and restaurant. You can hire Tramper mobility scooters and accessible bikes here, and there is a Sailability Club offering accessible sailing.
Our visit there was the perfect end to our trip, and we had such a lovely walk on the very accessible path around the water. We were pleased to see that it was so busy, with locals and tourists alike, and Poppy made lots of doggy friends!
This was our second trip to Derbyshire and we will definitely return, as we still have so much more to see.  Thanks to all of the people who welcomed us so warmly!
By Carrie-Ann Lightley
Get in touch by messaging us on Facebook, tweeting us @DHorizons, emailing us at editor@disabilityhorizons.com or leaving your comments below.