Work & Education
Yahya Siyad: blind entrepreneur, athlete and disability advocate
Yahya Siyad is an adventurous, determined and optimistic entrepreneur. He was born in Somalia and grew up in the Middle East and the UK. He was born blind, but that didn't stop him from achieving his goals and aspirations to start his own business, compete for Team GB and travel the world.
In this interview, Yahya shares his experiences of growing up with a disability and his passion for making the world an inclusive place for everyone.
What challenges did you face growing up with your disability and how did you overcome them?
The trickiest thing for me while studying was getting the products and services I needed as there weren't enough ebooks at the time.
Then, when I started working, I had to ask for help and support – I couldn't access what I needed independently, which was very frustrating.
People's attitudes pushed me back too. I was never fully trusted and people doubted me. They made assumptions about me and my potential to do things was questioned. This was particularly tough, but I was determined to prove people wrong.
Aside from my disability, I experienced two major shocks during my childhood. The first was when I moved from Somalia to the Middle East as I didn't speak Arabic or English, only Somali. Trying to communicate, survive and adapt was hard. When I moved to the UK, I had a cultural shock too. I saw the differences in the way things were done.
Thankfully, my family have always been very understanding and supportive of my needs as I was my parent's third child with the same eye condition. My family treated all my siblings equally, to be confident. At the time there were no opportunities available for my siblings as they are older.
Tell us about your education and how that lead to you starting your own business.
At the age of 7, I was offered a place at school for visually impaired children in Bahrain. As I progressed through my education, I knew I wanted to carry on studying, to arm myself with knowledge.
That's when I decided to study in the UK at Westminster university, taking a degree in International Relations and Applied-translation. After that, I did a masters in International HR Management at the same university.
Once qualified, I worked in the corporate world for a few years. As time went on, I knew I wanted to create my own business, to have autonomy over my career and success. That's when I created Inclusive Horizons, an accessibility and inclusion consultancy service.
What motivated you to start your own business?
The saying 'nothing for us, without us' has always been really important to me. Having grown up in the Middle East, I found that non–disabled people were deciding the policies and provisions for disabled people.
There were no disabled people represented and I knew that had to change. I wanted to give disabled people a voice through my business, talking to companies and policymakers about what disabled people really want and need.
Please can you tell us a bit about Inclusive Horizons and how it aims to help disabled people?
It's a self-led consultancy that aims to tackle four key areas:
Creating awareness around the importance of inclusion for disabled people in education and employment.
Advise organisations on the importance of accessibility and conduct testing of products and services.
Connect disabled people to collaborate with each other.
Provide coaching services for individuals and groups.
I offer customised diversity and inclusion workshops, and deliver motivational talks for companies and their staff, all to create a direct dialogue between the disabled community and the corporate world.
As an example, I have been freelancing for more than 10 years with a German social enterprise called DSE where we do workshops in the dark, which challenges people to expand their horizons.
Through a reversal role play, blind people lead four hour-sessions for non-blind participants. This provides a powerful experimental learning opportunity to raise awareness.
I also speak at events and to companies to raise awareness around different topics. You can see an example of one where I gave a talk in the power of silence and connections.
You have a passion and talent for Goalball. Please can you tell us about the sport and what it involves?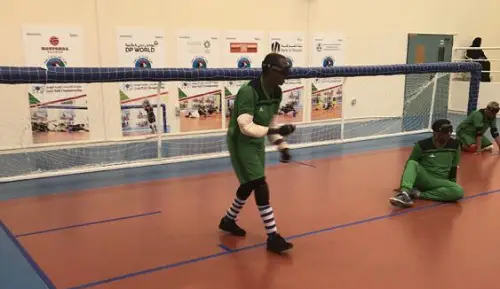 Goalball was invented after the Second World War. It's a bit like basketball, but the ball has a bell inside it. Each team consists of three players who rely on tactile flooring and the bell to defend and attack.
Each of the players is blindfolded so that the game is equal for everyone, regardless of their vision capacity.
How did you get into the sport and how did you progress to playing with Team GB?
I first got involved in 2003 while studying a business-administration course at RNIB Loughborough College. I started taking part in training sessions and then gradually took part in local and regional tournaments.
Suddenly, I found myself 'in love' with the sport. This is when I partnered-up with Ahmed Alasow – a close blind friend – to establish a registered sports charity for this cause called London Sports Forum.
What was it like representing Team GB at the European Championships in 2008?
It was such a proud moment. I had never felt such responsibility and pride. I took part in a league competition where, depending on performance, the team would get relegated or promoted.
We were playing at the highest level, where the small details really count. There was a very intense atmosphere.
At the end, we managed to avoid relegation – being put at the bottom. We stayed in the middle, which was good for the whole team.
You love travelling. What countries have you visited and how did you find the accessibility?
I have visited 48 countries and lived in four. Much of this travelling was done solo, and the others through my time playing Goalball for Team GB or when working as a consultant. For me, the accessibility of a country varied dramatically.
The infrastructure and accessibility in India and Egypt is very poor. However, people's attitudes are fantastic – they want to help disabled people. It's great to see such a collective and social spirit.
In Sweden, I visited the Vatican museum and had a great experience. In the middle of the podium, there was a big ship that he couldn't see.
To make it accessible to me, there was a small version of the ship placed on a table in front so that I could feel it, giving me the same experience as everybody else. That was amazing!
In Norway, major train stations have tactile paths, which made me feel confident to navigate with ease through the crowds.
London has audio descriptions in cinemas and support available on the underground. For me, it is the most accessible city in the world.
The assistance staff inform others of my arrival at a destination and denote that there is a VIP – visually impaired person – on board.
Dubai is learning from other countries and making noticeable strides towards improving accessibility. The infrastructure is decent, but there are no enough crossings on roads. There is also more need to increase systematic awareness with the wider community.
What are your top three favourite holiday destinations?
I love the sunshine, connecting with people and experiencing different cultures, so for me, it would be Thailand, Brazil, Spain and Kazakhstan. The latter is particularly unique and authentic, and the people are very friendly.
What are your goals and aspirations for the future?
My goal is to complete my PHD in global inclusion, which means I will be able to understand the intricacies of public policy that shapes the level of inclusion.
To find out more about Inclusive Horizons and to get in touch, please visit Yahya's website. 
Interview by Zubee Kibria
More on Disability Horizons…