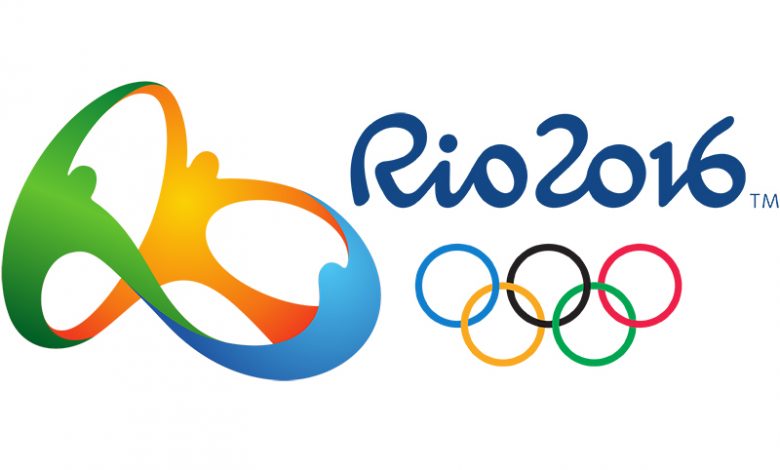 Wellbeing & Fitness
Rio 2016 Paralympics: wheelchair tennis Paralympian Lucy Shuker in the spotlight
To celebrate the Rio 2016 Paralympics we have been interviewing Paralympians set to compete for Team GB in the 2016 games in Rio Brazil. This week we get the inside track on Paralympian Lucy Shuker to find out how competing in wheelchair tennis on a professional level enriched her everyday life.
Sport: Wheelchair tennis
Time competing: Lucy picked up a racket in 2002 following her discharge from hospital. In 2003 she began playing competitively.
Biggest achievement to date:
Lucy Shuker is a London 2012 Paralympic Bronze Medallist who is currently ranked 7th in the world for wheelchair tennis. Lucy has 22 singles titles and over 52 doubles titles to her name. She was also the first Brit to contest in all four major Grand Slam wheelchair events in the same year – that was in 2013 when she played in New York.
Fun fact:
Lucy recently went shark diving in South Africa and would like to try out sit-skiing after the Paralympic Games.
Motto:
People should not be afraid to try something new. When you try, you may find out what you enjoy and are good at.
How did you get into wheelchair tennis and start competing at a professional level?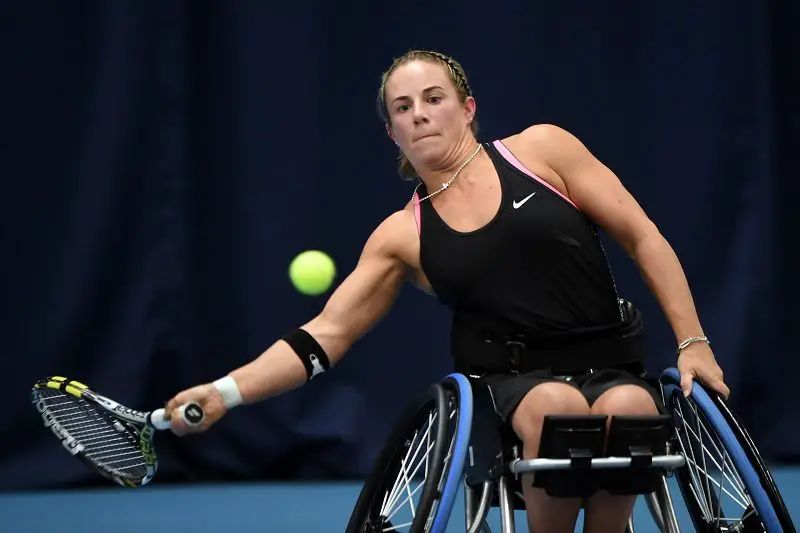 I come from an active family – I played badminton and enjoyed horse riding in my youth. So, when I had my motorbike accident in 2001 and became a T4 paraplegic, it seemed natural to look for a new sport that would help me to rehabilitate and that I would enjoy.
I feel I have a positive outlook on life. And even though the time after the accident was I difficult one, I was keen to try out a variety of sports and get active again. At first, I tried water skiing and some other outdoor activities, but it was not until I met Peter Norfolk, a British wheelchair tennis player nicknamed the Quad Father (eds.), that I was introduced to wheelchair tennis.
I met Pete when I was buying my first wheelchair and as a previous badminton player he encouraged me to try tennis as it has a great Paralympic set up with its own world tour. I developed my skills in local tournaments and as I practiced and trained I got better and better. I was then able to start participating in more competitive and professional tournaments.
You became a professional in a relative short time. How did you get there?
I think in disability sports you can transition faster from a recreational grass routes player to a professional player. A big help was the charity Tennis Foundation as it is set up to support and develop players from the start onward and to get funding to participate in tournaments.
Still, at first it was difficult. It took me two years to adjust to sitting in a wheelchair. I kept thinking that I would leave the hospital walking, but that did not happen. What did happen was that tennis enabled me to strengthen my body, which in turn helped me with things like transferring in and out of my wheelchair and learning to do things by myself. Being fit is also a huge advantage now; it makes life easier as you are stronger and more able.
What are the upsides of being a Paralympian for you?
I get to do what I love to do: play tennis. I am still improving my game all the time, which is also nice. My learning curve has been really steep. The Tennis Foundation has always supported me and enabled me to continue to compete on the International Wheelchair Tennis Circuit.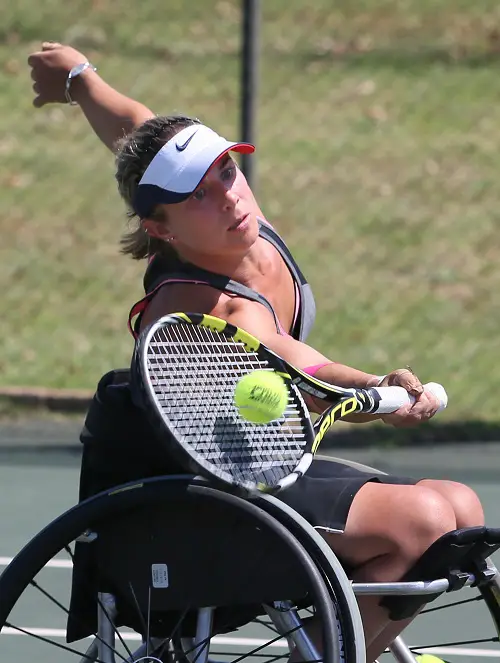 What are the downsides to being a wheelchair tennis Paralympian?
Paralympic wheelchair tennis is an expensive and physical demanding sport especially for a T4 paraplegic like me.
You have to acquire funding to get yourself a good sports chair, pay for equipment costs, coaching and fork out court fees and travel expenses. It all adds up. The Tennis Foundation supplement my program, but there is always a shortfall that I need to fundraise for myself. For instance, if I want to have my personal coach at every tournament, then I need to get the funding together to support this.
I also think it is more demanding for me as a T4 Paraplegic than perhaps some of the other players who are amputees and who are not paralysed. Still, I am getting stronger and better all the time, and my disability has motivated me to be the best that I can be.
What would you advise readers of Disability Horizons who would like to try taking part in sport for recreational or health purposes?
I think that for people who would like to try a sport there are a lot of opportunities. Depending how competitive you want to be, you can always join sports clubs where you can meet new people and try new things.
There are no problems with accessibility to sport clubs?
I think the 2012 Paralympic Games in London had a huge impact on disability sport and people's perceptions of disabilities in general. It raised awareness and started initiatives all over the country. Also, there are lot of charities out there to support disabled people to get active and to try various sports. I would definitely recommend taking the opportunities you get and to try out new things, you never know where it might lead you…
What are your plans for the future?
I am still improving my skills and I hope to continue at least until the 2020 Paralympics in Tokyo.  I am not sure what I will do after that at the moment…
Wheelchair tennis: what you need to know
Wheelchair tennis is a form of tennis adapted for those who have disabilities in their lower bodies. The size of courts, balls and rackets are the same. But there are two major differences from conventional tennis – athletes use specially designed wheelchairs and the ball may bounce up to two times instead of once. The second bounce may occur in or outside the tennis court.
Wheelchair tennis is one of the official Paralympic sports and is also played at Grand Slams. There are three categories: Men, Ladies, and Quads. Each category has singles and doubles tournaments. Quads is the category for those with quadriplegia. Quads players may hold rackets taped to the hand and use electric-powered wheelchairs.
By Karen Mogendorff
Want to follow Lucy Shuker in the run up to Rio 2016 and during the Paralympic Games?
Check out her website and contact her on social media:
Twitter: @lucy_shuker
Facebook: /lucyshukertennis
Instagram: @lucy_shuker