Lifestyle
Arthrogryposis Awareness Day: have you heard of it before?
Like most people, you probably do not know what Arthrogryposis Multiplex Congenita (AMC) is. Well, Arthrogryposis Awareness Day on 30 June 2017 is a perfect opportunity to find out about this disability. Regular Disability Horizons writer Meghan, who has AMC, tells you all about it, and how you can get involved.
My name is Meghan, I'm in my early twenties and I live in the USA. I have a disability called Arthrogryposis Multiplex Congentia (AMC) but I do not let that stop me. My motto is: "Follow your soul, it knows the way''. I would like to tell you more about Arthrogryposis and our special day on 30th of June: AMC Awareness Day.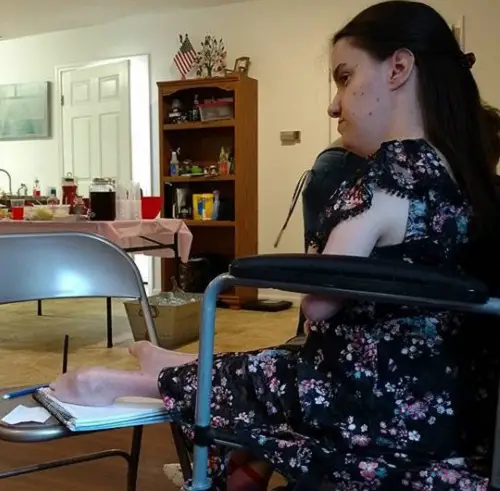 Most people have no idea what Arthrogryposis is and have never met someone with AMC. To increase knowledge about AMC with the public and in the medical world, every 30th of June we celebrate Arthrogryposis Awareness Day with loved ones, friends and acquaintances in the USA and other countries.
What is Arthrogryposis Multiplex Congentia?
Arthrogryposis Multiplex Congentia (AMC) is an umbrella term for over 300-400 different types of conditions and syndromes acquired in the womb. The syndrome's main characteristics are deformities or contractures of joints in two or more body parts.
Arthrogryposis is Greek for the curving of joints. The 'Multiplex' means that foetuses have it in multiple areas of their bodies. People may have it in their knees, hands, fingers, and even spine and jaw.
I have it in my arms, fingers and knees mostly. My arms are folded inward permanently and I cannot use my fingers, which is the reason why I use my feet to do things – I am typing this with my foot right now. Can you imagine?! Pretty cool, right?!
Lastly, the 'Congenita' refers to the fact that babies are born with AMC because as a foetus they weren't able to move around properly in the womb.
Arthrogryposis is called an umbrella term because people with AMC can have a number of other diseases, such as a clubfoot, something that I have in my right foot. My left foot is called a 'rocker bottom' because I have a prominent heel and the bottom of my foot is rounded. I am unable to walk on my feet so I move by scooting around on my bottom or by using a wheelchair.
Living with AMC
If you or your child is diagnosed with AMC, it can be daunting. But it doesn't have to be. I am available most of the time for a chat or to answer questions on 30th of June on Twitter (@gotmeghan) or Facebook. I will talk your mouth off, in a good way! If you are a parent or family member, I will be able to tell your more about what your child or sibling will go through.
My aim is to kill the stereotype that you cannot do anything if you have Arthrogryposis. I do not let AMC define who I am. By teaching myself new things all the time, like decorating a birthday cake and opening up a soda can with my toes, I'm proving, day in day out, that AMC doesn't have to limit you. I want to help children and teens with AMC to love themselves for who they are and to motivate them to discover their talents.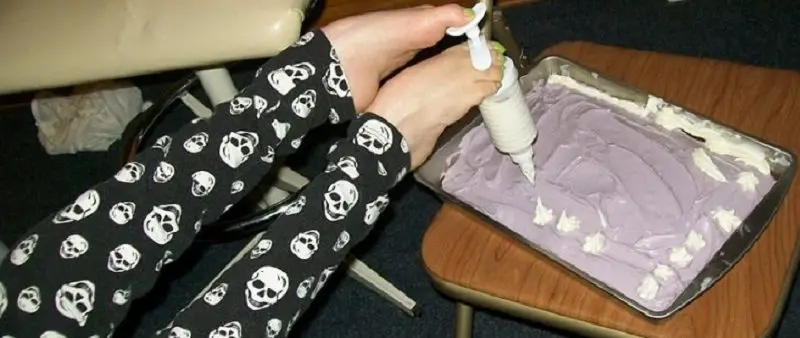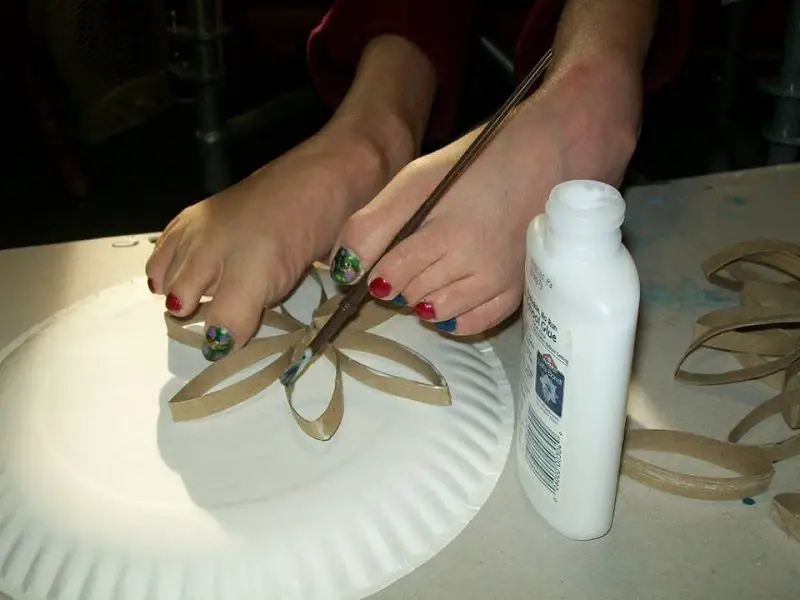 Contact me through my own blog, www.gotmeghan.wordpress.com, anytime, but especially on 30th of June! If you do not feel comfortable leaving something on my wall, just send me a personal message and I will try to help you as best as I can.
What can you do to support and raise awareness on Arthrogryposis Awareness Day?
Everyone can participate on AMC Awareness Day – you don't have to have the disability or even know someone who does. You can donate through the AMC site, wear blue to symbolise your support or take part in the pie challenge on 30th of June.
If you decide to wear blue for us on Friday – whether it be blue nail polish on your fingers and/or toes, or a bright blue top – please post a picture of yourself wearing the blue on Twitter and Facebook using the official hashtag #AMCStrong and tell everybody what you're supporting! You could even just wear your trusty blue jeans. I don't mind! Whatever you wear, we all would really appreciate it!
You can also take part in the MC Pie Challenge, also called the ArthroPIEposis Challenge. It's essentially a pie-tossing game whereby you throw a pie in someone's face (someone that's said it's OK to do!), or in your own. You can nominate yourself, or someone else to be pied, and they should be filmed so it can be posted on social media with the hashtag #ArthroPIEposisChallenge. Nominated participants have 24 hours to be pied, or to forfeit by way of a donation to Arthrogryposis Multiplex Congentia Support.
Want to know more about AMC and meet others with the disability?
At www.amcsupport.org or www.arthrogryposis.co.uk you can find more information about my condition and meet others with AMC, exchange experiences and become a member of the AMC federation.
I can't wait for you to join me on 30th June, whatever it is you do!
By Meghan
Get in touch by messaging us on Facebook, tweeting us @DHorizons, emailing us at editor@disabilityhorizons.com or leaving your comments below.