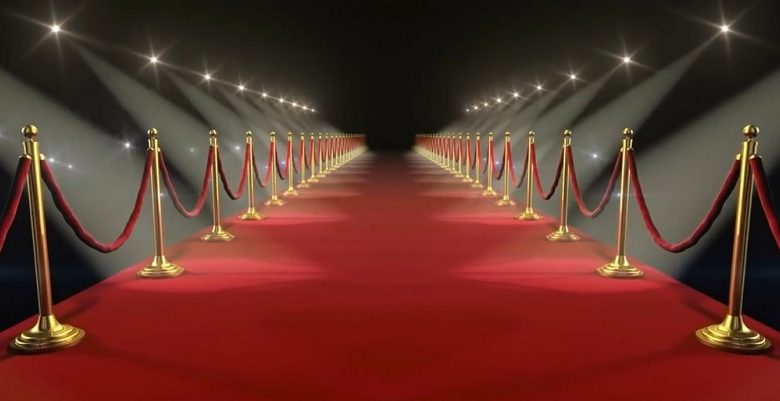 Last year we rounded up the top 10 disabled celebrities, listing both disabled men and women that have graced our screens. So, this year, we thought it was time to celebrate awesome and powerful female disabled celebrities, all making a difference to how disability is portrayed in the media. 
There is a great deal of ongoing discussion and debate around the inclusion and representation of disabled people within the media. Put simply, there is not enough diversity. Still, in 2017, the vast majority of British 'celebrities' are able-bodied.
However, we are seeing the emergence of more and more disabled people on our television screens and in the public eye. But, how many can you name? When contemplating this very question, I realised that most of those who immediately came to mind were male – Stephen Hawking, Warwick Davies, Alex Brooker, Adam Hills, Ade Adepitan and Jonnie Peacock, to name a few.
So what about the ladies? Time to pick the top 10…
Hannah Cockroft MBE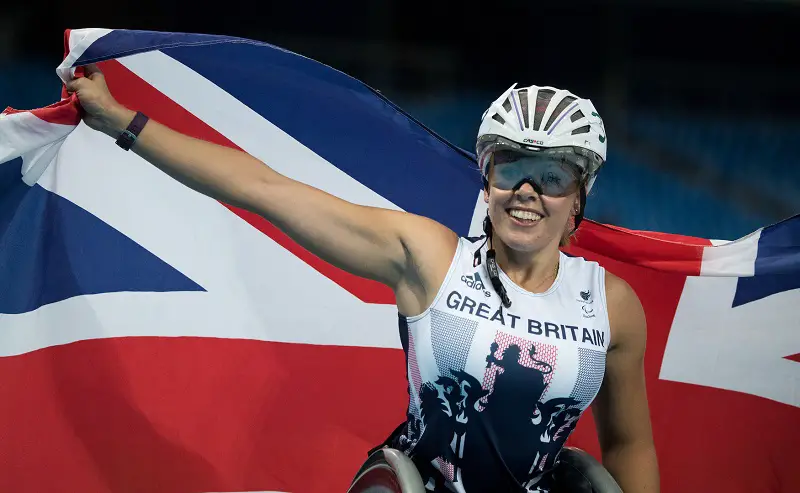 Hannah, who has cerebral palsy, suffered two cardiac arrests within 48 hours of birth, which affected two parts of her brain. She was left with balance, mobility and fine motor impairment.
But this has most certainly not held her back. She is a gold medal-winning Paralympic wheelchair racer and 10 times world champion. In 2012 she became the first Paralympian to break a world record in the London Olympic Stadium for the 100 metres T34.
In 2014 she won the Sport Relief edition of Strictly Come Dancing with professional dancer Pasha Kovalev. That same year she launched 17 Sports Management Limited, a company representing disabled athletes.
Hannah continued her reign of success at the 2016 Paralympics in Rio where she won three gold medals.
Read our Q&A with Hannah Cockroft to find out more about the inspiring athlete.
Katie Piper
The victim of a vicious acid attack in March 2008, Katie has endured more than 250 surgical procedures to date. She suffered full-thickness burns (where both layers of the skin are destroyed) and had to wear a face mask for 23 hours every day. She also swallowed some of the sulphuric acid, damaging her throat, and was blinded in her left eye.
In 2009, the former model shared her horrific ordeal in the Channel 4 documentary Katie: My Beautiful Face. She also established the Katie Piper Charitable Foundation, which supports those with severe burns and disfigurement injuries.
In addition, she is now a successful author, television presenter, magazine columnist and philanthropist. An inspiration to many, Katie married in 2015 and is currently expecting her second child.
---
Head to the Disability Horizons Shop to find stylish and practical solutions to everyday problems. 
---
Cerrie Burnell
Cerrie was born with no right forearm and is severely dyslexic. Since childhood, she has always refused to wear a prosthesis or hide her disability.
An all-round entertainer, Cerrie is an accomplished actress, singer, playwright, children's author and TV presenter. Between 2002-2008, she appeared in Holby City, Eastenders, Grange Hill, The Bill and Comedy Lab. She then transitioned to presenting, working on The One Show, The Wright Stuff and CBeebies (Jan 2009 – April 2017).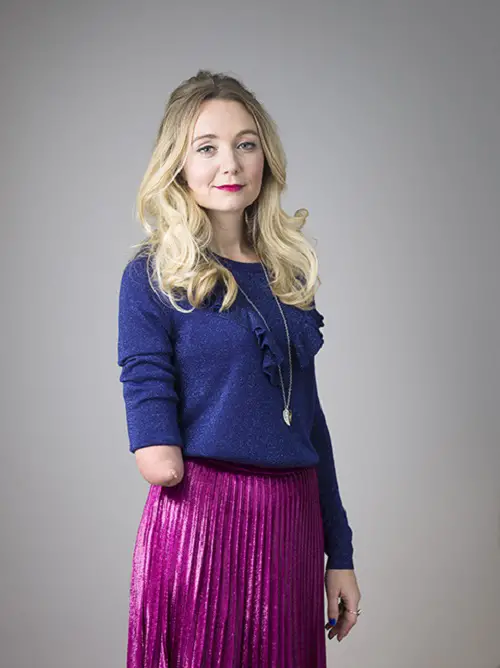 But her first appearance on children's television was met with controversy. Some claimed that the presence of someone with a physical disability like hers could scare young viewers. In response, Cerrie spoke candidly about her disability and how it's important that children are exposed to differences, for which she was widely applauded.
She now regularly speaks out in favour of diversity and the inclusion of disabled people in the media. In fact, she recently took part in the Channel 4 documentary Diverse Nation. She's since reached an even wider audience by presenting all the swimming events for the Channel 4 and the 2012 Paralympics.
Named by The Observer as one of the top 10 children's presenters of all time, Cerrie has also been declared, by The Guardian, as one of Britain's 100 most inspirational women.
A supporter of many charities including body-confidence organisation Body Gossip, Cerrie now wants to focus on writing more children's books and acting.
Francesca Martinez
Critically-acclaimed stand-up comedian Francesca Martinez first became prominent playing Rachel Burns in Grange Hill (1994-8). Since, she has starred in BBC shows Holby City, Doctors and Extras.
But it's not her acting that she's most well known for, it's her comedy. With a self-deprecating sense of humour, Francesca, who has cerebral palsy, describes herself as "wobbly". In 2000 she became the first female to win the prestigious Daily Telegraph Open Mic Award at the Edinburgh Festival. She was also named one of the 50 funniest acts in British comedy by The Observer.
Also a campaigner and activist, Francesca has organised many charity shows and is a patron of several charities, including Evenbreak, which helps pair disabled people with inclusive employers.
She's also an outspoken opponent of government welfare reform, in 2012 launching the campaign War on Welfare (WOW), which called for an end to disability benefit cuts. She later secured the first parliamentary debate for disabled people by disabled people.
In 2013 she won the Public Affairs Achiever of the Year Award and the following year was named one of Britain's most influential women.
Her recent sell-out comedy tour was followed by a best-selling book, both titled WHAT THE **** IS NORMAL?! She is currently working on a feature documentary of the same name.
Cherylee Houston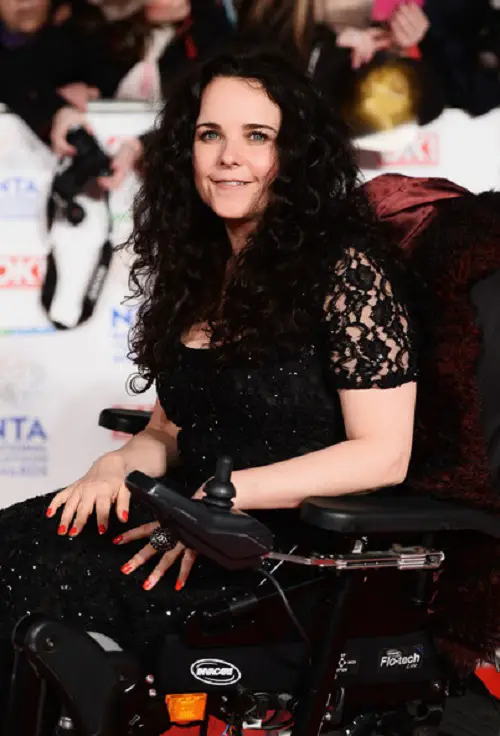 Screen and theatre actress Cherylee was diagnosed with Ehlers-Danlos Syndrome type III (EDS) at the age 23. She has appeared in Doctors, The Bill, Holby City, Emmerdale and Little Britain.
Her most recent role is that of Izzy in Coronation Street, which she has played since 2010, and is the soap's first disabled character to be played by a disabled actor.
Aside from acting, Cherylee established the Manchester-based youth project TripleC, which aims to make drama accessible to all. She has spoken out about a number of political issues too, including the Conservative cuts to disability benefits and the representation of disability in the media. She also continues to raise awareness of EDS.
---
---
Anne Hegerty
Better known as The Governess in the award-winning ITV quiz show The Chase, Anne has a form of autism. In 2005, after watching a documentary about Asperger's Syndrome and identifying with the symptoms, Anne told her doctors she believes she has the disability.
It took two years for her to be officially diagnosed, during which time she lost her job as a proof-reader, due to her inability to multi-task.
Unable to pay her bills, Anne was confronted by bailiffs on New Year's Day in 2008. She later sought advice and assistance and is to this day in receipt of Disability Living Allowance. Around the same time, her social worker encouraged her to audition for The Chase and even paid her travel costs to get there.
She is now a highly successful television personality and professional quizzer, have participated in Mastermind, Fifteen to One and Brain of Britain. Anne also talks candidly about her life with Asperger's Syndrome and how it affects her.
Jess Thom
Jess, a comedian and public speaker, was diagnosed with the neurological condition Tourette Syndrome in her early twenties, and also uses a wheelchair. She's most widely recognised for her memorable appearance on Russell Howard's Good News in October 2015. The interview garnered much attention and has subsequently been viewed more than 600,000 times on Youtube – you can check it out in our article on 10 awesome disability-related videos.
In 2010 she co-founded Touretteshero, a blog that documents what it's like living with Tourettes, featuring articles and videos. Its first production, Backstage in Biscuit Land (2014), met with critical acclaim. It has since toured nationally and internationally.
She has appeared on various television and radio programs including The Late Late Show, This Morning and Fry's Planet Word. In 2013 she also delivered a TED talk about the misconceptions of Tourette's and the creative potential of tics. While admitting her Tourette's presents challenges and has been met with discrimination, she prefers to "celebrate [its] creativity and humour."
Jess is an outspoken advocate and campaigner for disabled people's rights. Her work often draws attention to the environmental and social barriers that prevent inclusion. An opponent of the medical model of disability, Jess insists her Tourette's is a source of creativity, her wheelchair allows her freedom, and she is disabled not by her body but by the inaccessible environment.
Libby Clegg MBE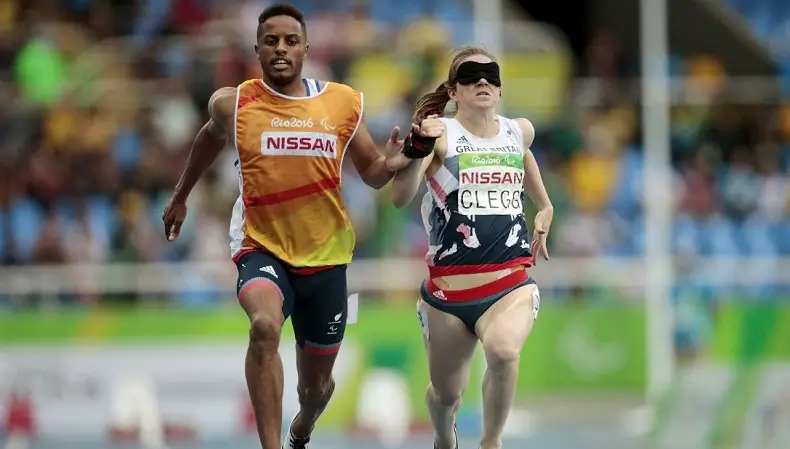 Libby is a Scottish Paralympic champion sprinter, having won gold and broken records. She has a deteriorating condition Stargardt's macular dystrophy, leaving her with only slight peripheral vision in her left eye. She is registered blind and is an ambassador for the Royal Blind Charity.
She has represented Great Britain in the T12 100m and 200m races at the 2008 Summer Paralympics, and the T11 100m and 200m in 2016 at the Paralympic Games in Rio. She is also the 2012 IPC European Champion and 2013 IPC World Champion.
As if she isn't busy enough, Libby is also a course tutor and ambassador for Ability Training, offering accredited disability specific awareness courses for sports coaches and fitness professionals.
Along with her beloved guide dog Hattie, she is helping to educate dog owners on the importance of nutrition and health. Libby raises awareness of the essential part guide dogs play in the lives of those with visual impairment.
She was recently honoured in the 2017 New Year's honours service when she was appointed MBE for her contribution to sport.
Sarah Gordy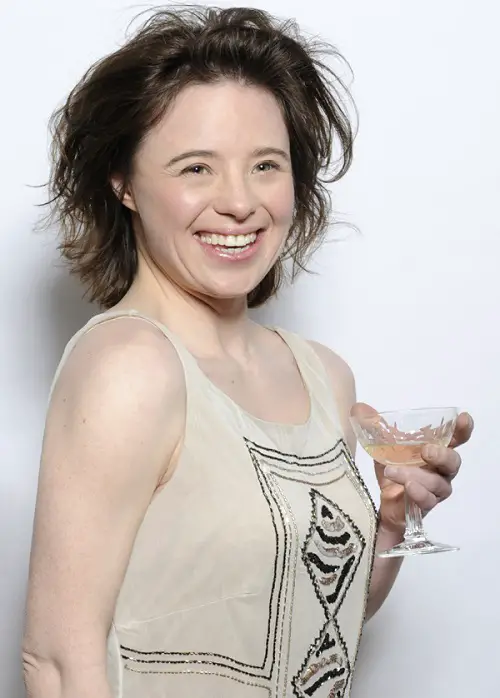 Award winner Sarah, who has Down's Syndrome, is best known for her role as Lady Pamela Holland in the 2010 BBC TV series Upstairs Downstairs. She has also appeared in Holby City, Call the Midwife and Doctors, as well as various short films, radio dramas, commercials and many theatre productions.
She most recently portrayed Orlando Quine in the BBC series Strike: The Silkworm, based on the books by J.K. Rowling.
She is an ambassador for Mencap and patron of Circus Starr, a performance group that does shows for disabled children. When not acting, she volunteers at her local British Heart Foundation charity shop.
Genevieve Barr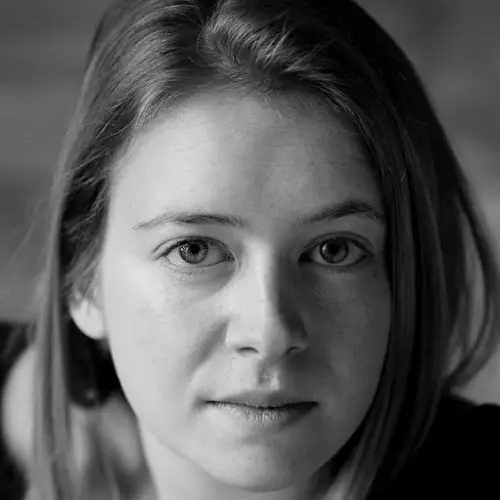 Star of the latest Maltesers advert, Genevieve was born deaf. Having never learned sign language, she lip reads, and is, in fact, a professional lip-reader for different organisations.
She had a major role in the 2010 BBC drama The Silence, and the previous year played a deaf nurse in the Channel 4 comedy, The Amazing Dermot. Following her Bafta and International Emmy Award nominations for The Silence, she went on to act in the BBC3 drama series The Fades, and Shameless on Channel 4.
A freelance disability consultant and public speaker, Genevieve works with the charities Hear the World, Action on Hearing Loss and AFASIC – a charity for children with speech, language and communication difficulties. She also runs courses and workshops for disabled actors.
By Carrie Aimes
Is there anyone we've missed? Let us know about any female disabled celebrities you think are awesome by messaging us on Facebook, tweeting us @DHorizons, emailing us at editor@disabilityhorizons.com or leaving your comments below.
You can also check out Carrie's blog at www.lifeontheslowlane.co.uk and follow her on Twitter @claimesuk or on Facebook. 
More on Disability Horizons…