The National Open Youth Orchestra, an orchestra for young disabled people, is currently looking for new members (deadline Sunday 8th April). Read about the experiences of one member, Benedict, and find out how you too could join and gain musical training with the organisation.
My name is Benedict Pollard. I am 25 years old and am a current member of the South West Open Youth Orchestra (SWOYO) – the regional pilot for the National Open Youth Orchestra (NOYO) where it all began. I was born with spina bifida and hydrocephalus (essentially fluid on the brain) and also have Asperger's syndrome.
I have always been interested in music from an early age. At 12 years old I decided to teach myself to play the keyboard after being inspired by my old music teacher. For many years, I mostly played at home to on my own, apart from a few occasions where I played for family members and friends.
The only public performances I did at the time were for my school's Harvest Festival musical. But to be honest, they were nothing compared to what I'm have now done with the SWOYO.
In 2011, I moved to the National Star College in Gloucestershire, where it has a music program called OrcheStar. I joined the program as a student in my last year (2013-2014), which is where I met Doug Bott and Barry Farrimond, Musical Director and CEO of the NOYO. We spent that year devising a special piece ready for a performance at the Colston Hall in Bristol in July 2014.
In 2015, one of my tutors at National Star recommended that I put my name forward for the new upcoming SWOYO course. Happily, I was one of the five successful members of the orchestra. In our first year, we enjoyed some fantastic performances at wonderful venues, such as Bristol Cathedral (which you can see in the image at the top) and Wiltshire Music Centre.
Initially, I was one of three keyboardists in the orchestra. But after a few months, I was told about an instrument called the Linnstrument, which works like a keyboard crossed with a touchpad. It has lots of colourful lights and is a truly amazing piece of equipment. I believe it has been used by famous artists, such as Pink Floyd.
It took a few months to find my feet with it, but I have been able to not only learn new skills that allow me to add that little extra bit of magic to what we play.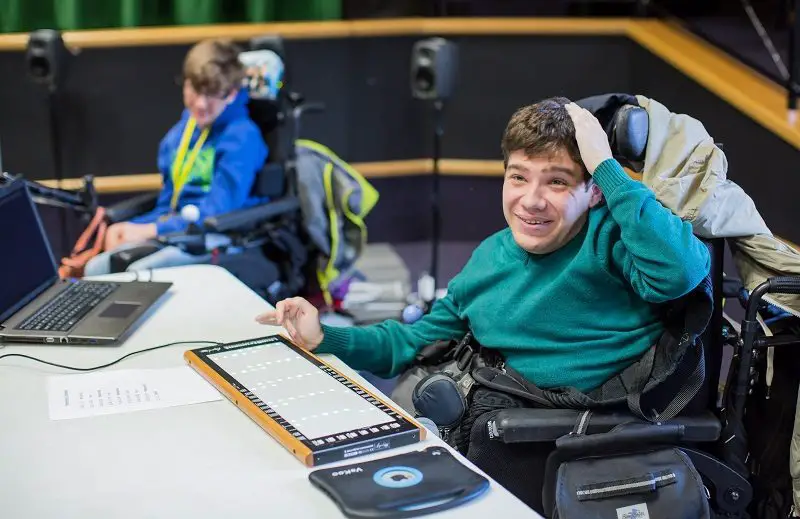 I will soon be leaving the SWOYO as I'll be turning 26 – the orchestra is for those age 11 to 25. But I am so thrilled to have been apart of it as it's given me a wealth of new experiences, as well as new challenges that have helped me grow as a person.
For example, before I joined, I had very selective knowledge of classical music – I was more used to playing pop songs on the keyboard. But now my knowledge has been opened up to a lot more pieces, how they are structured and the sort of vibe they are meant to showcase.
I have also been able to play at some amazing venues, make lots of new friends and, most importantly, develop my skills as a musician in new exciting ways.
These learning experiences have been especially important for me because of my autism. Being in the orchestra has enabled me to work effectively as part of a team and I think all the other members of SWOYO would agree that when we work in sync, we can create wonderful things!
I strongly encourage other disabled young musicians to consider applying for NOYO for all the reasons I've stated above and more. Trust me, it might just be one of the best things you ever do!
National Open Youth Orchestra – how you can get involved
Thanks to the success of the regional SWOYO, this autumn will be the launch of the National Open Youth Orchestra. It will be the world's first disabled-led national youth orchestra. It is now searching for members and inviting applications from young disabled people aged 11 – 25 who have a passion for music and the potential to play an acoustic or electronic instrument as part of an ensemble. They could be musicians already, or be proficient at using assistive technology and have the determination to persevere musically.
NOYO trainees and members will be offered unprecedented support to develop their musical skills and realise their potential as part of an orchestra. NOYO is going to build gradually, with training starting in 2018 in London and the South West, thanks to partnerships with The Barbican, Guildhall School of Music & Drama, Bristol Music Trust and the Bournemouth Symphony Orchestra.
For more information and to apply, visit www.noyo.org.uk. The deadline for applications is Sunday 8 April, to be assessed for auditions in May and June.
By Benedict Pollard
Check out…