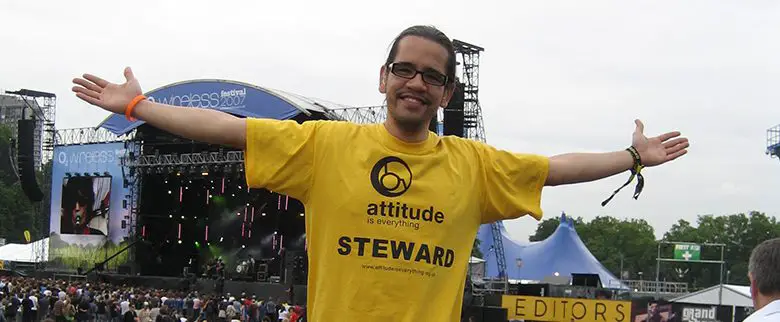 British Summer Time Hyde Park celebrated a double win at the Outstanding Attitude Awards, a new event from music charity Attitude is Everything to celebrate excellence and innovation in live music accessibility for disabled audiences. Our writer, Emma Purcell, attended the event and shares her highlights, plus tells us all about the other deserving winners.
The British Summer Time Hyde Park festival picked up awards in the Customer Service and Ticketing Without Barriers – Venue/Event categories. It was commended for its comprehensive and extensive updates to the event's disabled access provision, which has resulted in a 50% increase in accessible ticket sales between 2017 and 2018.
At the other end of the spectrum, Manchester's Band on the Wall highlighted how small venues are also pushing the envelope and making innovative adjustments to attract disabled fans. The venue received a Ticketing Without Barriers Award for the depth of access information provided on its website. This includes an audio listings service and an access guide made available in braille format.
There was also a win for Nimbus Disability, along with The Ticket Factory, who picked up the Ticketing Without Barriers Award for integrating The Access Card into The Ticket Factory's systems. I got to speak to Martin Austin, Managing Director of Nimbus Disability, after the event and congratulated him on his award.
He said: "Winning this award meant a lot to us. The work we do is unique and no one had ever tried something quite so ambitious so to have it recognised like this, especially by an organisation we have so much respect for, is a great compliment."
According to Government data, deaf and disabled people account for 1 in 10 of live music attendees in the UK.
Marnie Middlemiss and Katie Ann Smith, Co-chairs of Attitude is Everything's Board of Trustees, opened the event by saying: "More than £8 million is spent every year by deaf and disabled live music fans at just the 186 venues and events on our Charter –  just the tip of the iceberg when it comes to this audience.
It gives us joy great to be joined by so many friends, industry partners, organisations and companies who really do represent the breadth of the UK live music industry, all doing such exciting things to meet people's access requirements." 
Other winners at the Outstanding Attitude Awards were: Deer Shed Festival, SSE Arena Belfast, Edinburgh Festival Fringe Society, Made with Music Mini-Gigs, GigLoo and SoundSense. You can see the full list below. 
Outstanding Attitude Awards
Hosted at London's Islington Assembly Halls, which is one of the 160 plus venues and festivals signed up to Attitude is Everything's Charter of Best Practice, the 10 winners were selected by an independent panel of music fans, artists, journalists and other industry experts from a wide-ranging shortlist.
Suzanne Bull MBE, CEO of Attitude is Everything, said:
"What we're really celebrating today is good customer service. Deaf and disabled people represent some of the UK's most passionate music fans. Millions of us attend live music events, and millions more would like to. We are a significant part of the music community.  
"These winners represent some shining examples of how the live music business is responding to this demand. I would like to congratulate all of them, and all of our nominees, not only for the brilliant work that they've been doing but also for the inspiration they can offer to others.
The Outstanding Attitude Awards is proof that everyone in live music, from the biggest festival to the smallest venue can step up and make a change."
Digital and Creative Industries Minister, Margot James, said: 
"There's never been a better time to experience live music and it's something that everyone should be able to enjoy. I want to see every venue and festival create brilliant facilities for deaf and disabled people and it's great to see the Outstanding Attitude Awards showcasing what can be achieved across the UK."
I also spoke to Sasha Robbins, a wheelchair user who has been an Attitude Is Everything mystery shopper for 15 years. She loves attending live music, particularly ones she can head-bang to. She spoke about her love for live music on stage, saying:
"The idea of not being able to access live music is something that I can't even fathom, because it's one of the biggest motivators in my life. It keeps me going. And if I can, I'm sure the majority of deaf and disabled people feel the same as well, and why should there be any barriers?"
Full list of Outstanding Award winners 2019
Customer Service Award: British Summer Time Hyde Park
For a significant commitment to an accessible customer experience. This includes a dedicated access contact centre team, accessible VIP packages and including accessibility as a condition of trader and supplier contracts.
Big Ambition Award: Edinburgh Festival Fringe Society
For ambitious access provision in a complex and high-profile setting. This includes online access ticketing, detailed access information, use of an app to improve the customer journey, sensory backpacks and significant access to performance provision.
The Nigel McCune DIY Access Award: Made with Music Mini-Gigs
For comprehensive access provision at the family-friendly Mini-Gig series at Leeds' Brudenell Social Club. This includes Easy Read and video guides, Makaton and BSL interpretation, adjustments to lighting and sound, DIY multi-sensory experiences, and audience involvement opportunities.
Accessible Infrastructure Award: GigLoo Ltd
For supplying the event industry with high-quality accessible toilet and shower facilities, and the extensive research and development put into their Easy Access range.
Tech Innovation Award: SoundSense
For the development of an innovative access to performance system consisting of both static and wearable vibration packs paired with high-quality wireless audio headphones, to create customisable immersive experiences for customers with and without access requirements. The proof of concept was developed in partnership with Shuffledown Festival, Musical Vibrations and the Acoustic Research Unit at Liverpool University.
Access Starts Online Award – Outdoor event: Deer Shed Festival
For a comprehensive access information page that provides detailed information about each area of the festival, and future plans to develop a peer-to-peer discussion group for their access customers.
Access Starts Online Award – Venue over 500 capacity: The SSE Arena Belfast
For leading the way amongst arenas in the area of access information, including provisions in a range of formats including Easy Read and a customer journey video.
Access Starts Online Award – Venue lower than 500 capacity: Band on the Wall
For providing detailed access information in a range of accessible formats, including audio and braille, and producing a monthly audio version of their brochure.
Ticketing Without Barriers Award – Ticketing/Tech Company: The Ticket Factory + CredAbility Access Card
For integrating The Access Card into The Ticket Factory's systems, to enable a seamless online booking experience for deaf and disabled customers.
Ticketing Without Barriers Award – Venue/Event: British Summer Time Hyde Park
For major improvements to its access booking systems, including creating a dedicated access team, and future plans to expand BSL provision and viewing platform spaces.
Suzanne Bull ended the event by bringing the whole team to the stage as she announced the organisation's 20th Anniversary year, commencing on May 20th, 2020:
"2020 will be a time for us to reflect on our impact and achievements and look towards where we need to be in another 20 years' time, and we need you to get involved. Throughout our celebration, we'll be looking to tell our story. In some way, all of you in this room have benefited from working with Attitude is Everything and we want you to tell the world about it! So, please come to us with your ideas and your stories!"
For further details of each winner, please visit the Attitude is Everything website.
The Outstanding Attitude Awards is an important component of Attitude is Everything's Breaking the Sound Barriers programme, which is funded by Paul Hamlyn Foundation's Arts Access and Participation: More and Better fund. The event is also supported by Arts Council England Sector Support Organisation funding.
By Emma Purcell
More on Disability Horizons…