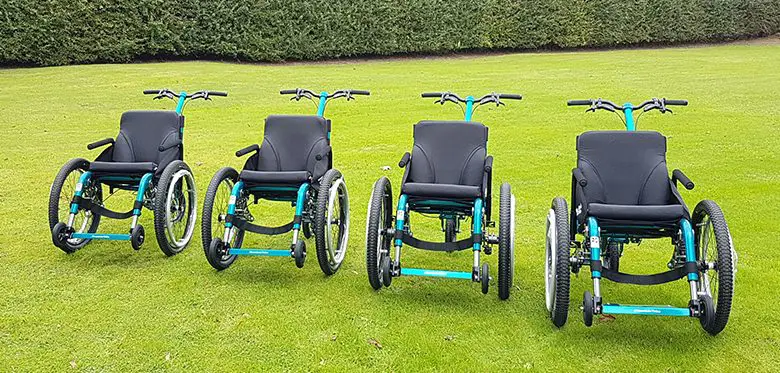 Lifestyle
Enjoy National Trust days out with the MT Push all-terrain wheelchair – for FREE
We are often being encouraged to get outside and enjoy the environment – after all, we know that being able to get outdoors is good for our health and well-being. But when you're disabled, that's not always easy.
That's why wheelchair specialist Mountain Trike is offering its MT Push all-terrain wheelchairs for disabled people to use when visiting National Park properties around the UK. It tells us more about the scheme and how you can take advantage of it.
Spontaneous days out are great, but if you have limited mobility it can be daunting to know where to go. It often pays to plan ahead, especially if you're looking for a destination that offers accessibility for wheelchair users.
You might also be discouraged by the lack of suitable equipment and facilities. Many wheelchairs are not off-road capable and can cause the user discomfort, or they don't feel safe travelling over uneven terrain.
This was one of the main reasons why Tim Morgan, inventor of the Mountain Trike, an all-terrain wheelchair, came up with the design for this unique wheelchair, which is capable of travelling over various terrains in comfort and safety.
The user propels the chair by using the lever drive system, which means clean, dry hands. It also has components similar to that found on a mountain bike – such as air suspension and hydraulic brakes for smooth riding and control.
Over the years, we at the Mountain Trike company have developed additional all-terrain wheelchairs adding to our product range. Listening to customer feedback, Tim developed the MT Evo, best suited to riders with limited hand function.
All-terrain wheelchairs at National Trust properties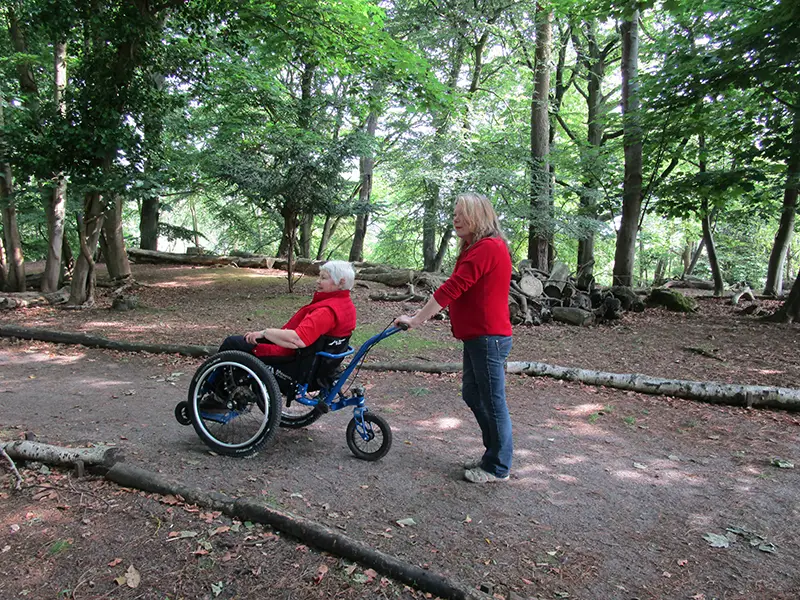 We have also worked closely with the National Trust to develop the MT Push, 'the buddy chair'. It is an attendant-style wheelchair, where the rider's family, friend or carer can use a push handle located behind the rider to brake and steer the chair.
Armrests were also added, along with side guards. As with all Mountain Trike products, a wide range of colour choices are available. It is also covered by a three-year warranty.
There are more than 500 heritage properties owned by the National Trust in the UK and many of these sites have landscaped gardens and grounds. Each property is managed by separate teams, but all are recognising the importance of making their grounds accessible to all visitors.
Many properties do provide mobility aids for visitors to use – generally attendant wheelchairs or in some case mobility scooters. But, unfortunately, these sometimes aren't suitable and can be hard work – thus not really making for positive visitor experience.
Many visitors who have used the PT Push have already fed back that using it makes such a difference to their accessibility and enjoyment of the National Trust gardens.
Designing the MT Push wheelchair
Mountain Trike was fortunate to work with staff at Brownsea Island – a beautiful island located in Poole Harbour, Dorset – who were instrumental in certain design elements of the MT Push. They had been looking at off-road vehicles to enable visitors could access to their sites with outdoor space and gardens.
Whilst they loved the original Mountain Trike and could see the benefit to users, they felt their visitors would be more suited to an 'attendant' style chair to make their offering more inclusive. Following prototyping and testing the MT Push was developed and launched.
Where you can use the MT Push all-terrain wheelchair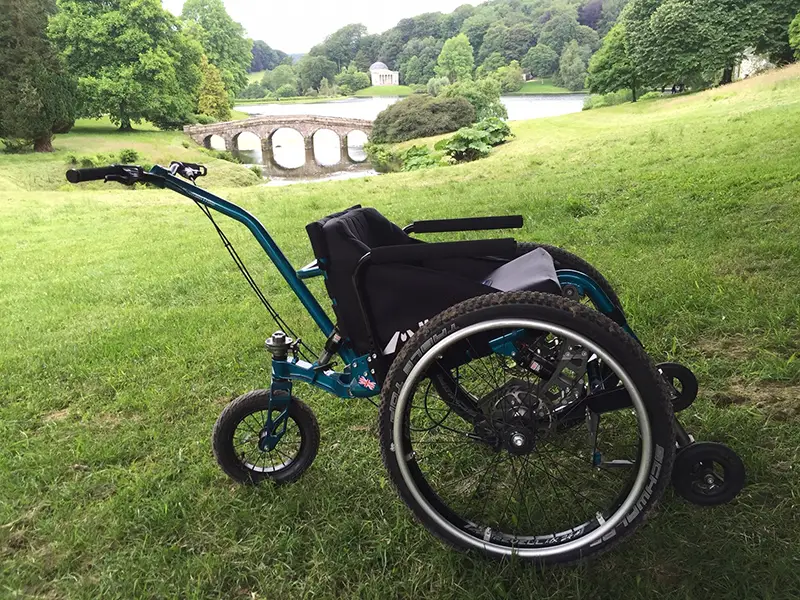 Brownsea Island initially took delivery of three MT Push wheelchairs. Following the popularity of the wheelchairs with visitors, the staff there ordered a further MT Push. The fleet of off-road wheelchairs are available free of charge for visitors to the island to use during its open season.
Since first working with the team at Brownsea Island, a further 10 properties now have fleets of MT Push wheelchairs throughout the UK. These include:
Stourhead

Kingston Lacy

Claremont Gardens

Osterley

Bodnant Gardens

Fell Foot

Cliveden.
Lastly, Hughenden Manor and Boxhill have just placed orders for a MT Push.
We are also talking to a number of other properties, so it is hopeful that over time more properties will provide these all-terrain wheelchairs for visitors to use.
National Trust accessibility improvements
The National Trust also runs a number of accessible event days at various properties to share knowledge with other trust managers and to highlight to visitors the work they are doing around accessibility and facilities.
We are fortunate enough to be invited to these events. It is a great opportunity to be involved and to help highlight the success of the MT Push at the various properties they are available at. Managers at National Trust properties are also recognising the importance of disabled facilities and a number have already opened new accessible changing rooms, with more planned.
With so many National Trust properties and gardens located around the UK and accessibility high on their agenda, planning a day out to your local National Trust property could be easier than you think.
For more information about each of the National Trust properties that currently have fleets of MT Push wheelchairs available, see the Mountain Trike website. For more on our all-terrain wheelchair range, take a look at our product page.
By Mountain Trike
More on Disability Horizons…