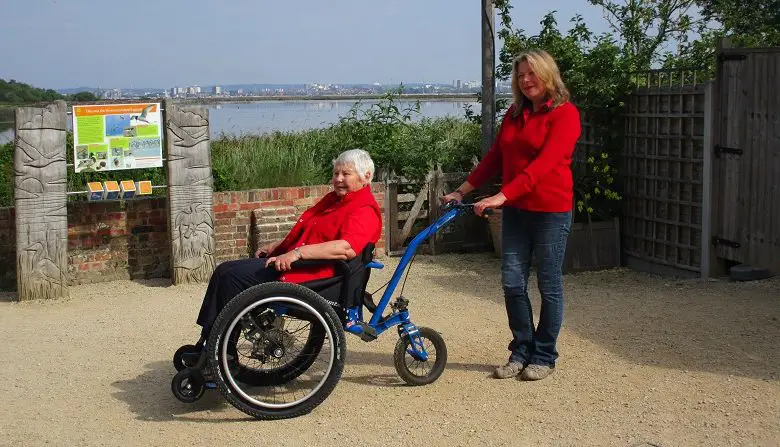 Being able to access the outdoors is important for everyone, but if you use a wheelchair, this can be prohibitive. Whilst there are off-road wheelchairs aimed at the 'rider' enjoying the outdoor experience, if you are the family member, friend or carer who is required to push and steer the wheelchair, it can be very difficult and hard work. Mountain Trike explains how its MT Push can help solve this issue.
The MT Push is an all-terrain attendant wheelchair that has been specifically designed with both the rider and pusher in mind, and has the ability to be pushed over a variety of terrain with ease.
If you are a wheelchair user, but less confident in manoeuvring a wheelchair yourself, or you have a child or elderly parent who is unable to self propel but still wants to enjoy days out, the MT Push could be a really good option.
The MT Push is designed to the highest quality and offers robust performance. It is also comfortable to operate with user-friendly features.
The steering and braking take place by the riders' buddy, using the adjustable push handle located behind the rider.
The two large wheels and rugged chassis make the MT Push a joy to push over a variety of terrains –  wet grass, muddy trails, uneven paving and sand takes little effort to push over.
Hydraulic brakes provide excellent propulsion control and stopping when going over difficult ground and up steep hills.
The air suspension offers the rider a smooth, comfortable ride when dropping off curbs, riding over cobbles and tree roots, but also means the pusher can confidently turn or travel across slopes safely.
We at the Mountain Trike Company have seen many happy MT Push customers. Because of it, they're able to enjoy days out with family and friends, to confidently access outdoor spaces where they previously wouldn't have been able to.
The MT Push was originally developed and evolved following discussions with the National Trust. It was keen to provide all-terrain wheelchairs for people to access its outdoor spaces. A number of MT Push fleets are now available at a growing number of National Trust sites across the UK – for FREE.
Louise and Andrew's experience with the MT Push
Louise Whitehead discovered the MT Push back in 2017. Louise is an avid mountain biker and loves nothing more than riding out in Dunkeld, Scotland. She adores sharing these outdoor spaces with her son Andrew, who has special needs – development delay, visual impairment and epilepsy.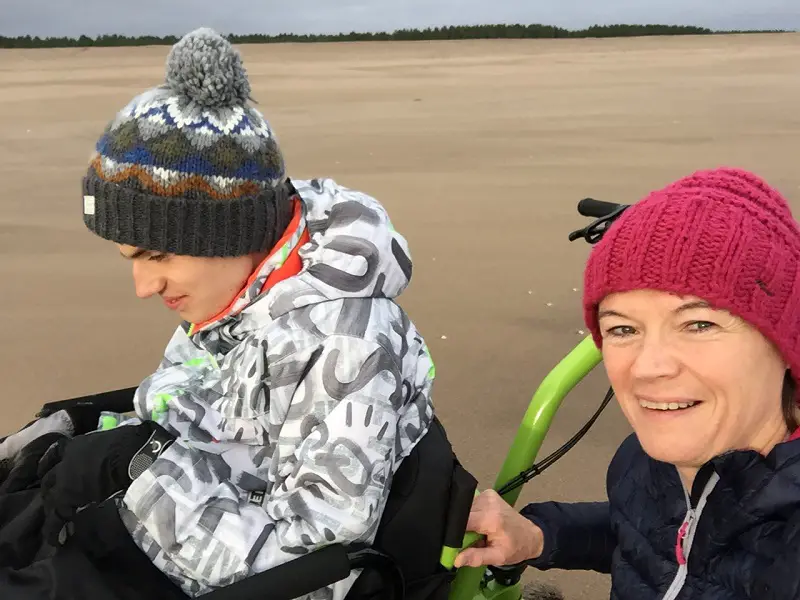 Louise connected with Adam Flint at Progression Bikes, a distributor of the Mountain Trike products, when he rode past Louise who was struggling to push Andrew over a muddy, rooty trail. He suggested she try one of Mountain Trike's self-propel all-terrain wheelchair.
Louise was immediately impressed with the trike and how easy it was at negotiating roots and bog. However, due to Andrew's cognitive impairment, he was unable to self-propel the trike. When Adam mentioned the MT Push, it was a no brainer for Louise.
With a love of the outdoors and the difficulties of enjoying it with Andrew over the last 16 years, Louise was extremely excited that this could potentially change their lives immeasurably.
Louise set up a crowdfunding page to help with the funding for the MT Push. When the target was reached the major debate over colour choice was made!
The MT Push arrived just before Christmas, as promised, and Louise and Andrew were out the following day. They tackled rooty, muddy trails in the Tentsmuir Forest, negotiated the dunes and across the sands of Kinshaldie Beach near St Andrews.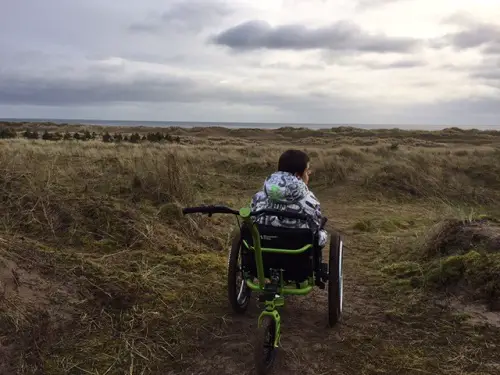 Hills will keep Louise fit but as her other son, Robert, studying Mech Eng at Strathclyde Uni, said, "it wants to go itself…..it's so well designed"
Since having the MT Push, Louise and Andrew have had many outdoor adventures and haven't let anything get in their way – snow, mud, sand and camper van holidays. The freedom to explore the outdoors are endless and for Louise, the MT Push has been the most practical wheelchair choice. It is the perfect family all-terrain attendant wheelchair for her and her family.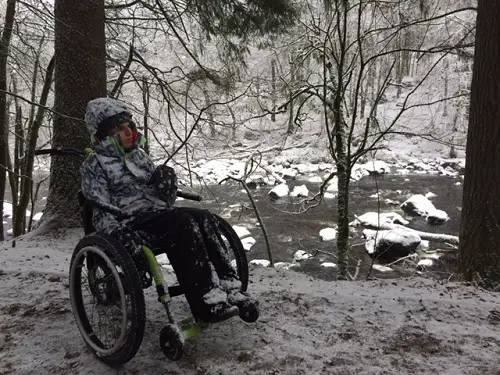 MT Push all-terrain attendant wheelchair
The MT Push offers maximum durability whilst remaining lightweight. It has been made with transportation in mind, weighing 20kg and can be folded down to a cube size of 28 by 28 inches (84 cms). It fits into the boot of a normal-sized hatchback.
There are many compatible adaptations available including a headrest, lateral supports, mudguards and multi-rack. We have also partnered with SOS seating who can provide special custom moulded seats.
For further product information about the MT Push and to read further customer feedback please visit the website Moutain Trike website.
By Mountain Trike
More on Disability Horizons…