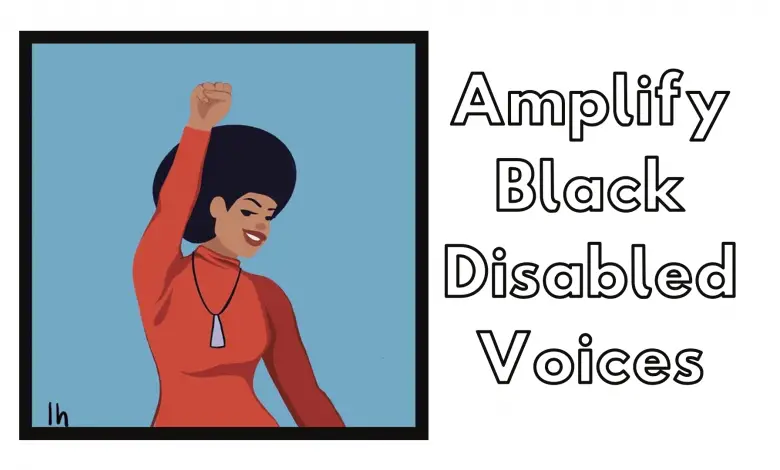 Now more than ever it is important to amplify black voices, especially from people with disabilities. One easy and powerful way to do this is by following black people on social media and learning from their experiences. Our writer and editor Shannon has compiled a list of 8 black disabled women that are changing the game.
Lauren "Lolo" Spencer
Lolo is an actress, model and influencer that has amyotrophic lateral sclerosis. She is an Indie Spirit Award Nominee for her role in the film Give Me Liberty. Her performance was listed as one of the best by the Sundance Film Festival in 2019.
She's been interviewed by many media outlets including, CNN, Buzzfeed and The Hollywood Reporter. Lolo has a Youtube channel called, Sitting Pretty, where she talks about living as a disabled person.
 

View this post on Instagram

 
Lolo says: "Most will assume the life of a physically disabled person HAS to be depressing, sad, or anything less than amazing. Anyone's life can be all of those things, disabled or not, but we all have the choice to live our lives the way we want.
For me, 'Sitting Pretty' is a reflection of that choice. I'm here to show the good parts of my life, the challenges unique to a disabled person and everything else in between."
Follow Lolo on Facebook, Instagram, Twitter and Youtube.
Haben Girma
Haben Girma is an American disability rights advocate and the first deafblind graduate of Harvard Law School. She was named a  White House Champion of Change by President Barack Obama and got a spot on the Forbes 30 Under 30 list.
Haben believes disability is an opportunity for innovation. She travels the world teaching the benefits of choosing inclusion.
 

View this post on Instagram

 
In her memoir, The Deafblind Woman Who Conquered Harvard Law, she takes readers on adventures around the world, including her parents' homes in Eritrea and Ethiopia; building a school under the scorching Saharan sun; training with a guide dog in New Jersey; climbing an iceberg in Alaska; fighting for blind readers at a courthouse in Vermont, and talking with President Obama at The White House. 
Follow Haben on Facebook, Instagram, Twitter and LinkedIn.
Stephanie Thomas 
Stephanie is an amputee and the founder of Cur8able, a fashion styling service for people with disabilities. Her Disability Fashion Styling System empowers people with disabilities to dress with dignity and self-reliance.
In 2016 Thomas presented a TEDx Talk at TEDxYYC, the third-largest TEDx event in Canada. She is also the author of Fitting in: The Social Implications of Fashion and Dressing with Disabilities. 
 

View this post on Instagram

 
She said: "I happily do this work to bridge the gap between where the fashion industry is and where it must inevitably go to be more inclusive."
Follow Stephanie on Instagram and Twitter.
Keah Brown
Keah is a disability rights activist, author, and journalist with cerebral palsy. She is the creator of the hashtag #DisabledAndCute, which first went viral in February 2017 and caught the attention of such celebrities including Sophia Bush and Brie Larson.
Her work has appeared in Teen Vogue, ESPNW, Harper's Bazaar, and Marie Claire UK, among other publications.
 

View this post on Instagram

 
In 2019, Keah released her memoir, The Pretty One. Her essays explore everything in her life, from her relationship with her able-bodied identical twin (called "the pretty one" by friends) to navigating romance. She talks about her deep affinity for all things pop culture and her disappointment with the media's distorted view of disability.
Follow Keah on Facebook, Instagram and Twitter.
Andrea Dalzell
Andrea is a nurse in New York City, where she has taken care of coronavirus patients during the pandemic. She's a full-time wheelchair user due to transverse myelitis, but that doesn't stop her from giving her patients top-quality care. 
 

View this post on Instagram

 
Andrea said: "I am a nurse! Period! I am questioned about my ability every day. I'm told that I can't deliver care like an able-bodied nurse. Written off because my disability is visible.
I have been told by patients that I belong in the hospital bed when I'm the one wiping their butt or holding their hand while an NG tube is placed.
Nurses assume that I can take assignments based on ease. I am here to let you know I can do any part of patient care.
I had to prove this in nursing school and yet I'm still seen as a liability, incapable, infection risk with no evidence to back it up. I can do anything you can do, I'm just in the seated position!"
Follow Andrea on Instagram.
Tobi Green Adenowo 
Tobi is a dancer with Osteogenesis Imperfecta who is based in the UK. She started dancing in high school at age 13 and was the first wheelchair dancer to change dance exams in the UK so that disabled dance students can be marked fairly. 
She's made TV appearances on MTV UK and The Undateables, and was interviewed on the BBC's 1XTRA radio show. Her goal is to become the first black disabled TV presenter in the UK.
 

View this post on Instagram

 
Follow Tobi on Facebook, Instagram, Twitter and Youtube.
Tatiana Lee
Tatiana is an award-winning actress, international model, and an inclusion activist with spina bifida. She is the voice behind the blog Accessible Hollywood and its associated Youtube channel, where she documents her endeavours to fight for the rights of disabled people in Hollywood.
Tatiana currently serves as a Hollywood Inclusion Associate for RespectAbility, a nonprofit organisation breaking down stigmas and advancing opportunities for people with disabilities.
 

View this post on Instagram

 
Tatiana was in one of Apple's first ad campaigns featuring people with disabilities using its accessible features and products. She also stars in Footloose, which was declared the Best Awareness Film during the Disability Film Challenge in 2018.
Follow Tatiana on Facebook, Instagram and Youtube.
Clara Holmes
Clara, who has Ehlers-Danlos Syndrome, is a fashion model and public speaker based in London. She is passionate about self-love, body positivity and making sure there is a diverse representation of all bodies in the beauty industry.
 

View this post on Instagram

 
Clara has been vegan for five years and was vegetarian for many years before that. Fitness and healthy eating are important to her. She documents her experiences on her blog and Youtube channel named, Rollin Funky.
Follow Clara on Facebook, Instagram and Twitter.
Cover photo illustration by Lo Harris.
More on Disability Horizons…