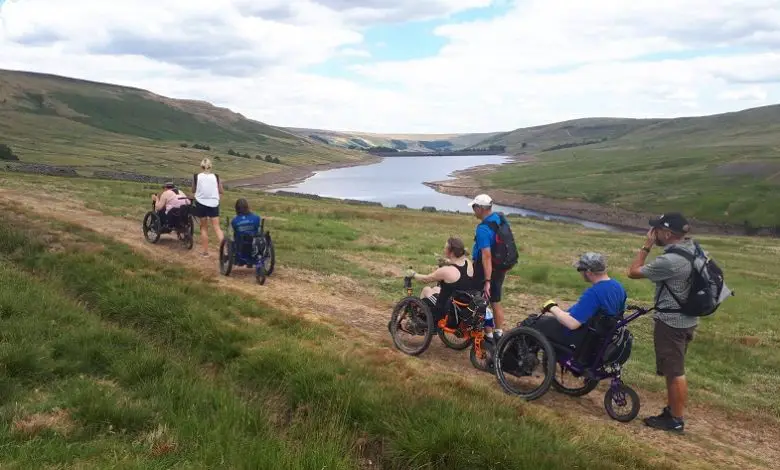 Mountain Trike, which sells a range of outdoor and all-terrain wheelchairs, tells us about how its partnership with Experience Community enables wheelchair users to explore the outdoors. Read on to find out more about how you can take advantage of these days and breaks across the UK.
There is nothing better than exploring the outdoors and discovering new places. Sharing that experience with someone else is even better.
But accessing these new places can be a concern if you're a wheelchair user. Will the route be wheelchair friendly? What is the condition of the paths? What disabled facilities are there? Will there be the dreaded styles/gates?
Thankfully, there is a great way to overcome these issues – join an organised group ramble. These can give you the confidence to explore new places and enable you to have fun as well as make friends with like-minded people.
Craig Grimes, the founder of Experience Community, runs one such organisation. A not-for-profit community interest company, it provides information about walks and other leisure activities for wheelchair users, and runs guided rambles across the UK.
Craig and the start of Experience Community
Craig is a wheelchair user himself and an advocate of trying to make the countryside more accessible. He initially started producing short films showing people how to access trails, working with Natural England, Leeds and Leicestershire councils.
In 2014 he decided he wanted to do more, so set up Experience Community, initially running outdoor walks around Leeds.
At the same time, he also became a Mountain Trike Experience Centre and Distributor. This is essentially someone who advises customers on models that would suit them and then places the order directly with us.
Craig first tried a Mountain Trike at a mobility event and was immediately hooked. But what he didn't realise was just how much the Mountain Trike would get him back to the places he loved to visit in the great outdoors.
An accident in 1997 left Craig needing to use a wheelchair. It shattered his career dreams of going into conservation. Back then, there was very limited equipment that was off-road capable, effectively stopping him from pursuing this career path.
Move forward many years and his Mountain Trike is enabling him to stay active and access the countryside again in a way that he never imagined.
He can climb and descend steep slopes, go into woodlands (even if there isn't a clear path), negotiate rutted tracks, plough through deep mud and then go through streams to clean the mud off his Trike. These are all things he would never be able to do in his day chair.
Rambles for wheelchair users
Craig wanted to share his experiences with people who owned a Mountain Trike but weren't confident enough to head off exploring alone or on unknown routes. So, he set up his first ramble and the response was amazing.
Craig says, "Seeing so many Mountain Trike users out together was amazing. We could exchange ideas on places to use the Trike and give each other tips and advice about the maintenance of the equipment."
It soon became apparent that there was an appetite for these organised wheelchair rambles. These soon became regular events and expanded out in the countryside across the north of England.
They range from the Peak District to the Yorkshire Dales, and include nature reserves, reservoirs, canal walks, National Trust sites and national parks.
Craig also recognised that more people wanted to join in on the rambles, but not having the right wheelchair was a huge barrier. This is when Craig set about fundraising and accessing appropriate grants so that he could have a fleet of Trike's available for customers to hire.
They also offered an opportunity to demo them, and provide maintenance and servicing advice for customers Mountain Trikes. Experience Community currently has three Mountain Trikes, two eTrikes, one MTEvo and an MT Push.
Craig has also bought a trailer, enabling him to travel with his kit to other areas of the north of England.
Over the years, Experience Community has grown its wheelchair rambles, organising regular rambles and cycling holidays in the UK, trike taster sessions as well as wheelchair skills and training sessions.
Experience Community expanding
Following the success of Experience Community in the north, Craig has joined forces with a fellow outdoor enthusiast and Experience Community will soon be operating in the South West.
It will be headed up by Peter Hiscock, who is currently exploring and mapping routes across the Wiltshire, Gloucestershire and Oxfordshire area.
Craig explained: "Experience Community would not be able to exist without all the wonderful volunteers who help support the organised events, and of course all the wheelchair participants who sign up and join in on these wonderful outdoor experiences."
For further information about Experience Community, visit the website or head to its Facebook page where you'll find all event details and information on how to join.
For full detail about our all-terrain wheelchairs and Trikes, visit the Mountain Trike company website.
By Mountain Trike
More on Disability Horizons…