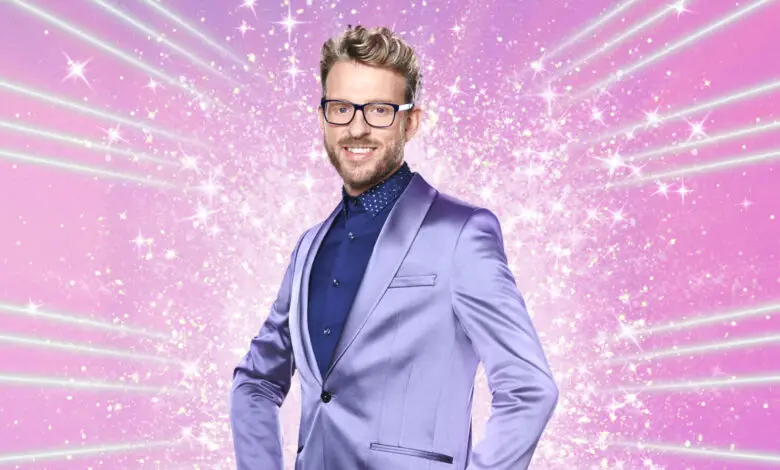 John-James Chalmers, known most commonly as JJ, is a former Royal Marine who fought in Afghanistan. In 2011, he was blown up by an improvised explosive device causing multiple injuries. Despite being badly injured, he survived.
Last year, JJ took part in Strictly Come Dancing with professional dancer, Amy. In this interview, he shares his life experience as a former Marine, how he started his career as a TV presenter and how he found taking part in Strictly.
Born in 1987, JJ joined the Royal Marines after working for a few years as a craft, design and technology teacher in Edinburgh. After the explosion, he spent years in recovery.
He took part in the Invictus Games in 2014, captaining the trike team. At the event, he won gold for cycling as part of the British trio who crossed the finish line together. He also won two bronze medals for the 1-mile time trial and mixed relay race.
He first worked as a TV presenter on National Paralympic Day for Channel 4 and the online show for the IPC Athletics World Championships in 2015. After leaving the Royal Marines in 2016, he presented his first Invictus Games.
He's since worked on a number of sporting programmes, including coverage of the Paralympics, Winter Paralympics, Athletics Championships and Commonwealth Games.
He has also made appearances on entertainment shows, such as The Last Leg and The One Show, and been involved in remembrance shows and programmes commemorating both the World Wars and soldiers lost in battle.
JJ has been married for nearly six years to his wife Kornelia Chitursko, with whom he has two children, four-year-old Hayley and one-year-old son James.
Please can you tell Disability Horizons readers a bit about yourself and how you got started in your career as a TV presenter?
I didn't start my career in the traditional way. When I became a Royal Marine and fought in Afghanistan I was blown up by an improved explosive device in 2011.
During my recovery, I got the opportunity to be part of the Invictus Games. I was interviewed by Olympian turned presenter Johnathan Edwards at BBC Studios about my experience of being part of the games and winning medals.
I watched as Johnathan worked, how he kept his guests going, checking the scripts and all aspects of running a programme. He had a smile on his face and clearly loved his job.
I was inspired and asked how I could get into broadcasting. Jonathan introduced me to some people within the industry and got the ball rolling, and since then I have kept going.
I have always wanted to be a TV presenter, but the reality is, I wouldn't be the presenter I am today if I hadn't gone through the long-winded process I did.
It took going to university and becoming a teacher, making the decision to leave my teaching career to enrol as a Marine, then getting injured and going through recovery, and finally becoming a sportsman.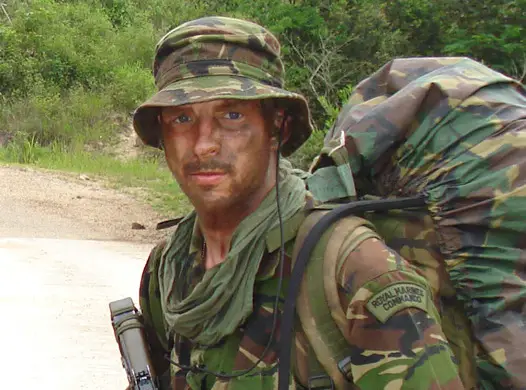 JJ Chalmer's injuries
What injuries did you sustain while in Afghanistan?
I was caught up in a bomb blast while searching for a suspected bomb-making factory. Thankfully, I didn't lose my legs. But every part of my body above my knees sustained some form of damage.
The parts of my body that weren't affected have subsequently been 'borrowed' by surgeons over the years to repair the areas that were broken.
Both my arms were significantly damaged causing my muscles, bones and nerves to be affected. I lost a couple of fingers on my left hand too. While that was the most visibly damaged part of me, my right arm was the worse affected.
My legs have holes that are still infected to this day, and I broke my neck, burst my eardrums and crushed my face. Thankfully, despite all these injuries, I am alive and that's all that matters.
How did you overcome the challenges of the injuries you sustained?
I listened to the experts that were part of my recovery – the surgeons, physios and nurses. When I look back and think about how bad things were, I also remember that I am still here – I had nothing to complain about.
When I joined the Marines, I knew I was going to be doing a difficult and dangerous job. We couldn't go home on a regular basis to see our loves ones, and we had a one in eight chance of being killed or injured.
There were guys I was there with who haven't come home. Being disabled is far better than dying.
Losing friends in the very incident that I was lucky enough to get out of alive, gave me the motivation and drive to just push on and get better.
Of course, there were down days when things were incredibly hard. But I would then look around me at the other guys who were in recovery and they were all battling on regardless. That pushed me forward too.
And on the days they struggled, I tried to help them. For me, having support from those around me was intrinsic to my recovery.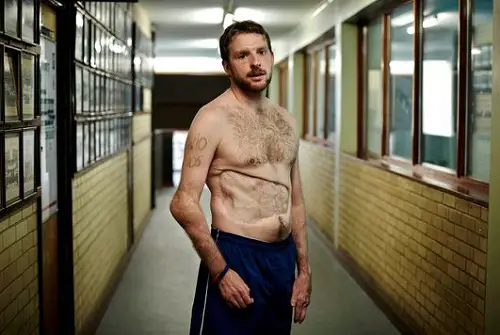 The Invictus Games
You took part in the 2014 Invictus Games. What was the experience like for you?
It was amazing! And it was important for my recovery. It gave me something to focus on as well as challenge myself. Being part of the games made us all feel like rock stars. It was such a huge spectacle.
The sounds of the bells and whistles made it into a major competition. It made me feel special and motivated me to push on. I also loved the thought that by people seeing us all driving forward we might have inspired other people to try and overcome challenges.
I wanted to buckle down but also have the best experience I possibly could. Hopefully, that bought joy to a few people.
In 2016 you went on to present the Invictus Games for the BBC. How did that feel and what did you enjoy most?
I loved the 2016 games, going to America and being part of it all again. It was such a privilege. The whole point of the games is that it gives servicemen and women the opportunity to change their life and help them move to the next stage, whatever that might be.
I was lucky to be given the opportunity to work for the BBC, which was a dream come true. That was my first glimpse into the world of television and it was amazing!
JJ Chalmer's on Strictly Come Dancing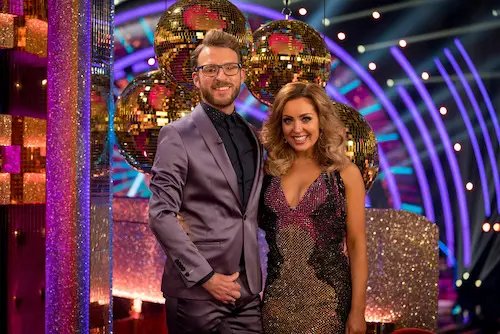 Last year you took part in Strictly Come Dancing. What was the experience like for you as a disabled contestant?
It was an overwhelming process – learning the steps and the culture and being so far outside of my comfort zone. Despite this, I overcame challenges in dealing with the pain I endured and managed my conditions at the same time. But that didn't make it any easier.
Everybody was hurting with sore feet, but I don't think any other contestant was going home and draining a wound that was infected in their leg. I don't think I fully appreciated how disadvantaged I was until I looked back.
I was focused on doing my job and trying to get as good as I could with the dance routine I had that week. But there were clearly things I couldn't do.
I didn't take on doing certain lifts in the traditional sense, such as lifting Amy above my head. As my body is fragile, I had to be careful and not go beyond my capabilities.
In television, people are quite obsessed with asking about how I got my injury and disability, instead of asking how it affects me. And that's what needs to be learned.
Without learning and understanding, how can someone appreciate the challenges I needed to overcome in order to do something like Strictly. The people around me, and particularly my dance partner Amy, had to work extra hard to choreograph in a certain manner.
But the amazing thing about dance is that there is usually a way. I might not have been able to lift Amy above my head, but I could focus on other things instead.
Overall, it was an amazing experience. You don't have a second to take it all in and go, wow, this is pretty mad, but I enjoyed every second of it.
Honestly, I'm physical, mentally and emotionally battered! But it's been the most incredible adventure, which has lasted far longer than I ever hoped and I've loved every second.

Thank you everyone who has backed and believe in us.

It has been an honour.#StrictlyComeDancing pic.twitter.com/nU4sn8F2pd

— JJ Chalmers (@JJChalmersRM) December 6, 2020
---
Read our interview with Strictly Come Dancing professional dancer Amy Dowden about her career as a dancer, competing with JJ and living with Crohn's disease.
---
How did you cope with being away from your wife and kids while taking part in Strictly?
It was extremely difficult as I was away for 10 weeks. My wife and kids are the cornerstones in everything I do and live for.
Amy knew that if my phone rang during a training session I had to pick up and be there for them and help them in any way I could because I wanted them to be part of it.
I did video calls and my daughter, who is 4 years old and loves to dance. She was in her element enjoying the Strictly experience.
What did your training involve and what steps did you and Amy take to work around your needs and abilities?
Anybody taking part in Strictly that comes in with zero dance experience is straight into an uphill battle to try and learn how to even do the steps. It was completely outside of my comfort zone.
I also had nothing to compare it to, whereas Amy has lots of experience of both dance and the show. But she knows that every individual and the way they learn is different.
The challenge she had last year was working around my disability and the limitations I have, something she hadn't experienced in the past. It was amazing how quickly she came to terms with it and took it on board. Each week, when we went into training, we spent time discovering what I could and couldn't do.
As the weeks went on, Amy got a better sense of my limitations. She would choreograph with her right hand in her pocket because as she knew that my right arm doesn't work, so would try and limit the use of it.
This meant that there was a knock-on effect on the routine. For example, if I needed to take a hat off during the dance with my right hand, it would have to be changed for the left. This often meant unpicking the last 15 steps and then having to approach it in a different way.
It was fascinating to watch. Amy's encyclopaedic knowledge of dance is remarkable. She was always able to find dance styles that played to my disability and strengths.
When we did the Pasa Double, for example, I couldn't do the flamenco arms. So instead of incorporating that element into the dance, she did the matador and capping part of it.
When we did the jive she found a very traditional form of Lindy hope jive that was more suited to me. It also played into my military background beautifully because it was a World War 2 victory-style of dance.
What was your most memorable moment of being on the show?
There were so many different aspects I enjoyed. I loved each of the routines because there was something joyous in each style of dance.
It was wonderful just being part of an amazing cast of celebrities, pros and production team. Each week we walked out surrounded by the best in the business.
So many hours go into putting the costumes, set, lighting and design together. The choreographers who come to help everybody with training are remarkable too. Being at the heart of all of that was a really special feeling.
Amy has Crohn's disease, so has times of illness herself. How did you both find dancing together and managing your different health needs?
Amy has endured a lot and has the mindset of rising above it for her profession. This really resonated with me because that's how I coped with my recovery.
We are very similar people and have both learned to be strong through experiencing ill health. It's has meant miserable times for us both, but it has ultimately made us who we are. We had a very special bond because of that.
It also meant that we could be honest with each other about how we were feeling on any given day. Amy had a number of days throughout the process where she was ill and dancing with a hot water bottle strapped to her stomach.
We made a promise to each other that if we were in too much discomfort we would take a break and tell each other how we were feeling. We also looked out for each other.
For example, Amy picked up on the fact that I wasn't feeling great because the infections in my leg were causing me pain, so she made me rest and get back on my antibiotics and painkillers.
What can I say @dowden_amy I honestly can't find the words.

You are more than a friend, you are my hero. I have learned more than how to dance from you. Witnessing your talent, mindset and compassion up close has been a privilege.

I will never be able to thank you.#Strictly pic.twitter.com/grptzeeAIj

— JJ Chalmers (@JJChalmersRM) December 6, 2020
How did it feel having Prince Harry watch one of your training sessions and having his support both on Strictly and the Invictus Games?
It was great! Harry established the Invictus Games and that changed my life. They were the catalyst to my recovery and I wouldn't be where I am today without those games or him.
He has also pushed and supported me when I started working on TV, by being my friend and believing in me. It's important to have good people whose opinions you value in your corner.
He watched me train during Strictly via computer and it was great to have his support. I often pinch myself and realise he's a Prince, but really it just felt like having a great mate there.
It was nice for him to meet Amy because she is such an important person in my life and I look up to both of them.
If you got the opportunity to take part again in the future, what other type of dance routine would you consider trying out?
I would give anything another crack. I was pretty lucky because I got to do ballroom and Latin and a bit of my speciality – the Charleston.
I didn't get to wear a top hat and tails, but I did wear a range of different character outfits, a kilt and the military uniform. I would love to try the American Smooth and have that proper Fred Astaire moment.
Thank you @dowden_amy for helping me to stand tall, proud and unbroken.#StrictlyComeDancing #Pasodoble pic.twitter.com/cOgBS2wGTo

— JJ Chalmers (@JJChalmersRM) November 1, 2020

What advice would you give disabled people who may be considering dancing but lack confidence in themselves?
If there are barriers to you getting outside, there's so much being offered online, allowing you to learn from the comfort of your own home with no one watching.
You might want to also consider online classes. If you do, make sure you find a teacher you trust and use the dance community as a support network to help you through your learning process and dance routines.
Dance is meant to be fun and no one should be made to feel self-conscious in that environment. It's about getting out there and enjoying yourself.
I was performing in front of 11 million people and, to be completely honest, at no point while dancing did I ever feel and think about my injuries.
I have a physical disability and, at times, I think about how it's perceived and how I look, but at no point did I feel self-conscious.
When I spoke to my friends, family and the guys I served with in the military they had nothing but the utmost pride and respect for me going out there, challenging myself and doing something I enjoyed.
I can't believe this is a picture of me!

Thank you to everyone's who believed I had more to give and allowed me the chance to show it.

I loved the Quickstep and more importantly this routine, @dowden_amy you are incredible.#StrictlyComeDancing #ThankYou pic.twitter.com/9LAZOHOeaQ

— JJ Chalmers (@JJChalmersRM) November 22, 2020
Don't miss our interview with Strictly Come Dancing professional dancer Amy Dowden.
What are your goals and aspirations for the future?
Strictly shouldn't have happened for me last year as I was supposed to be presenting the Olympics and Paralympics, but I'm so glad I did it.
I have lots of programmes in the pipeline at the moment, from factual entertainment to documentaries. I am passionate about continuing in my career.
When I started out as a TV presenter I wanted to tell stories and shine a light on incredible people and situations that change perceptions and help people see beyond disability. I want to inspire and share knowledge around the world.
The reason I trained as a teacher was because I wanted to impart information to young people. I see my career as a TV presenter as similar to that.
I have an incredible platform, which I use to make the world a better place. I joined the Royal Marines to give something back and make a difference, and I want to do that with this new opportunity I have been given, and one that I enjoy.
Interview by Zubee Kibria
More on Disability Horizons…