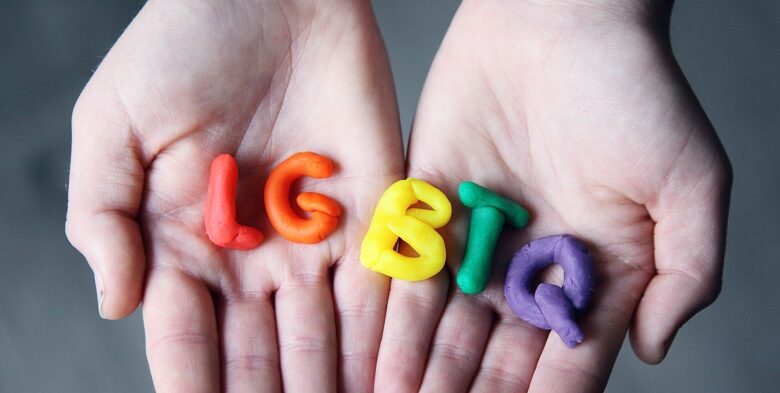 June is Pride Month, a time to celebrate and raise awareness of everyone in the LGBTQ+ community.
To honour the occasion here at Disability Horizons, our writer Emma Purcell explains exactly what LGBTQ+ stands for and lists 9 influential disabled LGBTQ+ activists you should follow online.
What is LGBTQ+?
LGBTQ+ is an abbreviation of the different types of sexual orientations and gender identities in the LGBTQ+ community. These include:
Lesbian – women who like women.
Gay – men who like men.
Bisexual – people who like men and women.
Transgender – people whose gender identity differs from what is typically associated with the sex they were assigned at birth.
Queer – an umbrella term for sexual and gender minorities that are not heterosexual or cisgender.
The plus sign (+) refers to a range of additional sexualities and gender identities that includes:
Asexual – people who have no sexual attraction and/or romantic attraction to another person. There is an asexuality spectrum that includes variations, such as demisexual and graysexual.
Agender – people who identify as having no gender or being without any gender identity.
Transsexual – people who experience a gender identity inconsistent or not culturally associated with the sex they were assigned at birth
Ally – people who consider themselves a friend to the LGBTQ+ community.
There are many more types and variations of sexual orientations and gender identities. To see a full list and further information, check out this LGBTQ+ resource.
10 influential disabled LGBTQ+ activists
Here we round up 10 bloggers, vloggers and social media influencers who have a disability or health condition and are proud to be a part of the LGBTQ+ community.
Jessica Kellgren-Fozard
Jessica Kellgren-Fozard is a 32-year-old YouTuber and content creator from Brighton. She is a lesbian and lives with her wife Claudia, newborn baby son Rupert and dogs Walter and Tilly.
Jessica is deaf, partially visually impaired and has the rare autoimmune disorder mixed cognitive tissue disorder (MCTD), as well as the nerve disorder hereditary neuropathy with pressures palsies (HNPP).
These chronic disabilities make her life unpredictable – there are days she can find it difficult to walk, she feels unwell or is even housebound.
However, Jessica has said that her YouTube channel, which has more than 800,000 subscribers, and social media platforms, give her access and connections to the outside world, as well as being a place where she can share her positive outlook on life.
In her videos, usually done alongside her wife Claudia, Jessica discusses a range of topics, including LGBTQ+, disability, fashion, beauty and, most recently, Claudia's pregnancy and the pair becoming parents.
Follow Jessica Kellgren-Fozard on her YouTube channel and on Facebook, Twitter, Instagram and Tik Tok.

Aaron Phillip
Aaron Phillip (pronounced A-ron) is a 21-year-old model and LGBTQ+ and disability advocate from New York. Aaron was born with cerebral palsy and is a wheelchair user.
Back in November 2017, Aaron tweeted pictures posing in her wheelchair with bleached hair and a nose ring alongside the caption: "Honestly when I get scouted/discovered by a modelling agency it's over for y'all! – By y'all I mean the world! It's real inclusivity/diversity hours folks, get into it!"
The tweet went viral gaining more than 89,000 likes, 23,000 retweets and hundreds of supportive comments.
As a result, she was soon discovered and became the first black, transgender and physically disabled model to be represented by a modelling agency. She has since gone on to feature in photoshoots for publications and retailers including Paper Magazine and ASOS.
Aaron continues to share fashion, beauty, race, LGBTQ+ and disability content on her social media. She has 194,000 followers on Instagram and 47,000 followers on Twitter.
 

View this post on Instagram

 
Follow Aaron Phillip on Instagram and Twitter.
Chella Man
Chella Man is a 22-year-old YouTuber, artist, actor and model from Brooklyn, New York City. He is also a LGBTQ+ and disability activist.
He is best known for sharing his experiences of being deaf, transgender, genderqueer and Jewish. His YouTube channel has almost 260,000 subscribers and he has more than 470,000 followers on Instagram.
In 2019, Chella was also cast as the role of mute superhero Jericho in the second series of the DC Universe series Titans, in which the character uses sign language to communicate with his teammates.
Follow Chella Man on Twitter, Instagram and YouTube.
Rosie Jones
Rosie Jones is likely the most well-known disabled gay person in the UK. She is best known for being a stand-up comedian, actress and screenwriter. She has ataxia cerebral palsy and came out as a lesbian many years ago.
She has made regular appearance on popular panel shows, including The Last Leg, 8 Out Of 10 Cats and Mock the Week, to name a few.
She has appeared in well-known TV shows as an actor, such as Silent Witness and Casualty, and she helped write the script for series two of Netflix's Sex Education.
She also recently featured in her own travel show, Trip Hazard: My Great British Adventure, in which Rosie visited different towns across the UK alongside fellow comedians.
Rosie is passionate about the importance of intersectionality, which is the interconnected nature of social categorisations, such as disability, sexuality, gender and race. She believes people shouldn't have to stick to one main category.
She also wants to encourage other disabled people to be more open about their other social categories, including sexualities and genders, like she does.
Most recently, Rosie won a comedy award handed out annually by LGBTQ+ magazine Attitude. She joined the likes of Stephen Fry and Taylor Swift in accepting awards.
Check out our interview with Rosie Jones and follow her on Twitter and Instagram.
Spencer West
Spencer is a successful global keynote speaker, content creator, and activist. He is a TikTok sensation with an incredible three million followers to his name. He posts videos about life as a gay, disabled man.
It was recently announced that Spencer has been featured in TikTok's second annual LGBTQ+ Trailblazer list, spotlighting creators who are defining what it means to embrace self-pride – all while making a huge impact on their communities.
After losing both legs from the pelvis down at the age of five due to a genetic disease, Spencer West tackled challenge after challenge, learning to navigate a world set against those with disabilities.
He is known for summiting Mount Kilimanjaro, opening for Demi Lovato's 2014 World Tour, and is an author of the best-selling book Standing Tall: My Journey.
He also starred in the documentary Redefine Possible: The Story of Spencer West, which debuted at the Toronto International Film Festival.
Check out Spencer West's videos on TikTok and follow him on Facebook, Twitter, Instagram and YouTube.
Liam O'Dell
Liam O'Dell is a freelance journalist, blogger and campaigner from Bedfordshire. He is mildly deaf and wears hearing aids and is asexual.
He has written articles and blog posts on deafness, disability, asexuality, politics, theatre and music.
Last year, Feedspot placed Liam's website at number six in its Top 10 UK deaf blogs, websites and influencers in 2020 list. His website also reached number 32 in its Top 50 deaf blogs and websites for people with hearing Loss in 2020 rankings.
He regularly publishes reviews and reports on deaf representation and inclusion for the deaf news blog Limping Chicken. His work has also been featured in The Stage, HuffPost, Metro.co.uk, The i and Independent.
Liam also has a background in broadcast journalism and used to be a presenter for Lincoln's first community radio station, Siren Radio. He also produces content for his own YouTube channel.
In November 2017, Liam delivered his first ever TEDx talk – How to control your labels, and when to let them define you – at the TEDxBrayfordPool event in Lincoln.
Visit Liam O'Dell's website liamodell.com and follow him on Facebook, Twitter, Instagram and YouTube.
Elle Rose
Elle Rose, also known online as secretladyspider, is a 27-year-old freelance writer, Twitter user and YouTuber from Indiana, USA. She publishes content about asexuality, disability and mental health.
She is demisexual/greysexual, which is part of the asexual spectrum, and has ADHD.
A majority of Elle's articles are published on Medium, where she shares her own experiences of discovering and accepting her sexuality and giving advice to other people who may be on the asexual spectrum.
Her YouTube channel mostly focuses on ADHD and mental health. She frequently talks about characters from TV shows and films who have ADHD, other neurodiverse disabilities and/or mental health problems.
Follow Elle Rose on Twitter and YouTube.
Carson Tueller
Carson Tueller is a speaker, writer coach and social media influencer living in New York City. In 2013, he came out as gay and also injured his spinal cord in an accident that broke his neck, paralysing him from the chest down.
Shortly after his spinal cord injury, Carson began sharing his experiences as a gay disabled man, including his journey with grief, loss and worth. He quickly generated interest online and gained visibility on Instagram as an LGBTQ+/disability advocate. He has currently got more than 130,000 followers on the platform.
He became actively engaged in the LGBTQ+ community as a vocal advocate and leader, and became the president of the LGBTQ+ non-profit organisation Affirmation, where he delivers keynotes and training to international leaders on a range of topics such as worth, inclusion, and suicide prevention.
He also began speaking across the US to universities, corporations, and non-profits about how individuals can experience power, happiness and fulfillment in any circumstance in life. As part of his journey,
Carson also immersed himself in transformational education, earning a BS in psychology, and receiving extensive training in ontological coaching methods.
 

View this post on Instagram

 
Find out more about Carson Tueller by visiting his website and following him on Twitter and Instagram.
Lizzie Williams
Lizzie Williams is a Paralympic wheelchair racer and LGBTQ+/disability advocate with more than 19,000 followers on Instagram. She was born with Osteogenesis Imperfecta (brittle bone disease) and has broken more than 70 bones throughout her life.
Since 2015, Lizzie has competed as a T54 wheelchair racer in a range of competitions.
Her most ranked highlights include silver medals at the London Bupa Westminster Mile and the City of London Mile in 2015, gold medals for 100m, 200m, and 400m at the SCAA and IPC Disability Championships in 2016, and a gold medal at the Ford Test Track 10 Miles road race.
Her next challenge is to qualify and compete at the Tokyo 2020 Paralympic Games this summer.
Lizzie is proud to describe herself as a queer individual and is passionate about making sport more inclusive for both the disability and LGBTQ+ communities.
 

View this post on Instagram

 
Follow Lizzie Williams on Twitter and Instagram.
Do you have a disability or health condition and are proud to be a part of the LGBTQ+ community? Or do you know a disabled influencer from the LGBTQ+ community we should be following? Let us know in the comments box or on Facebook and Twitter @DHorizons.
By Emma Purcell 
More on Disability Horizons…