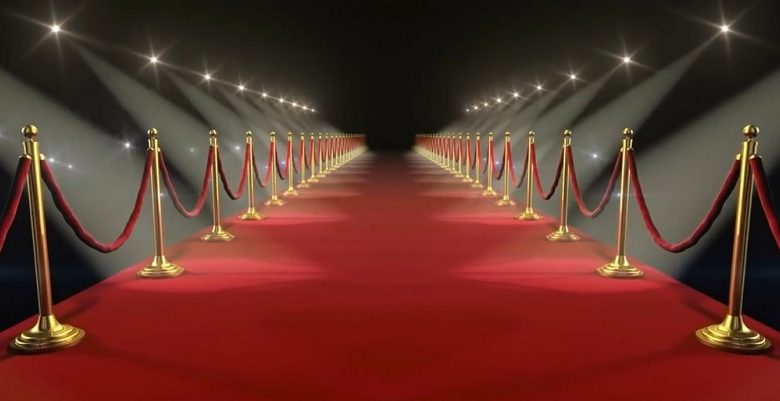 For more than a decade, disabled contestants have had the opportunity to take part and compete in TV reality and talent shows, with many reaching the finals and even winning.  
Not only is this bringing more inclusion, diversity and equality to mainstream media, but it's also breaking down stigmas and barriers about disability.
Our contributor, Emma Shepherd – who works as a disability training consultant –  rounds up ten disabled celebrities that have appeared on TV reality and talent shows including Strictly Come Dancing, Britain's Got Talent, I'm A Celebrity, Dancing On Ice and Celebrity MasterChef.
Susan Boyle – Britain's Got Talent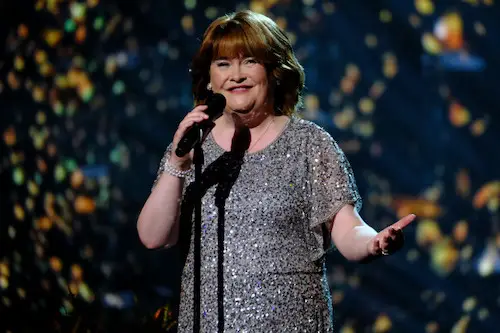 Susan Boyle was a contestant on the third series of Britain's Got Talent, singing I Dreamed a Dream from Les Miserables. She is now worth around £22 million.
I remember watching the audition at the time and could not believe the truly beautiful voice that came from her.
She believed that she was too old and not pretty enough to audition. In fact, there have been many articles about not judging people by their appearance as she was often referred to as the "hairy fairy".
She went through to the finals and came second to dance troupe Diversity.
The following day Susan checked into the Priory for three days after there were concerns about her "erratic behaviour".
Her debut album sold more copies than any other debut albums and scored her three world records in the Guinness Book of Records.
Susan believed that her brain had momentarily been starved of oxygen when she was born, which had resulted in a learning disability. It was much later in her adult life that she was formally diagnosed with autism and found that her IQ was well above average.
Before finding fame, she spent many years at home looking after her mother until she passed away. She still lives near her ex-council house as she feels comfortable and closer to her mum by continuing to live there.
Follow Susan Boyle on Twitter and Instagram.
Jonnie Peacock MBE – Strictly Come Dancing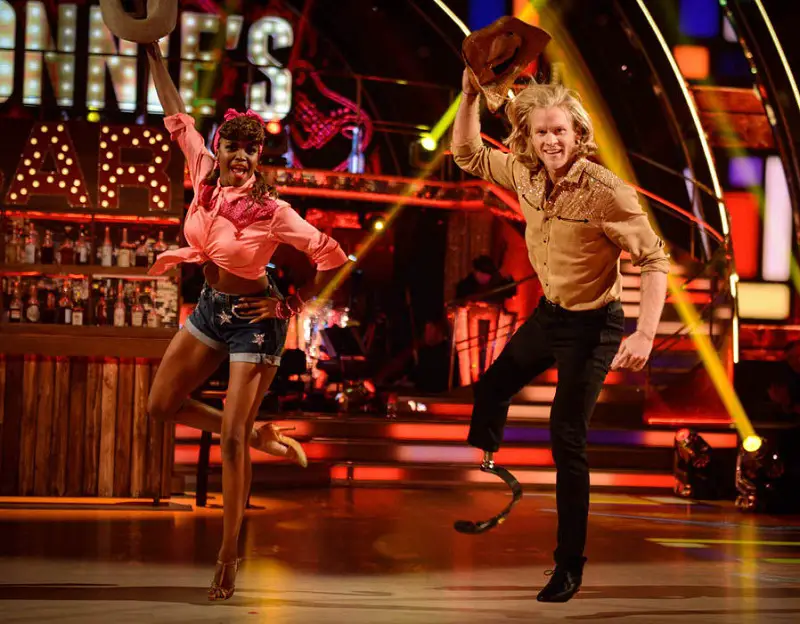 Strictly Come Dancing comes up triumph with its commitment to inclusivity.
Jonnie Peacock was the first visibly disabled person to compete on the show. He danced his way to the Blackpool round in 2017 with his dance partner Oti Mabusi before leaving the show.
He scored some pretty impressive results, scoring 31 out of 40 for his American Smooth.
Jonnie is a highly decorated Paralympian. Born able-bodied, he had meningitis when he was five years old, which resulted in a below the knee amputation.
He has won many medals as well as record breaking achievements for his 100m races at the Paralympics and other championships.
Check out our interview with Jonnie Peacock ahead of Rio 2016 on Disability Horizons. 
 Follow Jonnie Peacock on Twitter and Instagram.
Lost Voice Guy – Britain's Got Talent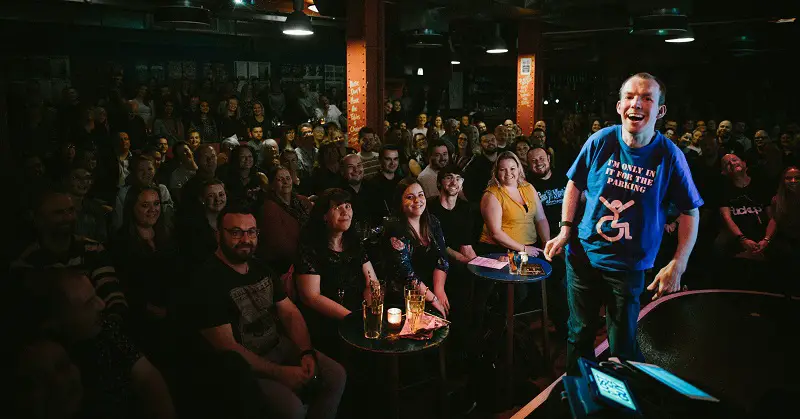 Lost Voice Guy (Lee Ridley) is a stand-up comedian from Newcastle. He begun performing comedy in 2012, in which he went onto perform at the Edinburgh Fringe Festival in 2013 and in 2014 he won the BBC Radio New Comedy awards.
In 2018, Lee auditioned for Britain's Got Talent, where he made it all the way to the grand final and became the show's first comedian and first disabled contestant to be crowned the winner.
Lee was born with cerebral palsy and has no speech, which is why his stage name is Lost Voice Guy.
He uses a voice app called Proloquo2Go to convey his wicked sense of humour, which both enables people to laugh with him about disability, and derides those who are patronising or prejudice.
Lost Voice Guy has since done numerous live tours, written an autobiography and co-wrote and starred in his own BBC Radio 4 comedy drama Ability.
Other disabled contestants that competed on Britain's Got Talent include runner up comedian Jack Carroll, children's choir Sign Along With Us and a visually impaired musician Sirine Jahangir – to name a few.
Read our full interview with Lost Voice Guy on Disability Horizons.
Follow Lost Voice Guy on Twitter and Instagram. 
Katie Piper – Strictly Come Dancing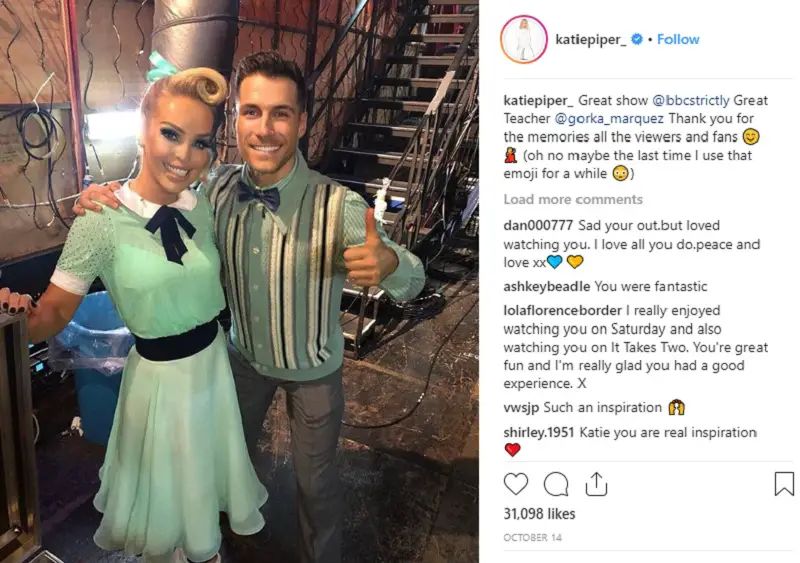 As an aspiring model, Katie Piper moved to London and met her then boyfriend.  He was arrested and convicted of having sulphuric acid thrown in her face within three weeks into their relationship in 2008.
Katie received pioneering treatment to treat her burns and had to wear a mask 23 hours a day to compress her scars, keep her skin moisturised and prevent it from contracting.
She has had over 400 operations and procedures on her face, eye and airways to help with her scarring and eyesight.  Her latest operation was in March of this year.
In 2009 she started the Katie Piper Foundation charity to help other burn victims and those with facial disfigurements.  Her story has been aired in a great documentary called Katie – my beautiful face and she has also written a book about her story.
Katie, a beautiful person both inside and out, has had a television presenting career, written for magazines and done documentaries.
In addition, Katie is happily married and has two beautiful daughters.
She appeared on Strictly Come Dancing in 2018, being paired with dance partner Gorka Marquez. Sadly, they left the show fairly early on.
In an interview with Disability Horizons in 2020, Katie explained what inspired her to take part in Strictly:
"I have always been a big fan of the show and when the opportunity arose for me to take part I didn't think twice before accepting.
I also wanted the opportunity to try something new and to step out of my comfort zone. It was a bit daunting at first, but my partner Gorka made me feel at ease."
You can find out more about Katie Piper in our exclusive interview on Disability Horizons.
Follow Katie Piper on Twitter and Instagram.
Lauren Steadman – Strictly Come Dancing and SAS Who Dares Wins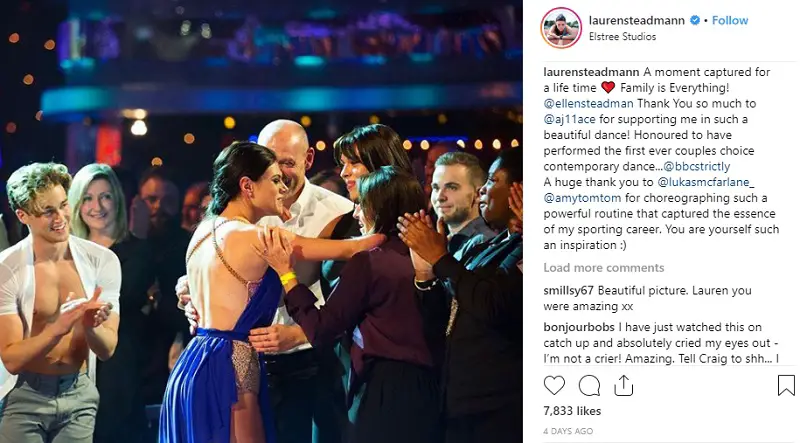 Another Paralympian-Strictly star from the 2018 series, Lauren Steadman made it all the way to the semi-finals.
Lauren is a three time World Champion and seven times European Champion with nearly 30 medals under her belt.
Born without her right forearm, she has been both a swimmer and Triathlon competitor in the Paralympics.
So, not only is she a talented sportsperson and a great dancer, but she has brains too and achieved a distinction in her Masters Degree in Business Management in 2017.
At Strictly, she was paired with professional dancer AJ Pritchard and they stepped out with an impressive Waltz in the opening week of the show, scoring 25 from the four judges.
Lauren chose not to wear a prosthesis during her time on Strictly as she preferred that her disability remained visible.
She was keen to break down barriers, challenge convention and encourage other disabled people by demonstrating how dance can be adapted to suit different bodies and abilities.
As well as Strictly, Lauren took part in Channel 4's SAS Who Dares Wins in 2020 where she became joint winner alongside musician Locksmit from the band Rudimental.
Follow Lauren Steadman on Twitter and Instagram.
Will Bayley MBE – Strictly Come Dancing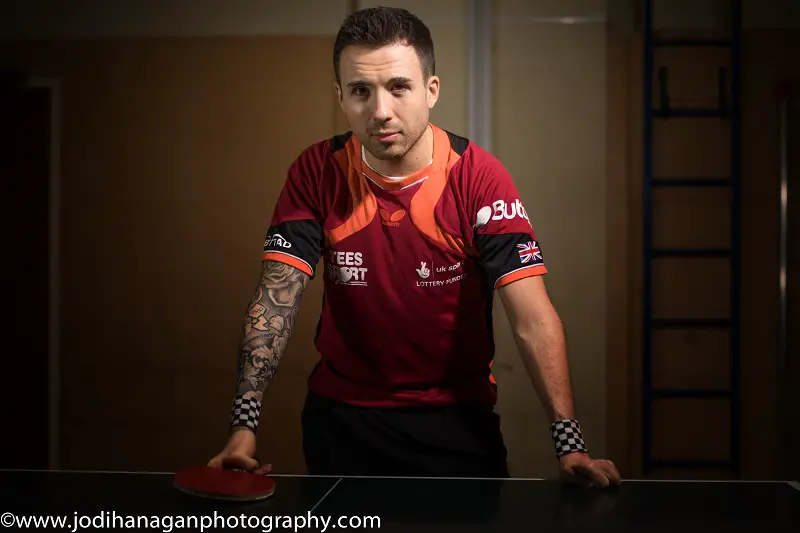 Will Bayley, another Strictly star, appeared in the 2019 Strictly series.  He was born with Arthrogryposis, which is a contraction and shortening of the muscles at the joints from birth. It makes contraction and flexion difficult.
When Will was seven, he was given a table tennis table from his grandmother whilst he was recovering from cancer.
He won gold at the 2016 Rio Paralympic Games and is ranked number one in the world.
Unfortunately, Will had to retire from Strictly after episode six due to an injury he sustained during training where he hurt his leg after jumping off a platform.  He was very "gutted" to have to leave.
We interviewed Will Bayley ahead of him competing at the Rio Paralympic Games in 2016, which you view on Disability Horizons. 
Follow Will Bayley on Twitter and Instagram.
Libby Clegg MBE – Dancing on Ice
Libby Clegg was born in 1990, has the eye condition stargardt's macular dystrophy and is a Paralympian sprinter.
Visually impaired runners are physically paired with a sighted guide, to guide them around the track.
Libby has a very impressive medal record, including winning two gold medals at the 2016 Rio Paralympics for the 100m and 200m sprint and is a brand ambassador for the charity Royal Blind (a Scottish charity that supports visually impaired and blind people).
In 2019, Libby also became a mother with her fiancé and Para judo athlete Dan Powell to son Edward. She spoke to Disability Horizons following her appearance on Guide Dog's podcast, I See What You're Saying, discussing motherhood with sight loss.
In 2020 Libby became first blind contestant to appear on ITV's Dancing on Ice. She was paired with skating partner Mark Hanretty and has said that it has pushed both out of their comfort zones.
They devised their own special language where certain positions are numbered, so when he says a number, Libby automatically falls into that position. Mark has learnt how to be more descriptive in his language to aid Libby.
She got all the way to the final of the show and came in third place.  To watch her on ice, you would not believe that she cannot see the ice or where her partner is.
Follow Libby Clegg on Twitter and Instagram.
Amar Latif – Celebrity MasterChef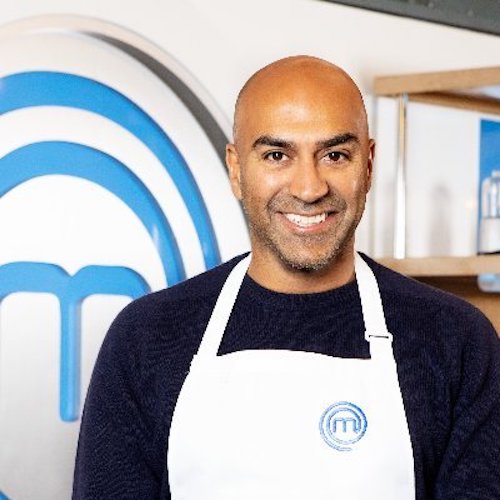 Amar Latif is an entrepreneur, TV personality and first blind contestant on Celebrity MasterChef.
He has never taken no for an answer. Born in Glasgow with the eye condition retinitis pigmentosa, he was told that he would lose his vision by the age of four. However, he did not lose most of his vision until the age of 18, whilst in the middle of his degree in maths, stats and finance.
He was given the opportunity to go to Canada as part of his degree and went, using his time to study as well as learning to accept his new sight loss and work out what he could do with his future.
He caught the travel bug whilst there and decided that he wanted to do more travelling (I fully understand what it is to be bitten by the travel bug and have also independently travelled the world, which has enriched my life).
He ended up setting up his own travel company called Traveleyes in 2004 as he could not find other travel companies that could cater for independent visually impaired travellers.
Amar has been in several TV programmes about travel – and not for the faint hearted either.
In 2005 he took part in Beyond Boundaries, in which he trekked across Nicaragua in Central America with other disabled travellers including presenters Sophie Morgan and Ade Adapitan.
In 2016 he directed and was the tour guide in the documentary The Last Leg Goes Down Under, in which The Last Leg presenters Adam Hills, Alex Brooker and Josh Widdicombe travel Australia.
In 2019. he fronted the documentary Travelling Blind, where he went to Turkey with comedian Sara Pascoe as his sighted guide. He was also part of the series River Walks, where he explored the Yorkshire's river valleys.
More recently he was in Pilgrimage: Road to Istanbul in March 2021.
Last year, Amar took part in the BBC reality show Celebrity Masterchef, becoming the programmes first blind contestant, which was such a great series to watch.
He did so well, competing against 10 other celebrities, he made it all the way to the semi-final, with his sighted guide only there to ensure he stayed safe.
Check out our full interview with Amar Latif on Disability Horizons. 
Follow Amar Latif on Twitter and Instagram.
JJ Chalmers – Strictly Come Dancing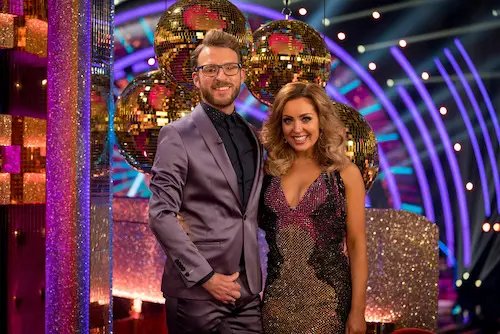 In 2020, Strictly Come Dancing continued to push boundaries with their celebrity dancers with disabilities.
JJ Chalmers, formerly Lance Corporal Chalmers, 42 Commando Unit in the Royal Marines, danced his way to the quarter finals with his professional dance partner Amy Dowden.
JJ served for 11 years in the Royal Marines and got injured from an IED device in Afghanistan in 2011. He sustained facial injuries, lost two fingers, leg injuries and a disintegrated elbow, as well as losing two friends in the blast.
After the blast JJ spoke to Help For Heroes, where he is now an ambassador, he said, "I woke up a week later in hospital, in Birmingham. My hands were smashed up, my arm was sewn into my stomach and I felt like I'd never walk again.
I couldn't imagine going home. When I finally did, I had no idea how to live or what I could do that I'd care about as much as the Marines, which was everything to me."
JJ joined the Invictus Games in 2014 and won three medals for cycling and being Captain of the team.  It was the start of a broadcasting career and he went on to present both Invictus Games, the Paralympics and non-disabled sports programmes too.
Speaking to Disability Horizons in March 2021, JJ told us his experience competing on Strictly Come Dancing last year:
"I was focused on doing my job and trying to get as good as I could with the dance routine I had that week. But there were clearly things I couldn't do.
I didn't take on doing certain lifts in the traditional sense, such as lifting Amy above my head. As my body is fragile, I had to be careful and not go beyond my capabilities."
Read our full interview with JJ Chalmers on Disability Horizons. 
Follow JJ Chalmers on Twitter and Instagram.
Hollie Arnold MBE – I'm A Celebrity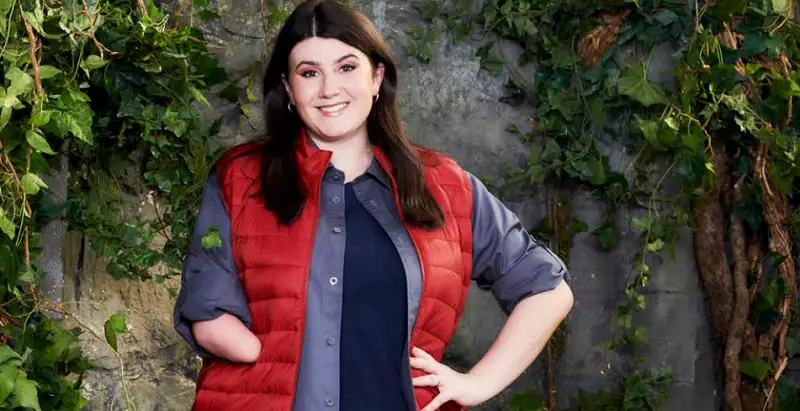 Hollie Arnold, another well decorated Paralympian, was the youngest Paralympian at the 2008 Beijing Paralympic Games where she represented Team GB at the age of 14.
She was born without her right forearm and plays the F46 Javelin.  In 2018 she was the only javelin thrower to hold all four major titles at the same Paralympic four-year cycle: The Paralympics, World, European and Commonwealth champion – a full house they would say. She has also won every single World championship since 2013.
At the end of 2020, I'm a Celebrity went to a castle in Wales, rather jungle due to the Covid restrictions.
It was different, cold and damp.  Unfortunately, Hollie was the first celebrity to leave the castle and said, "I don't want it to be about my disability.
Yes I have a missing arm and I'm in the Paralympics but I want to show people nothing stops me and it shouldn't stop anyone else."
Follow Hollie Arnold on Twitter and Instagram.
Do you know any other disabled contestants that have competed in reality or talent shows? Let us know in the comments box or on Facebook and Twitter @Dhorizons.
By Emma Shepherd
More on Disability Horizons…