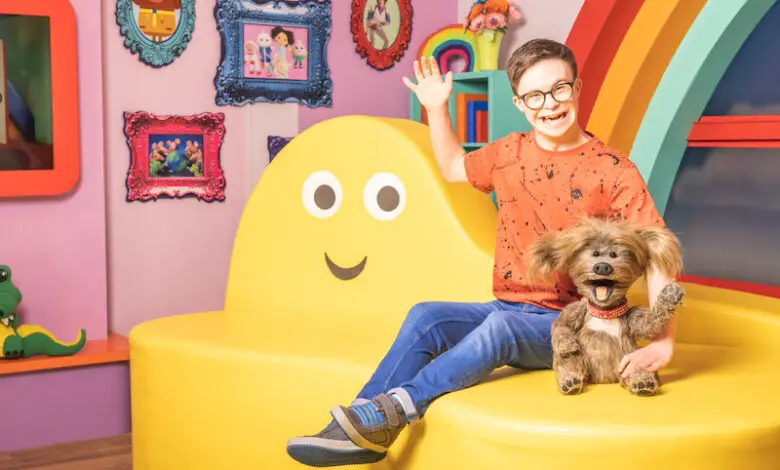 George Webster is a 20-year-old TV presenter, actor and dancer from Leeds. In September 2021 it was announced that he would become the first CBeebies presenter with Down's syndrome.
Our writer, Emma Purcell, got the opportunity to interview George Webster about living with Down's syndrome, becoming a CBeebies presenter and his career in acting and as a dancer.
George Webster living with Down's syndrome
What was it like growing up with Down's syndrome?
I didn't feel different when I was growing up as I was included in everything, including the extra-curricular activities at school. My family always treated me the same as my sister too.
I went to the two local mainstream primary and high schools and had amazing support in both. Everyone worked to support me, including the staff in the classes to help me to be the best that I can. Local charities helped too, so I had a good team.
Throughout I needed other help like speech therapy, travel training and occupational therapy, which my doctor helped with.
Overall, growing up with Down's syndrome has been fun as I've had a brilliant life and been taking part in so many amazing opportunities such as being in theatre shows and dancing with my friends. It's been amazing and am now loving my life.
What challenges do you face living with Down's syndrome?
There's a lot of prejudice and old-fashioned thinking about disability, especially Down's syndrome, in the media. This needs to be put to a stop as I have seen a lot of this whilst I was growing up.
I think people without a disability can overcome this by talking to people like us, to get to know them better and that can help you to understand what Down's syndrome is.
Obviously, I have some particular issues – I need to improve on my speech all of the time as it can go very speedy. I've also had support from occupational therapy and physio as I can find some things tricky and have an element of hyper mobility that makes me very bendy, which is good for dance moves.
Ultimately, the big challenge that I face is independence. Even though I'm already quite independent, there are some areas that I would love to improve on such as how to live on my own and travelling to places.
George Webster becoming a CBeebies presenter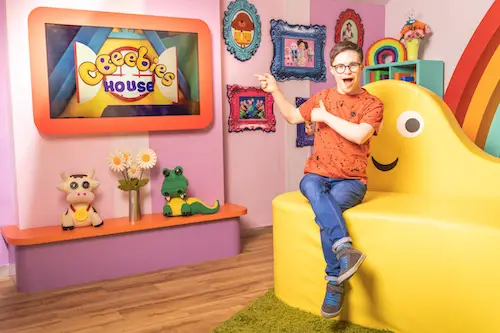 What inspired you to audition for the role as a CBeebies presenter and have you considered TV presenting before?
I always wanted to be an actor since I was young and wanted to be on the TV screen and stage. I watched a lot of great things on the TV when I was young and loved things with good presenters like CBeebies, with Mr Tumble (aka Justin), the Slammer and Total Wipeout.
I got a chance to try out my presenting with Sky when I presented a parkrun documentary all about my experiences of parkrun.
Tim Langford – freelance director – was brilliant on this and really encouraged me. I then did some work with Mencap TV.
One thing led to another and I did a myth busting video for BBC Bitesize on the "5 myths of Down's syndrome", which went viral. The BBC then asked me if I wanted to audition for CBeebies, so I said, "yes please".
I did a screentest audition with the wonderful Rebecca, which was super fun and it went really well. A month later I got a phone call with the producer telling me I got the job, and I was very ecstatic, and couldn't wait to get started.
When do you start on CBeebies, how often will you be presenting on the channel and what are you looking forward to most?
My first filming day was in August with the dog Dodge, which was really fun, and Dodge is very funny. I then filmed again in early October where I did Super Splatterday links with Rebecca, which was amazing, and I got splattered. I also did more links with Gyasi who is brilliant too.
It started as a guest presenter and now I'm made a regular presenter and will be pre-recording the in-between links regularly. They should be on each week.
I'm most looking forward to connecting with the young audience – the feedback so far has blown me away. I am also looking forward to doing a lot more dancing and cooking links, to filming more funny sketches with my co-presenters and maybe working with Mr Tumble – it's such fun.
Could you see yourself going up the presenting ladder with CBeebies then prime-time TV in the future?
I'm loving presenting in my CBeebies role but I would also love to be the first presenter with Down's syndrome on prime-time TV – that would be cool too.
I would love to present Strictly Come Dancing or The Great British Bake Off.
George Webster in the performing arts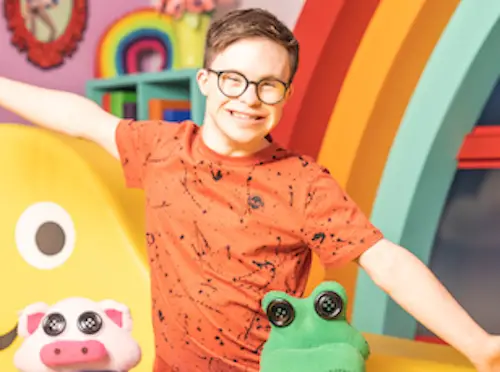 You are also an actor and a dancer. How did you first get into performing arts?
I first really got into performing arts when I was eight at a mainstream theatre and music school called StageDoor, which I stayed with for 11 years until I was 19.
I also started dancing at the age of 11 years in an inclusive dance company called Meshdance, based in Leeds and am still in the company now.
I owe StageDoor and Meshdance a lot. They gave me a lot of confidence and allowed me to perform in all sorts of stages and places. We had great fun.
Have you made any TV, film or stage appearances in the past?
My first screen work was as an extra twice in the ITV soap Emmerdale. I was only little but remember the breakfast on the catering bus.
My next TV work was presenting the parkrun documentary all about my parkrun experience and I have been interviewed over the years for projects like U.Dance.
In terms of film, I have made three short films, the first was a dance film called TellTale with Meshdance, which was shown at a lot of places including the London Royal Opera House.
I then starred in S.A.M with Sam Retford and David Tag, which I loved. S.A.M has won many awards including the Youth Award at the IRIS Prize Festival in Cardiff just recently. Neil and Lloyd, the directors are great to work with and very talented.
Earlier this year, I shot a Sci-Fi film called BEBE AI, co-starring Bethany Asher and Amanda Abbington, which is coming out soon. The director Rebekah Fortune is brilliant. I've also got a small role in a feature film sequel of The Railway Children.
My dance experiences include a lot of shows that played at festivals, including making the U.Dance National Finals in Birmingham with Meshdance. I got to introduce part of the show too.
I'm also part of a dance troupe called the Talent Hub and we nationally toured a dance piece called HELMstarring people with a learning disability and autism. I am now an ambassador for Yorkshire Dance.
In terms of theatre, as well as being in every annual show with StageDoor, I have worked a little with the National Youth Theatre and am about to tour with Separate Doors – a performing arts organisation that represents people with learning disabilities – in a national ensemble, heading for Chichester and Derby.
Would you like to do more acting and dancing on stage and screen in the future – maybe even the next Doctor Who?
I'd love to do more acting and dancing in the future. A leading role in a TV show or film would be a dream come true.
I love Doctor Who and would love to be the new Doctor.
I would also love to be the new main detective in Death in Paradise or maybe even the new James Bond or a new superhero/villain in a Marvel movie. I would also love to compete on Strictly Come Dancing.
George Webster as a Mencap Ambassador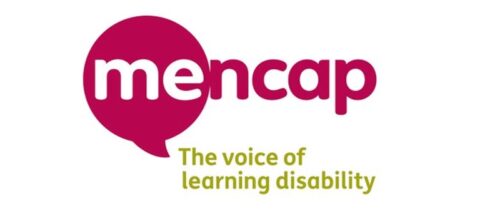 How did you become an ambassador for Mencap and what does that role involve?
When I was presenting my parkrun documentary for Sky TV, Mencap watched it and thought it would be cool for me to be their new ambassador linked to promoting exercise.
The role involves a lot of campaigning videos on things like siblings' support and being yourself. I was also the chief cheerer for last year's virtual London Marathon and was a film/TV critic for Mencap TV, which was great.
I even interviewed the writer-directors of a BBC Two drama There She Goes called Shaun Pye and his wife Sarah Crawford.
I also went to the premiere of The Peanut Butter Falcon too.
Do you think enough has been done to represent learning disabilities in the media?
There has been some representation in the media on learning disability such as films like Innocence with Tommy Jessop – who was in Line of Duty as well – S.A.M, My Feral Heart and The Peanut Butter Falcon.
There is room for improvement though and to overcome this is to give us the opportunities and to not judge us because of what we are. I define myself as "George" not "George with Down's syndrome".
There does need to be some improvements and we just need to see more people with a disability on TV and in film.
What advice would you give to other disabled people wanting to work in television?
The advice I would like to give is to get involved and give things a try. Go to a theatre and/or dance class at a mainstream local dance or theatre school and have fun.
Above all, be yourself and work hard. The opportunities will come at some point and take them when you can. We need to be seen more in the media and who knows – you could be part of that too.
Go to the CBeebies channel or BBC iPlayer to watch George Webster in action.
Interview by Emma Purcell 
More on Disability Horizons…