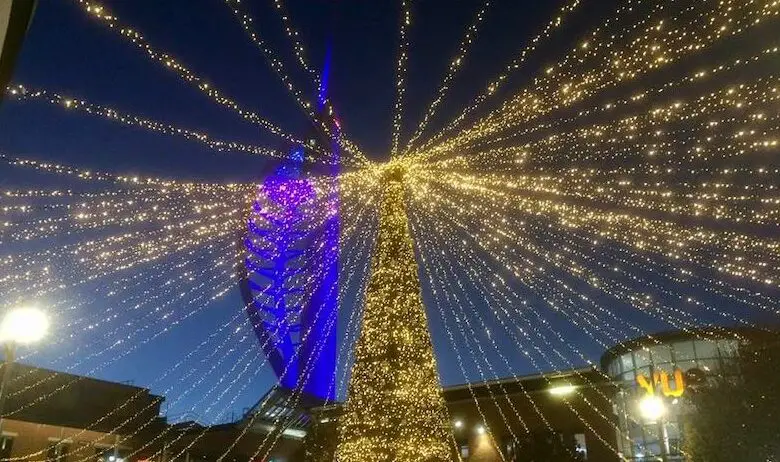 Lifestyle
10 Christmas memories growing up with a disability
Christmas is such a magical time of year with loved ones coming together, giving and receiving gifts, enjoying festive food, dressing up and even encountering many surprises.
Our writer Emma Purcell – who has cerebral palsy and is registered blind – shares a blog post she wrote a few years ago about her favourite Christmas memories growing up with a disability.  
"It's Christmas time, there's no need to be afraid. At Christmas time, we let in light and we banish shade…" and in my world of disability, it's full of wheelchairs, blurred vision, love and laughter.
Despite the challenges I face with my disabilities on a daily basis, I've grown up with fond and happy memories at Christmas time that I will treasure forever.
This blog post was originally a guest post titled My 5 favourite memories at Christmas on Scope's community blog. This extended version with 10 memories was then published on my blog Rock For Disability the same year.
Here are my 10 favourite memories at Christmas…
1. Christmas cassette tape
 When I was a kid, I remember having a cassette tape of Christmas songs. It had all the regular tracks, including Jingle Bells, Santa Claus is Coming to Town, Rudolph the Red Nose Reindeer and so on.
The last song on the b side was Slade's Merry Christmas Everybody and my dad, brother and I would stop whatever we were doing and sing-a-long and dance to it. I still love this song now and it always brings back memories of my childhood at Christmas.
2. Sending and receiving Christmas cards
At primary school, before I began to lose my vision, I used to love writing out Christmas cards to all my classmates and teachers, as well as receiving them. We had a post box in the school hall and they would be delivered to us in class.
The most amusing thing was the number of children who spelt my name wrong. I had "Ema", "Emmar", "Emer", "Persil", "Percel", "Pursell" plus many more.
The best thing was that I went to a mainstream school and nobody judged me because of my disability. I had plenty of friends to share the festive occasion with.
3. Baking Christmas truffles
A Christmas tradition my mum and I do every year is bake chocolate truffles. They are small rich chocolate treats made of digestive biscuits, coconuts and, of course, chocolate.
I enjoy breaking up the digestive biscuits with a rolling pin and sprinkling the chocolate and coconut sprinkles over the truffle balls.
It's a fun activity to do whether you're a child or an adult and something anyone of any ability can get involved in.
Check out our Christmas chocolate truffle recipe on my blog Rock For Disability. 
4. A phone call from Father Christmas
I remember one Christmas Day, when I was around 7 or 8 years old, we had finished opening all our presents when the telephone rang. I think my younger brother answered it and it was "Father Christmas".
He phoned to tell us that there was an additional present for each of us in our bedrooms, which were too large to fit in our stockings. We went to our bedrooms and my brother had a bike and I had a goldfish in a tank.
It was a a very exciting day and added some extra magic to the festivities. I think it is a wonderful idea for future parents to expand their childrens imagination.
5. A family reunion in Scotland
In 2009, my parents, brother and I travelled up to Scotland to visit our extended family. We rented an accessible cottage near Edinburgh, which had a downstairs bedroom, hoist and wet room.
Because of the distance and the amount of personal care I require, we don't get to visit family often, but it was lovely to spend time with my grandparents, uncles and cousins all at once and enjoy Christmas together.
6. Hosting my first Christmas dinner
In my final year at Treloar College, I was living in one of the independent flats on campus. At Christmas time, I decided to host a Christmas dinner with my friends.
I decorated the flat, cooked a turkey with all the trimmings and we exchanged gifts. It was great fun and I was proud of my hard work and hosting skills.
7. Being mentioned on national radio
I am a loyal listener of The Chris Moyles Show on Radio X. On his show, there is a letters feature where listeners post letters, postcards and gifts to the team.
In 2016, I decided to send a Christmas card via Moonpig to the show. The card had a picture of a donkey, which represented the Christmas song Dominick the Donkey, one that that radio show plays every year because its newsreader is called Dom.
The card was read out on air, which was great but Chris decided to cut it short because I rambled on too much!
8. Festive fancy dress
When I was aged 7, we had a fancy dress day on the last week of school before the Christmas holidays. I decided to be extra creative and take advantage of my wheelchair. I dressed up as Santa Clause with my wheelchair turned into his sleigh.
Everyone thought it was brilliant that I even got awarded the best costume in my year group. This proves that having a wheelchair does have its benefits at times!
9. Treating dad to live music tickets
For Christmas 2011, I purchased tickets to see Snow Patrol live with my dad. My dad and I have never had a close bond but we do have similar interests in music and I knew he loved Snow Patrol.
I put the tickets in a card under the tree along with a heartfelt letter saying how much I love him and how much I wanted to attend this gig with him.
I think it did bring him to tears a bit. We went to the gig in February 2012 and it was an awesome night!
10. A one-dollar ticket to the magic kingdom
My all-time favourite Christmas memory has to be the 25th December 2003. We had finished opening all our presents when we discovered two envelopes in the Christmas tree. My brother and I opened them and found a dollar bill inside from dad's best friend.
My first thought was that he was making a joke as he was known to prank us before. Our parents were sure that this wasn't a prank and brought out a videotape. They put the video into the VCR and played it. It was a promo video for Disney World Florida. It then clicked that we were actually going to Florida on holiday next year.
We were absolutely ecstatic and it was the greatest surprise I've ever had to date. We travelled to Florida in February 2004 and it had outstanding accessibility and is still the best holiday I've ever had!
What are your favourite Christmas memories? Please share your stories in the comments box or on Facebook and Twitter @Dhorizons.
By Emma Purcell
Find out more about Emma and get in touch with her by visiting her blog Rock For Disability and follow her on Facebook and Twitter @P94Emma.
 More on Disability Horizons…