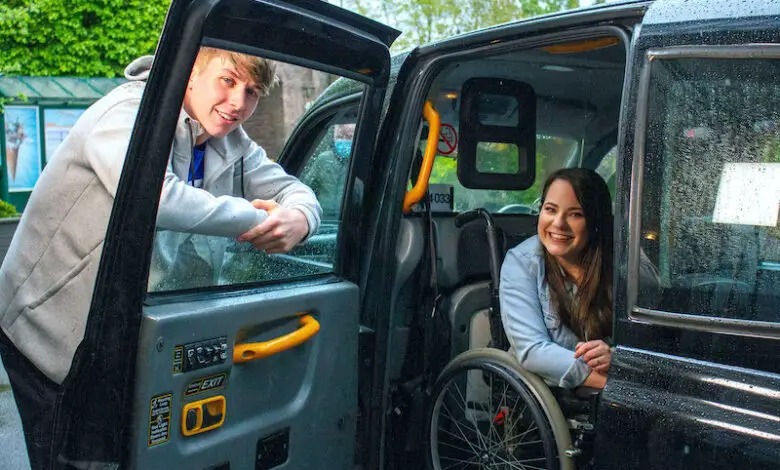 Amy Conachan is a 31-year-old actress from Glasgow, Scotland. She is best known for playing Courtney Campbell in Hollyoaks.
Our writer, Emma Purcell, got the opportunity to interview Amy Conachan about her career as an actress, her time as Courtney in Hollyoaks, her upcoming role in a new musical and her thoughts on disability representation in the media.
Amy Conachan has a rare spinal condition that means her legs are "really small" and "don't work", as she describes them, because her spinal cord "doesn't go all the way down". As a result, she uses a wheelchair.
In 2012, she became the first disabled student to study acting at the Royal Conservatoire Scotland (RCS).
A year after graduating, Amy was cast as science teacher Courtney Campbell in the Channel 4 soap Hollyoaks and went on to be a regular character on the show until June 2021.
Throughout her five years in the fictional Chester village, Amy's character embarked upon some dramatic and emotional storylines.
These included giving birth to her daughter Iona, smuggling drugs overseas, being the victim of blackmail, becoming a murder suspect, and tragically becoming a widow on her wedding night after her new husband Jesse passes away.
Amy believes her legacy on the show was that she was a character who was in a wheelchair, but it was never really about being in a wheelchair.
Amy is now set to star in her musical debut when she performs in Orphans at the National Theatre of Scotland in April 2022.
Read on to find out more about Amy Conachan in her own words.
Amy Conachan on becoming an actress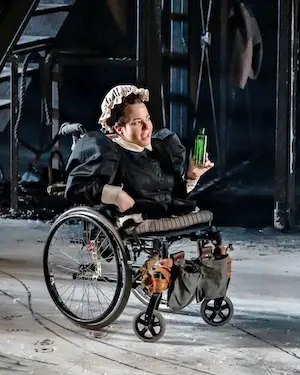 What inspired you to get into acting?
I have an identical twin sister and when we were little my mum was always conscious of treating us the same and giving us the same opportunities. So when Joanne started going to dance classes, I joined her.
I definitely didn't get as much out of it as she did, so my mum found a youth drama club in our local area. I enrolled and fell in love with it from day one. That feeling never went away so I just kept going.
What was it like studying at the Royal Conservatoire of Scotland? 
Going to drama school had been a big dream of mine from a young age; basically from when I found out that acting school instead of uni was a thing.
RCS had been in my sights from the beginning because my family used to drive past it all the time.
I could visualise myself studying there. It wasn't easy though. I auditioned five years in a row before I was accepted.
Being part of the school was incredible. It was super challenging but also gave me more confidence than I'd ever had before.
I left believing there was a space in the industry for me. Of course, I met many of my best friends there too.
It was some of the best times of my life and I feel really proud to be one of their graduates.
Amy Conachan as Courtney Campbell in Hollyoaks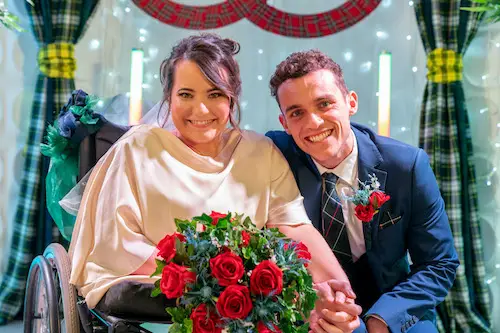 How did you get the role of Courtney Campbell in Hollyoaks? 
I suppose the boring answer is, I auditioned and after a couple of recall stages I was offered the role. It didn't feel boring at the time though. I was only a year out of drama school and was yet to do any TV work.
I turned up on the screen test day assuming it was a 'general' call but was faced with about 20 other people with various disabilities. It felt like I was competing against every other 20-something disabled actor in the country.
Usually, once a week has passed post-audition, I assume it's a no. So when my agent called me three weeks later, I didn't expect him to say what he did. I think I just laughed down the phone. It was like an out-of-body experience.
Do you think your personality is similar or different to Courtney's? 
In many ways we are similar. She was often the voice of reason for many of her friends and family and I think I often take that role on in my own close circle.
She was feisty and loyal. She was also stubborn and sometimes hot-headed – we have that in common too.
On the other hand, she loved to take risks and follow her heart instead of her head. I'm not as risky and tend to overthink things. We also have a very different sense of fashion. Never in my real life would I have worn a nose ring or dyed my hair blonde.
Courtney has been in many dramatic and emotional storylines. Which did you enjoy filming most and why? 
100% my favourite was the drug smuggling storyline with Liam. Not only did we get to go to Spain and film for a week, but it was also the kind of storyline I never thought I'd get to play out.
You hardly ever see disabled actors play baddies (she wasn't a baddie in this case) or more action-based storylines.
I never pictured myself playing an international drugs cartel. That's what's great about Hollyoaks, the writers are not afraid to take risks and do what others aren't.
Do you think there will be a return for Courtney on Hollyoaks in the future?
I'd never say never to returning to Hollyoaks. She didn't die so I guess there is always a possibility. Right now, I have no plans to. I'm enjoying exploring new characters.
However, if there was a chance to reconnect with her again at some point in the future, then I'd be a very lucky lady.
Amy Conachan performing in the National Theatre of Scotland's (NTS) production Orphans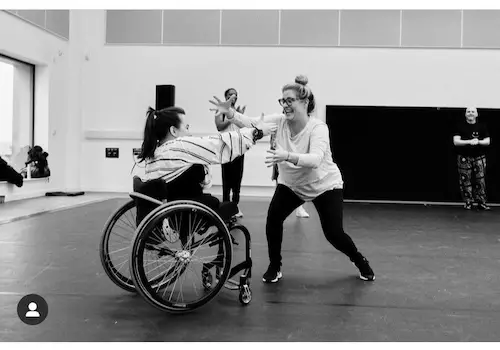 You're set to perform in a new musical called Orphans this spring. Can you tell us about the show? 
Yes! Orphans is based on the film, of the same name, created by Peter Mullan and released in the 90s.
The NTS is taking on the mammoth task of telling this story of four siblings who have just lost their mum and turning it into a musical.
We're taking it out on tour throughout April and I can't wait. It feels like a long time coming as we were supposed to take it out last year but, like everything else, it was postponed due to Covid.
Can you tell us about your character Sheila? 
Sheila is the second youngest and the only sister in the family. All four of us are fighting for something and against something – all in different ways and for different things.
She's gutsy and brave and she just wants her family to find some peace. Since she's the only girl, she thinks she has to take on their mother's role and she's terrified of that. She doesn't think she has the strength or the know-how to be able to do that.
The play is her journey of self-discovery, both mentally and physically. She meets, in my opinion, the most bad-ass characters in the play and we really root for her. She's really cool and complex.
Have rehearsals begun for the show and how are preparations going so far?
We've had a few development sessions exploring the world we're creating. We've done a lot of work on the music side of things since the story wasn't originally told through song and I've been overwhelmed by the talent of our music directors and choreographer.
Rehearsals officially start in a few weeks and I'm both enthusiastic with excitement and fear!
I'm really glad to put all of my focus into Orphans. I've never been in a musical before so it's a new challenge for me.
Amy Conachan's thoughts on disability representation in the media
You've also been a trailblazer for disability representation. You were involved in the documentary Hollyoaks – See The Person and represented Hollyoaks at the C4 Disability Conference. What were those experiences like? 
When I'm acting, I'm not actively thinking about how I'm representing a whole community of people, I just do it because I love to act, be creative and because it's my job.
However, because of that, it directly gives me a platform that allows me to reach a much wider audience – and reaching far and wide is key.
People often say to me that I could be inspiring young disabled people to take on a career in the arts and if that's true then great! It's not just about that for me though.
When I was growing up there were no examples of strong, powerful, disabled women in the media and I'm passionate about working to be that example for the generation under me.
If you want to be an actor, fabulous, go and do that. But I want to also inspire disabled people to just live their life the way they want to live it. I want to encourage those around them to trust that they are more than capable of making those decisions for themselves.
Do you think disability representation in the media has improved over the past decade? 
Yes, I do, massively. Not only do we see much more diversity on our screens, but we also see different kinds of stories being told. We're not always the victim anymore.
I see characters and stories that are representative of the kind of life that I'm living as a disabled person in a modern society. It's not always doom and gloom.
Of course, I think we still have a way to go. I would like to see more disabled characters in positions of power. More disabled actors in lead roles (I'm available…) and more stories of interesting people who just happen to be disabled.
We're always moving forward though and I'm excited to be a, relatively, young disabled actor in the industry today.
What advice would you give to other aspiring disabled actors? 
TRAIN! Get really good. If you can, create the work you want to see and don't passively take part in the work you don't believe to be truthful today.
Be nice to people and be professional – people want to work with people they like. Find the joy in it every day; it's the best job in the world.
You can find out more about Amy Conachan by following her on Twitter and Instagram.
Interview by Emma Purcell 
Update: Amy Conachan Honours Peter Hunt and the actors from "The Platts" family, Coronation Street, with The Tony Warren Award at The British Soap Awards
In a star-studded event, the British Soap Awards celebrated the best talents both on and off the screen. Among the prestigious honors, the highly regarded Tony Warren Award (Off-Screen) was presented by the talented actress, Amy Conachan, to the deserving recipients, Peter Hunt and the other actors from "The Platts" family.
The Tony Warren Award holds a special place in the hearts of the soap industry as it commemorates the creative minds behind the scenes who work tirelessly to bring compelling and engaging stories to our television screens.
As the evening unfolded, the ceremony also saw the announcement of the Best Family award, a viewer-voted category that captures the essence of beloved families featured in various soap operas. This year's contenders included:
The Platts from Coronation Street
The Slaters from EastEnders
The Dingles from Emmerdale
The McQueens from Hollyoaks
The Millars from Doctors
It was a nail-biting moment for the fans, and ultimately, the winner of the Best Family award was revealed to be none other than "Coronation Street – The Platts." The Platts have captured the hearts of viewers with their engaging storylines, incredible performances, and the genuine chemistry among the cast members.
The British Soap Awards brought together some of the biggest names in the industry, including Sue Jenkins, Dean Sullivan, and Claire Sweeney, who presented the Best Family award with grace and enthusiasm.
As the night came to a close, attendees and viewers alike celebrated the remarkable achievements of those who make the soap operas an integral part of our lives. With Amy Conachan's heartfelt presentation of The Tony Warren Award and the joyous recognition of the Best Family, the British Soap Awards once again proved why it remains an eagerly awaited event in the entertainment calendar.
More on Disability Horizons…