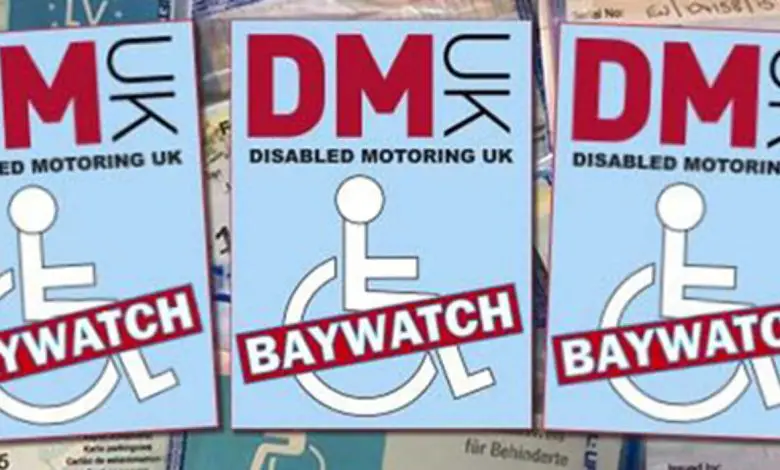 Disabled Motoring UK (DMUK) has found that one in five disabled parking bays is abused, following its Baywatch Campaign where the public was asked to help by surveying their local supermarket car park for disabled parking abuse.
Baywatch Campaign results
DMUK discovered that the overall level of disabled parking abuse across all supermarkets was 16%, having asked 723 disabled participants.
In 2017, when DMUK last carried out the Baywatch Campaign it was 18.5%, so this year's results do show some improvement.
Across all of the supermarkets surveyed, the average number of disabled bays provided (to the nearest whole bay) is 15. The results showed that roughly one in five disabled bays at supermarkets is abused by somebody parking in a disabled bay without displaying a Blue Badge.
Looking at enforcement signage, DMUK found that 60% of the supermarkets surveyed had visible signage or other evidence that enforcement took place. When you isolate these supermarkets, levels of abuse remained at 16%.
However, for the 40% that had no visible indication of enforcement, the percentage of abuse increased dramatically to 36%. This shows that using enforcement does decrease the levels of disabled parking abuse.
Supermarket specifics of the Baywatch Campaign results
DMUK had a wide spread of different supermarkets included in this year's Baywatch survey responses, including; Aldi, ASDA, Co-Op, Lidl, M&S, Morrisons, Sainsbury's, Tesco and Waitrose.
Even though DMUK had an increase in responses from Aldi and Lidl customers this year, which reflects the general market share growth these chains have experienced, it felt it was unfair to directly compare these stores with the big four – Tesco, Sainsbury's, Morrison's and ASDA – because it had many more responses for these chains.
Morrisons had the lowest level of disabled parking abuse in its car parks with just 10%. Tesco had the highest at nearly 25%.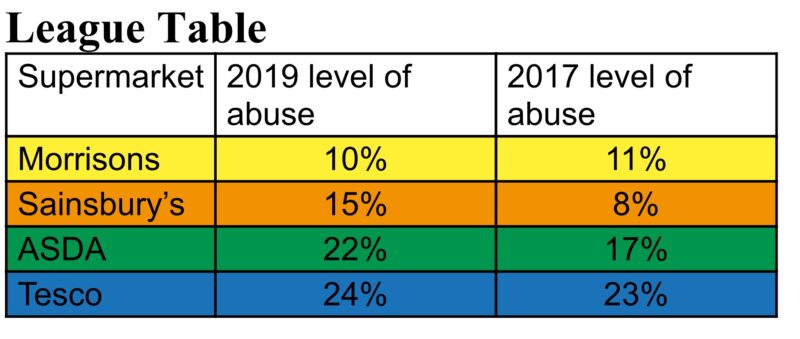 All of the supermarkets that were surveyed have been contacted with the Baywatch results. DMUK has encouraged them to start a dialogue with the charity so that it can help them improve their parking facilities for disabled motorists.
Enforcement statistics from the Baywatch Campaign results
Similarly to the statistics from the 2017 campaign, the survey shows that enforcement works. Where no visible signs are seen, the levels of abuse dramatically increase. DMUK calls on all supermarkets to rectify this and to use enforcement across all of their stores.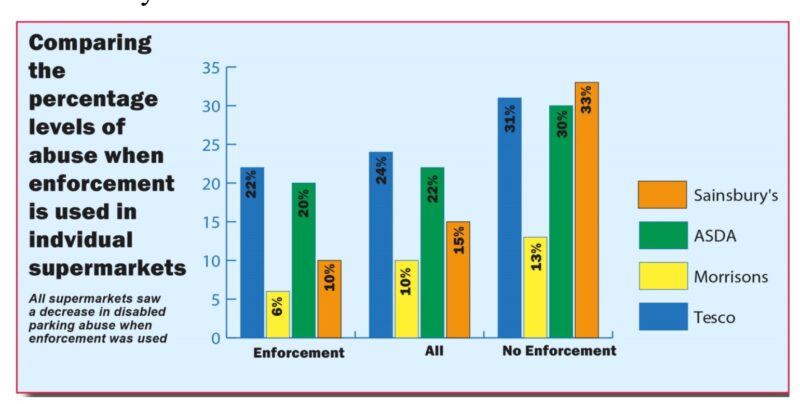 DMUK's concerns over the Blue Badge extension
Blue Badges have been extended so they are now eligible for people with hidden disabilities.
DMUK predicts that this change will see a dramatic increase in Blue Badge holders meaning that disabled parking will be more pressured.
DMUK's Baywatch campaign continued
DMUK has contacted the supermarkets surveyed and will encourage them to do more to enforce their disabled parking bays and take up the Disabled Parking Accreditation if appropriate.
Baywatch will return in 2021 and DMUK hopes to see a further decrease in the levels of disabled parking abuse in supermarkets.
In the meantime, the most effective way of creating change at the supermarkets is to choose wisely where you spend your money. The spending power of the disabled community is huge and according to figures obtained by The Purple Pound, supermarkets' lose £501 million every month because they aren't accessible. If you experience problems parking at your local supermarket, you could choose to spend your money elsewhere.
If you do decide to make a change because disabled parking is not enforced, do write to the Chief Executive of the supermarket chain and explain why you will no longer be shopping at their store. If enough people do this it can create change.
Heidi Turner, Communications and Campaigns Director at DMUK, said:
"DMUK is ecstatic with the level of support it has received for this year's Baywatch campaign. The statistics show that one in five disabled bays is abused.
Disabled parking is under immense pressure to meet the demand for it and if supermarkets enforced their disabled bays properly they can increase the volume of available disabled parking by 20%. It is time that the supermarkets take this issue seriously and support their disabled customers"
DMUK Baywatch appeal
To help DMUK to continue campaigning on the issue of disabled parking abuse, it has launched the Baywatch Appeal.
This is a fundraising appeal which will help the charity raise vital funds to keep advocating the need for proper management of disabled parking bays.
The charity encourages all supporters of the Baywatch campaign to donate if you are able. 
Have you come across disabled parking bays being abused? Share your experiences in the comments box or on Facebook and Twitter.
By Emma Purcell
More on Disability Horizons…