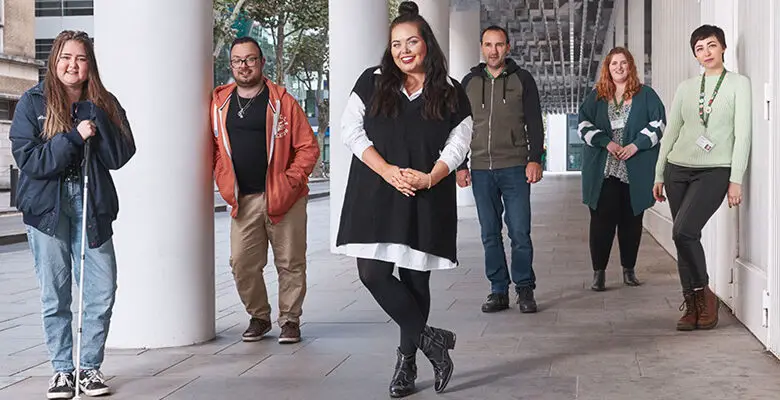 Entertainment & Culture
News
TV personality Scarlett Moffatt and music artist Billie Eilish open up about their lives with Tourette's syndrome
TV personality Scarlett Moffatt is starring in her debut documentary – Britain's Tourette's Mystery – to investigate the rise of Tourette's syndrome and tics in teenagers. Award-winning singer Billie Eilish has also shared her diagnosis of Tourette's syndrome in a Netflix series.
The increase of Tourette's syndrome diagnoses in Britain
Over the course of the pandemic, doctors at Great Ormond Street Hospital and Guy's and St Thomas' have seen a significant rise in the number of teenagers presenting with Tourette's syndrome or tic disorders.
Typically, doctors were only receiving four to six referrals per year, which were acute onsets in teenagers; now they receive that many a week. With three in four 13 to 19-year-olds having experienced mental health issues since the start of the pandemic, experts believe one of the main causes of the rise of tics is triggered by anxiety.
Scarlett Moffatt – Britain's Tourette's Mystery
Now, Scarlett Moffatt wants to find out what is causing this medical mystery.
The 31-year-old reality star – who has had tics since her early teens – will travel around the country to meet some young people who have recently been diagnosed with the condition.
She will also speak to scientists grappling with this new phenomenon, a group of Tourette's syndrome TikTok influencers, charity campaigners and the neurologists treating the influx of adolescents.
Britain's Tourette's Mystery will be an unexpectedly personal journey for Scarlett as she developed facial tics when she was just 12 years old. Scarlett spent two years of her life with tics that were a result of suffering from Bell's Palsy.
Exploring whether there's any past precedence in cases like this, Scarlett will leave no stone unturned as she finds herself in the middle of the debate and researches every potential cause – is it purely a symptom of the pandemic? Does social media have a part to play? Or could it be mass hysteria?
Scarlett – who first gained popularity on Channel 4's Gogglebox before winning I'm a Celebrity in 2016 – says her Tourette's syndrome documentary is 'one of the hardest things she has ever filmed.
She said: "I remember being a young teen and standing in front of the mirror for hours, just staring in the mirror and trying to get my face to go straight and trying to stop the tics.
"It was just really scary. It's scary as a teenager anyway, because your body's changing, and you have all these hormones, but when you feel like you're not in control of them, I just remember feeling like, "God, is this ever gonna stop? Am I ever gonna be in control again?"."
She added that she suddenly became aware of lots of articles about young girls getting sudden onset tics, and her algorithm on TikTok was "loads of young girls with tics", leaving her questioning why "no one is talking about it because it sounds like it's a bit of a pandemic in itself."
"The big thing when I had tics was that I felt alone, I didn't really know any other young girls with it so I just thought, at least if other parents and families and people can watch this, and realise that they're not alone, then that can only be a good thing".
On why documentaries are important for people to watch, Scarlett added that they show what life is like "outside this bubble', highlighting that awful things happen and change needs to happen."
However, making her own TV special, even though it's only an hour long, took "months and months" of filming as she felt like she had to "constantly work at it" to find answers to the questions she had.
"But I realised that actually, it's not about sort of digging, it's about making sure that the viewer is understanding everything, and them being able to get their opinion across. So that was definitely difficult."
Britain's Tourette's Mystery will air on Tuesday 19th July 2022 at 10pm on Channel 4.
Billie Eilish speaks openly about her Tourette's syndrome
Another famous person who has opened up recently about their Tourette's syndrome diagnosis is multiple award-winning music artist Billie Eilish.
The 20-year-old singer – who recently became the youngest ever artist to headline Glastonbury Festival last month – recently spoke about her Tourette's syndrome on David Letterman's Netflix series My Next Guest Needs No Introduction.
Billie was diagnosed with Tourette's syndrome at the age of 11, and though most people don't notice her tics in casual conversation, she says, "If you film me for long enough, you're going to see a lot of tics."
She first shared her thoughts on it during an appearance on The Ellen DeGeneres Show in 2019 – the Grammy winner revealed to David Letterman that she doesn't discuss her syndrome frequently, in part due to common misconceptions and reactions.
"It's really weird, I haven't talked about it at all," she said. "The most common way that people react is they laugh because they think I'm trying to be funny. They think I'm [ticcing] as a funny move. And so they go, 'Ha,' and I'm always left incredibly offended by that. Or they go 'What?' and then I go, 'I have Tourette's."
As she told Ellen DeGeneres in 2019, "All the people closest to me know that I have it…I just never said anything [publicly] because I didn't want that to define who I was."
Her first tics manifested when she was a child; typically, they were heavy, sustained blinks or rapid clicks of her jaw. Now, "the main tics that I do are constantly, like, I wiggle my ear back and forth and raise my eyebrow and click my jaw and flex this arm here and this arm there.
These are things you would never notice if you're having a conversation with me, but for me, they're very exhausting," she said. "So many people have it and you'd never know."
Billie also shared how she doesn't experience any tics while performing. But even when she is ticcing, she says, she's "made friends with it."
"It's not like I like it, but I feel like it's…part of me…And so now, I'm pretty confident in it."
By Emma Purcell 
More on Disability Horizons…