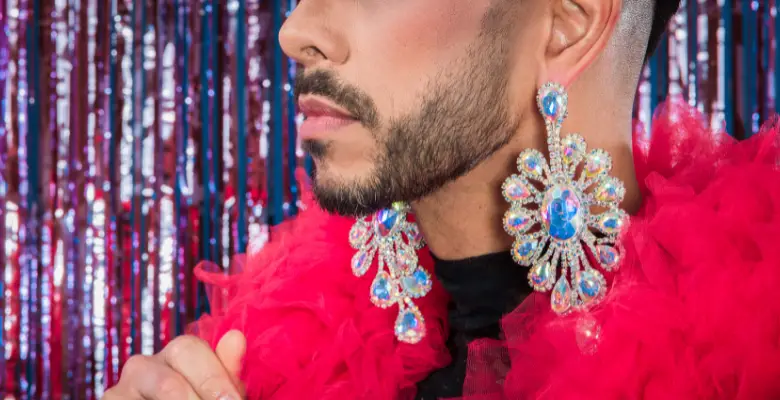 Drag is a type of entertainment where people dress up and perform in clothing and makeup to imitate and often exaggerate female gender signifiers and gender roles. It is popular among the LGBTQ+ community with the visibility of more disabled drag queens entering the spotlight.   
Our writer, Emma Purcell, shares 6 glamorous, stylish and empowering disabled drag queens you should follow on social media.
1. Yvie Oddly
 

View this post on Instagram

 
Yvie Oddly is an American drag queen, fashion designer, performer, rapper and recording artist, with 1.2 million followers on Instagram and almost 275,000 followers on Twitter.
She has a condition called Ehlers-Danlos Syndrome Type 3, which affects the tissues in the skin, bones, blood vessels and many organs. 
 Yvie captured the attention of the world when she won the eleventh season of America's RuPaul's Drag Race in 2019. 
New York Magazine named Yvie one of the most powerful drag queens in June 2019 because of her ability to push the boundaries of drag performance art.
 You can follow Yvie Oddly on Facebook, Twitter and Instagram. 
 2. Saltina Shaker
 

View this post on Instagram

 

Saltina Shaker, legally known as Jesse Leśniowski, is Canada's viral drag queen sensation and online influencer.
Saltina has an invisible disability. She uses her platform to represent others who have them, especially in the 2SLGBTQ+ (Two-spirit LGBTQ+) community.  
After winning Ottawa's Ms. Capital Pride pageant and hitting two million followers on TikTok, Jesse says there is much more coming from Saltina Shaker.
Saltina is a rising star in Ottawa, Ontario, that takes versatility in drag to an entirely new level. Her video game girl, anime, sci-fi and colourful styles leave the eye intrigued all while delivering a mesmerising performance. 
Her short videos and pictures on social media inspire many, as she is as much of a role model as she is an entertainer and influencer. 
As a disabled queer person, she also makes a strong effort to raise awareness about body positivity involving scars, various disabilities, self-love and overall acts as a beacon of hope for many. 
You can follow Saltina Shaker on Facebook, Twitter, Instagram and TikTok.
3. Janira Obregon
 

View this post on Instagram

 

As an Afro-Latina American model, activist and influencer with cerebral palsy and spastic quadriplegia from New York, Janira Obregon is working to pave the way for disability representation, challenging beauty standards and breaking down barriers in the fashion industry and beyond.
She was a contestant on Dragged, in which she told hosts Marti Gould Cummings and Jasmine Rice LaBeija why she wanted to get a drag queen makeover: 
"In the disability community, there is a stigma that we can't do it… I want to represent that we can." 
Janira was the perfect fit for Dragged, which aims to empower people to access the inner fierceness, confidence and self-love it takes to be a drag queen. 
By creating an inclusive space where contestants are encouraged to explore and experiment with gender expression and performance, the series is challenging stereotypes about what drag is and who it is for.
After her makeover was complete, Janira told the hosts that she felt "really transformed and empowered" by the changes. 
This speaks directly to the main objective of Dragged, which is to empower people to feel like the best, most glamorous versions of themselves. 
As an activist and influencer with 45K Instagram followers, the work Janira does every day reaches a wide audience and has an incredible impact on disability representation in the world of modelling and beyond. 
You can follow Janira Obregon on Facebook, Twitter and Instagram.
4. Jake Sawyers
 

View this post on Instagram

 

Jake Sawyers is said to be Wales' first visually impaired drag queen. He was born with a condition called Norie Syndrome and also has Nystagmus, which makes his eyes move involuntarily. It means he is completely blind in his left eye and has limited vision in his right. 
Speaking to BBC Wales, Jake said: "I have always taken it in my stride and being a big comedy fan, I have always tried to see the funnier side of it and the light-heartedness, obviously there are days where I feel blinder than I am."
He added: "Blind people can do everything sighted people can do, like with me, I am a filmmaker, photographer, an actor and I do drag too".
Jake, originally from Port Talbot, started performing in drag in 2019 after he was introduced to the drag scene. 
"I had moved to Cardiff in 2017 where I was introduced to the local drag scene and I just fell in love with it, 
I was also watching RuPauls Drag Race on TV – so I was totally immersed in drag culture.
A local drag queen Connie Orff organised a drag scratch night at Wales Millennium Centre for people who wanted to try drag in a comfortable, safe environment and I just thought, if I don't do it now I never will.
So I wrote some songs about the lived experiences of being blind to perform and 'dragged up' as Venetia Blind, had an absolute ball – and have just done it ever since really. 
To my knowledge, I think I am Wales' first visually impaired drag queen, [but I also] know of a few other visually impaired drag performers based in London."
You can follow Jake Sawyers on Facebook, Twitter and Instagram.
5. Wayne Allingham Creasy
 

View this post on Instagram

 

British drag queen Wayne Allingham Creasy was born with hemiparesis cerebral palsy, a condition from the stroke family that causes muscle weakness in the right side of his body. 
He's also got a 'bent arm' – which he jokingly calls his "gammy leg" – but none of this stopped him from fulfilling his dream of performing on stage.
On his mission to create a more accepting world for disabled LGBTQ+ people, Wayne launched an inclusive club night event called Disabled, Queer and Here, which has so far graced two of London's premier queer performance spaces, Royal Vauxhall Tavern and Two Brewers. 
The night gives disabled people a platform to showcase their talents, whether that's drag, singing or – like one of his friends – ballroom dancing in a wheelchair.
You can follow Wayne Allingham Creasy on Instagram.
6. Chelsea Cherry
 

View this post on Instagram

 

Drake Naylor is a bisexual trans guy with an Associate's Degree in social sciences. He has dyspraxia and developmental coordination disorder. 
He performs as a drag artist under his alter-ego name Chelsea Cherry. He has 33 body modifications, enjoys fan art and loves animals.
You can follow Chelsea Cherry on Instagram and Tumblr.
By Emma Purcell 
More on Disability Horizons…