Featured resources

Portugal 4all Senses – is a tour operator specialized in accessible tourism for people with special needs, their friends and families. We develop tourist activities, thematic experiences and tailor made options. We have a range of services that will make your stay richer. Enjoy Portugal at your own pace and style!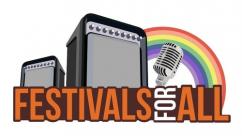 Festivalsforall – provides music lovers with a web site containing all the information you could ever require to browse, select, book, and organise a visit to a live event, whether you are a novice or an experienced festival goer. We hope that Festivals For All deliver a unique UK music festival and live music event web portal which provides information on all UK music live events irrespective of genre, size or location.
Other links
Disability Match – www.disabilitymatch.co.uk
Please note that all resources on this page have no affiliation to Disability Horizons, but are resources that have simply been shared by our reader community. Unfortunately, we cannot verify whether any of these resources are suitable for you and strongly recommend that you make enquiries with the relevant resource to confirm suitability.