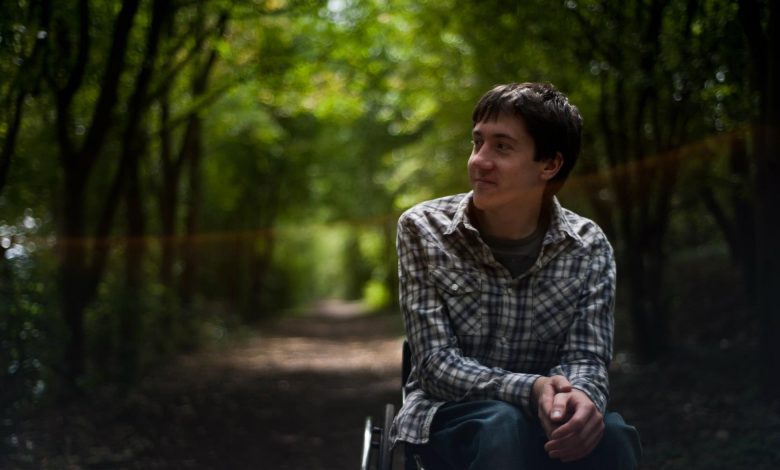 David Proud is an actor from the UK who recently starred in the BBC's hit drama Eastenders. David joins a select band of actors with a disability to have portrayed a high profile role on a mainstream peak-time TV drama. David kindly took some time out of his schedule to have a Q&A session with Disability Horizons about his acting career to date and what the future could hold, as well as providing an insight into the man behind the actor!
David, can you give DH readers a bit of an intro to yourself and an insight into your younger days as a kid growing up with a disability?
I was born in Peterborough and was diagnosed with an impairment called Spina Bifida when I was 5 years. I spent my primary school years at a mainstream primary school and apart from always having to be in goal in football and a few hospital appointments it was quite normal. I did have plastic leg splints and made the decision to stand up in front of the entire school at assembly and show them so they knew what they were and didn't make fun of me.
At the point people understand they seem to stop making fun of you. I started using a wheelchair at secondary school and even rein-acted the scene from Cool Runnings down the corridor, running alongside my wheelchair and then hopping in with my mate standing on the back anti-tip bar. My disability always made me more determined. It is a big part of who I am, but it has never been all that I am.
Another key and sometimes tricky time of life are the teen years, do you have any overarching thoughts or funny anecdotes?
I was a bit of a player at school and seemed to have a girlfriend for most of my time there. I was always aware of my difference but I truly had the greatest friends who kept forgetting that I couldn't do certain stuff. They just saw me as David, and a bit of a geek.
How did you get into acting – was it a lifelong dream or random occurrence?
Acting was always in me and throughout school I really gravitated to it. When I left school I thought I had to say goodbye to it and for many years I did. It wasn't until I won the part of Charlie in Desperados (another BBC drama) that it all changed.
What is your view on disabled characters being played by able bodied people?
Well, hopefully this is the last time this question will be asked of me. For 6 years I have been condemning it but apart from the odd hiccup of Glee I think we have seen the last of that kind of casting. It did however inspire my first writing and producing project, "Wheels of Fortune". The film explores the use of abled bodied actor in the disabled role. It was funded by the BFI, Screen South and the National Lottery. Its aim is to encourage more people to log on and use a website called www.uscreen.co.uk. A website dedicated to facilitating young disabled film makers. Well worth checking out.
You played the character of Adam Best in BBC1's Eastenders, what were your feelings on your character?
I didn't like Adam, but the point is we weren't meant too. He was a very articulate arrogant character so he was brilliant to play. The more I cringed playing him the closer I was getting to what we needed to show in the character. People didn't feel they couldn't hate him just because he was in a wheelchair which is great. I have had so many great conversations with the public and all seem to say it was refreshing to see a strong minded disabled character.
Do you think having a disabled character on the show educated the public more on disability?
100% for sure, the more you see disability in all slices of life the more it becomes mainstream. It is important however not to cover old stereotypes and to let disabled people write or help write the parts.
How did you feel when you got the Eastenders job?
Scared, nervous, and delighted all at the same time. I had to make my house phone ex-directory overnight, close my Facebook and really make sure I was ready for people wanting to know everything about you. It changes your life forever and it's still the same now. Although I am currently working on lots of other projects, the level of interest remains and it comes with a great deal of responsibility.
What was the funniest moment on set?
Funny, but painful, I actually wheeled into a part of "Minty's" flat and cut my hand open. I wasn't looking where I was going. I still have a scar on my right hand and always will have. The funny part was that I had to do a whole day of filming having to hide a massive bandage on my hand. I use my hand a lot in acting and it was odd to have to control my arms flying about in shot.
Did using a wheelchair ever cause problems/difficulties on the set of Eastenders?
None whatsoever, the whole team at Eastenders are amazing and I love them to pieces. I am still good friends with the majority of cast and crew. It's like a little family; once you join you never leave.
Have you run anybody's foot over on a set before?
Being run over by me is an elite club and it's most famous member is David Tennant.
What has been the most embarrassing moment on set during your career?
Being naked in Secret Diary of a Call Girl and having sound and camera operators looking at me. Not normally naked in the presence of men.
Noted! But who in the world would you most want to share an on-screen kiss with?
I would sell everything I own and move to Canada to get a kiss from Elisha Cuthbert.
David, we're sure Elisha Cuthbert is a regular DH reader and we'll see what we can arrange! 🙂
Do you have any particular tips for budding / aspiring young disabled actors?
Don't limit yourself to either screen or stage, aim for both and keep creative. Remember it's a marathon not a sprint. If you build a CV slowly you will get to where you want to be.
Have you ever used, or know of, any acting companies for disabled people?
Yes, the Graeae Theatre Company is brilliant, check them out. Awesome performances.
Out of all the films you have seen, which character would you have most liked to portray?
Al Pacino's character in The Godfather Trilogy has to be the ultimate one I would have love to have been.
It's a Friday night, what would an ideal night involve?
A night in with someone special, a good film and a nice bottle of wine.
If you are not acting, do you have a favourite sport you like playing or a band you enjoy listening to?
My favourite sport is basketball and my favourite band is the Red Hot Chilli Peppers.
Tell us what you have been up to since leaving Eastenders?
This year I have shot a documentary in the Alps, and a Feature Film called "NFA, No Fixed Abode" which is about homelessness. I am most proud of my writing and producing this year. Having shot "Wheels of Fortune", which is due for release in September, I am currently working on another project commissioned in LA which I am not allowed to chat about yet. The producing takes over ever part of your life and you work stupid hours, but the end product is always worth it.
When you can take some time off, what would be your dream holiday?
Barbados, with a book and no iPhone.
What does the future hold?
The beautiful thing is that as an actor you never really know. There are a couple of really great films in the pipeline that I am attached too so fingers crossed they all run smooth. I've had a great time over the last 6 years and have been very lucky. There are directors and actors I want to work with, so will be spending my time trying to achieve those goals.
For more information on David Proud, check out his website or follow him on Twitter.
Photo by Henry Butt