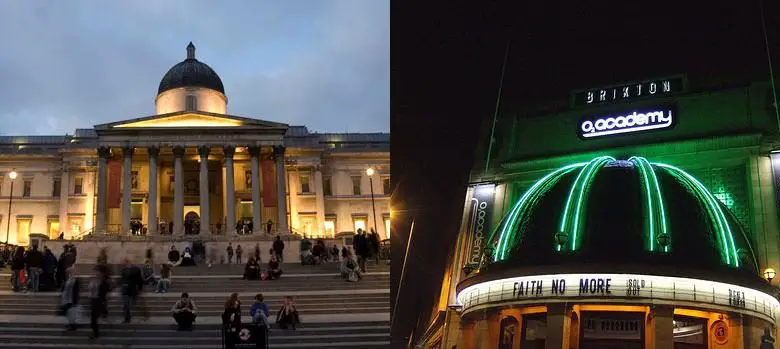 DH's co-editor, Srin, took a bit of time out recently from lawyering in the City and helping to run this fine publication to enjoy a concert at The Brixton Academy and a trip to the special Da Vinci exhibition at the National Gallery.
From the outset of this article, I have to make an admission. I know very little about art and music. My knowledge of art is limited to a vague awareness of "big names" and my knowledge of music is limited to what I hear on TV and radio.
On that basis any attempt to critically appraise the substance of these two events would be a somewhat pointless endeavour. However, I can share some thoughts of what I experienced on the day.
The Da Vinci Exhibition at the National Gallery
This is a special exhibition being hosted by London's National Gallery. It is a collection of works produced by the great man himself that were sourced from numerous galleries and private collections from around the world. I had tried for a while to get tickets to this but had miserably failed. I was fortunate enough though to be invited by a friend who was able to get tickets!
The collection was excellent. The attention to detail and perfectionism of Da Vinci was outstanding. In addition to Da Vinci's headline works, the exhibition also included sketches and scribbles showing the logic and methodology behind the masterpieces, which were equally as fascinating.
The National Gallery has very good wheelchair access. However, it seemed that the organisers of the Da Vinci Exhibition grossly underestimated the demand for tickets and the number who would want to visit. The exhibition was spread across a handful of smallish rooms in the Sainsbury's Wing, which were overcrowded. I roll around in a big and heavy powered wheelchair and the overcrowded rooms made it difficult for me to get close to the exhibits and read the descriptions.
While I enjoyed viewing what can only be described as a wonderful collection, it would have been nice to have been able to spend a bit more time enjoying the works in less overcrowded surroundings!
The Vaccines at The Brixton Academy
Just as I write this, I am reminded how lucky and fortunate I am to have the friends I have. Like with the Da Vinci Exhibition, I went to this gig by the invite of a friend who had bought two tickets.
I enjoy indie music, but like most of my cultural interests, I am generally only aware of stuff that is beamed out of popular TV or radio shows! The Vaccines were a new group to me, their music introduced to my ears by my friend who is a major indie music aficionado.
As my working hours are very unpredictable, I made sure I had taken the day off on annual leave to make sure I could make it. This gave me chance to wonder around Brixton and down Electric Avenue, and have an early dinner in Brixton Village. Food in Brixton Village is something I highly recommend.
I had never been to The Brixton Academy either. We had reserved tickets in the "disabled area", and were told that the venue had access.
To enter the venue, there is a steep ramp, and the front entrance can get a little crowded. However, life was made so much easier by a chap named Tony who was one of the security/event staff on duty that night. He moved everybody out of my way and was polite, courteous and just really friendly (which is always helpful!).
The accessible platform was in a good position and I had good view of the stage. I do often wish that the accessible area didn't have to be so disconnected and detached from the rest of the audience, but I recognise why this may not be ideal for other disabled people.
The gig was great fun, and the two hours seemed to just disappear in a flash. However, getting out was not easy. The Brixton Academy is an older venue, with not that many exits. It felt like the entire 5,000 or so people at the venue were trying to leave through one entrance and it was very difficult to fight my way through the drunken crowd. Next time I will wait for the crows to disperse before I leave. Lesson learnt!
By Srin Madipalli