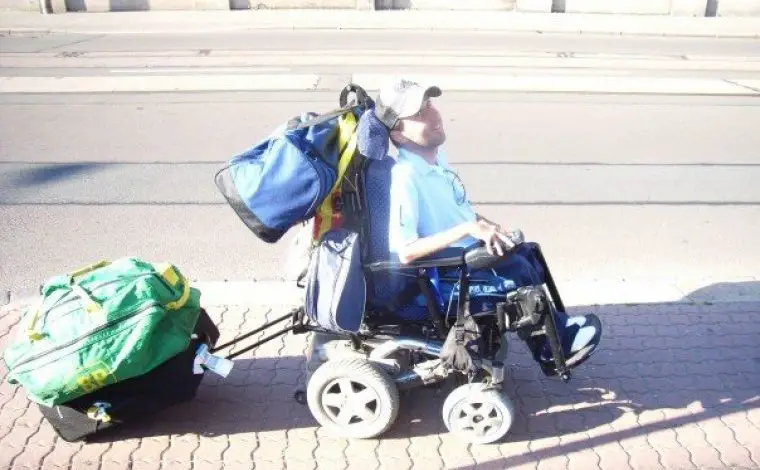 Co-editor Martyn Sibley tells our Disability Horizons community about his latest – and in his words possibly craziest – challenge yet: the Epic European Disability Roadtrip!

For those who are new to me; I'm Martyn Sibley, a disabled guy who loves life and also loves trying to change it for the better! I blog, co-edit this amazing lifestyle magazine, have my own social media company, am a media spokesperson on disability issues, and I run e-learning projects for disabled people, including the recently crowd funded dconference, which is launching soon.
Disability as a social problem
In 2012 there are still too many disabled people who cannot access public buildings, transport links, employment and leisure in everyday life. However, with the right societal and government support, disabled people can, and do, fully participate in modern communities.
The online community we have built up the past three years would rightly say that there are many more improvements needed. The community is also the living proof that – with the right support, mindset and strategies – anything is possible.
We know that by showing our potential with individual achievements, the world can (and will) make the necessary long term changes for full equality.
The Epic European Disability Roadtrip (EEDR)

So, with that in mind, my latest project is to go around Europe to explore the changing landscapes and attitudes towards disability. In doing so I want to explain:
• the personal and difficult factors taken into account on such a trip with my disability;
• my observations on the different physical environments and attitudinal views on disabled people across the European continent (using articles, photos and videos);
• how other disabled people feel, by giving them a platform to share their experiences to a bigger audience;
• the bigger/overarching issues of disability using a powerful message within mainstream media;
• how my project is an educational tool for social change and will be used as a fundraising vehicle for the organisations featured on the trip. Those working tirelessly everyday for improved conditions in the disability field. The funding website will be available in the next update.
I have dreamt of roadtripping across Europe forever. Since I began blogging and running Disability Horizons, and generally looking to change the world on disability issues, it made total sense to combine the two. I have day dreamed endlessly about travelling vast distances, sharing my experiences and meeting new, vibrant people. I love the feeling of being on the move, and I know how much impact sharing my additional needs has on disabled people and society in general.
Having had, and lost, a sponsored adapted caravan in July, I have been tirelessly exploring many ways to make the dream become a reality. CoachBuiltGB kindly agreed to sponsor me the required adapted motorhome (which they're looking to sell, but were happy for me to use in the meantime). It had an electric wheelchair lift, a hoist and accessible shower. I couldn't drive it, but I would be accompanied by one of my Personal Care Assistants who would drive.
Here is the video I recorded to launch the original project, and below it there is a map of the original route I had planned to take (before things took a turn for the worst):
Last Tuesday, an hour after emailing 3,500 people and posting the launch on my blog, I had the most gut wrenching news imaginable; a buyer came in and purchased the motorhome. On hearing this news I felt sick, considered that the trip was over and didn't know where to begin in cancelling everything.
I have spoken a couple of times to CoachbuiltGB, who feel terrible. We agreed it was more the timing that created such a terrible situation. Had they told me the news an hour earlier, I wouldn't have launched, and a week later I would have had the motorhome already. We have agreed to partner on a caravan/motorhome project next year.
Never give up
My view was that this trip had gone too far, and I wanted to explore all alternatives before cancelling. However, my two PAs had to be happy with the outcome. Without an adapted motorhome/caravan, or funds to buy one, this option was obsolete. The only other way was to take my adapted car, with ramp and hand controls, plus the option for my PAs to drive as well, and find accommodation along the way.
We looked again at the route. There is no way I could afford hotels every night with my budget! But between us we knew a few contacts who could offer accommodation. However, some of the places would not be wheelchair accessible so my PAs would need to lift me. Filipe has managed to do this in the past, but Kasia, who was meant to do the second leg from Austria to home, cannot lift me alone.
After some further thinking, I suggested we take a shorter route, and Filipe do the whole trip, meaning I would not need my hoist for lifting or total wheelchair accessible accommodation. I was still concerned for Kasia as she would be missing out on the trip and working less days. However, she agreed to support me in Poland – with Filipe just lifting me and taking some time out the rest of the day – and then I will be back in the UK earlier than originally planned, when Kasia will start working again.
All's well that ends well
Therefore guys, I am still going this Saturday (22nd September)! Here is my newly planned route: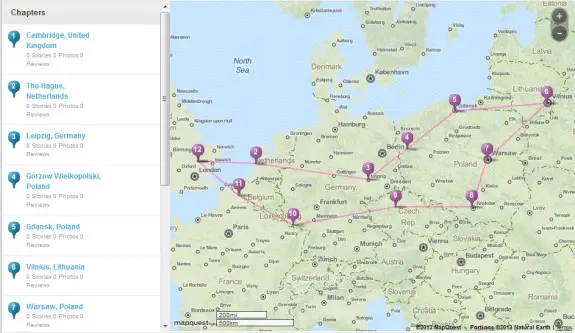 I am sad to not have the motorhome, and this new version of the trip will be VERY challenging. Maybe I am stubborn, maybe I am stupid, but I am sure as hell am doing this trip!
I guess everything happens for a reason. I sometimes feel like we are tested to see how much we really want something. Whilst this trip is not as I imagined, or originally planned, it will still be an amazing experience.
Thank you to everyone who has supported me and helped me to get the project this far along.
Whilst I now have transport, some accommodation, a few good interviewees (a disability group in Leipzig, two great guys in Saarbruchen, a large Disabled Peoples Organisation and an ex BMX champion in Poland for starters), media interest and 80% progress, it is still not 100% finished!
Please continue introducing me to interviewees, media bods and most importantly; please give to the project funding page.
Visit Epic European Disability Roadtrip to take a pledge, make this project happen, and lets make a difference!
By Martyn Sibley
Tell us what you think by emailing us at editor@disabilityhorizons.com, messaging us on Facebook, tweeting us @DHorizons or leaving your comments below.