I'm Luke, originally from Jersey, and I first moved to the mainland in 2001 to attend university. But from early on I found it difficult to cope. I knew I could do the courses, but I was unsure of why I was unable to actually attend the classes.
After leaving university I managed to build a career in accountancy, as an assistant initially, working for big companies such as Shell and BP. However, I had not realised just how unwell I was and a massive breakdown meant that I was unable to hold down my job.
I took some time to go back to the Channel Islands to sort myself out, but then came back to London and eventually was diagnosed with Hebephrenic Schizophrenia, which is otherwise known as 'disorganised schizophrenia'.
It was a horrific time for me. I was hearing voices, seeing hallucinations and suffering from 'delusions of control.' The voices I heard were describing every physical action I was doing, making me think that I had no control over my body.
These feelings lead me to believe I was Jesus Christ and that, unless I starved myself to death, the world was going to do nasty things to my family and murder me.
I ended up sleeping rough whilst walking 101 miles from Poole to High Wycombe, where I was admitted to hospital. This is where I was finally diagnosed and, although this was a scary place to be – I didn't trust the doctors or nurses because of my illness – it was the start of a period of rehab.
Hebrephrenic Schizophrenia is a difficult one to deal with. I am on medication, which reduces the effects of the schizophrenia for me, but I still suffer with it. So the only way to succeed is to get on with life.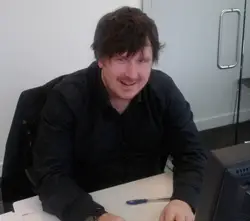 Whilst signed off work I attended the job centre with my mum, and as I went through the long processes of getting Employment and Support Allowance (ESA) and Disability Living Allowance, I was told by my disability support officer that there were colleges around the UK that specialise in getting disabled people back into work.
As a result of this information I went to Queen Elizabeth's College for Disabled People (QEC), which specialises in getting and preparing disabled people for work.
At first I decided to gain some formal qualifications in bookkeeping. I also started learning how to use an accounting software package called SAGE, something that's very sought after in the accounting world.
Although I was making positive steps, each day was painful as I was still suffering strong effects of the Hebephrenic Schizophrenia. But as well as studying bookkeeping, I started playing poker and socialising again, which really helped me relate to people
Wanting to pick up from where I left off as an accounting assistant, I managed to achieve my OCR Level 2 awards in Bookkeeping and Accounts, Spreadsheet Processing, and Computerised Accounts. At QEF there is employment department with employment advisers that work closely with you. To be honest, they bend over backwards to help with cover letters and CVs, and contacting potential employers.
After a few months at QEF, my employment adviser there secured me a period of practical training for two afternoons a week at a charity called Bond. As a result of my condition, mornings were difficult, so starting this was a good introduction back into the workplace. I must have impressed my boss as the placement time was gradually increased. I was then offered a three month contract, which has recently been extended even further.
The new job is great. Bond offers educational courses for NGOs (non-government organisations) and I work in a range of areas. My manager is well aware of my schizophrenia and we had a couple of discussions about it when he decided to take me on for fully paid work.
Schizophrenia and mental illness are big issues – people end up on the street if they're not supported. And it's a bigger issue than many people think – it's estimated that one in four people experience mental illness.
I believe that the general public should be more compassionate towards people with mental illnesses, and not just label them as 'mad' – that's old fashioned and shows a total lack of understanding.
Employers shouldn't discriminate either, and people with schizophrenia should be shown in the media in a way that educates society about the illness. I hope opinions can be changed and that we can break the silence on mental illness.
By Luke
To find out more about Queen Elizabeth's Foundation for Disabled People visit www.qef.org.uk.
You may also find the following websites helpful for advice on getting back to work:
• National Careers service
• Rethink Mental Illness – work and mental illness
• Time to change – getting a job
• NHS – returning to work after mental health issues
• Mind – training and consultancy
—————
Check out…
• Knowing your value and believing in it
• Challenging impaired perceptions of disability
• Evenbreak: always looking for talented disabled people
Do you have difficulties with mental illness? Break the silence on the subject by telling your story. Get in touch by leaving a comment below, messaging us on Facebook, tweeting us @DHorizons or emailing us at editor@disabilityhorizons.com.